The Two Metrics To Pick A Niche

How do you pick a glorious niche?
‍
It's simple.
‍
Through experimentation and data, not guessing.
‍
By using two metrics, you can pick nurturing niches that won't drain you, without stress, and without the fear of "being wrong" or "wasting time."
‍
Whether you're starting a side hustle for the first time or a seasoned entrepreneur, the first step of building a successful and profitable business is always the same: find the right niche.
Instead of trying to build a brand in a crowded market where you're competing with dozens, if not hundreds and thousands, of other businesses. A niche allows you to be more strategic and targeted in your approach, as well drastically increasing your chances for profitability and sales!
When it comes to finding a great niche, most people assume they either need to get lucky or pick a niche right the first time. But, really, the key to picking a great niche comes down to two metrics.
The cost to acquire a conversation. (Both in time, money, and rejection)
Do they buy stuff?
In this epic guide, I'm going to reveal to you the exact steps a student took to discover and pick a niche that generated him $500 in sales in just 8 days!.
•••
The Table of Contents
What is a Niche Market?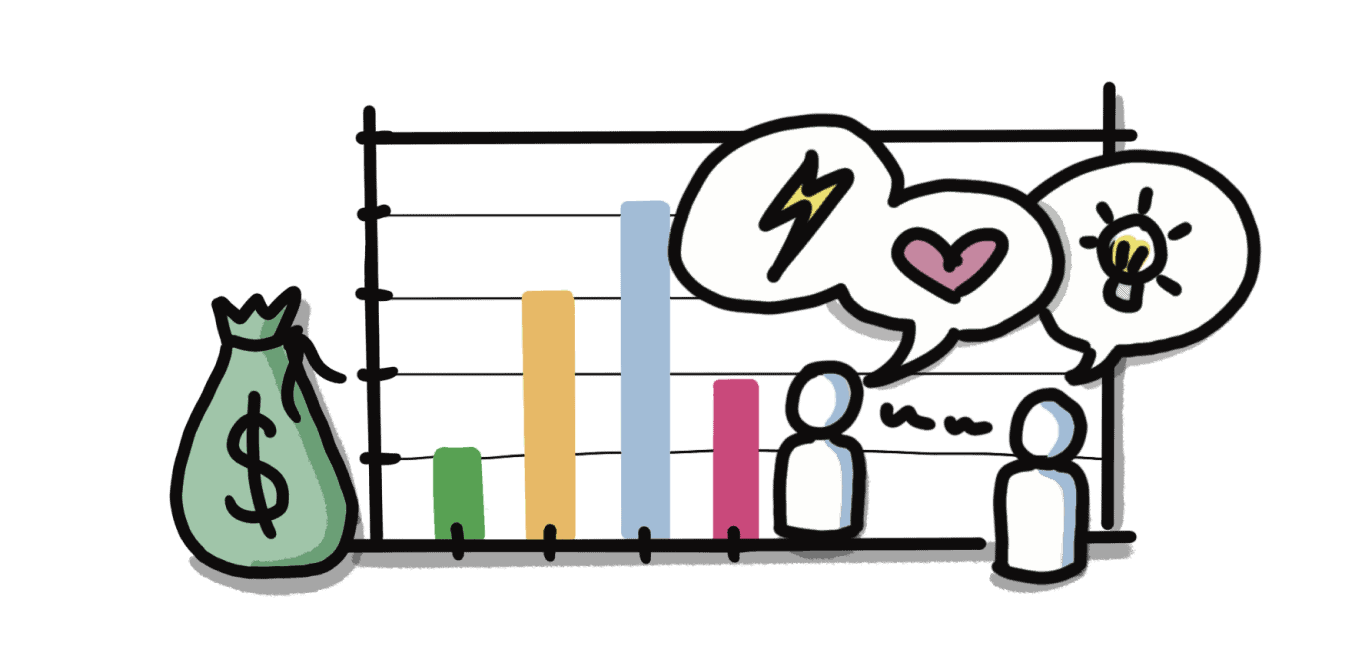 A niche market, or a business niche, refers to a specific and select group of consumers who have specific needs and interests that are often underserved by the larger market. Catering to the demands of niche markets is an effective way for small business owners to quickly establish a profitable business with a loyal customer base.
For example, women's athletic wear is a huge market with many different customer segments and niches.
Trying to appeal to the entire market is practically impossible, but by diving deeper you might discover a niche market of women who prefer athletic wear with pop culture prints, or women who want plus-sized athletic wear, or even women's athletic wear for vegans. As you can see, there are dozens of different niches you can be targeting within a larger market.
The Origin Story: How I Learned The Big Metric When Picking A Niche For My Music
My new album was about to come out – I'd spent months writing and recording, and it was time to release "No Need To Hide" to the world…
Just one problem.
I needed an audience to share it with!
So I invested in a music marketing course to acquire knowledge faster, and they taught us rapid audience experimentation. It was dope.
‍
And it had been sometime since I'd communicated with my music fans…so I was feeling a little out of touch.
Not only did I want as many people as possible to hear the new album – I also knew I wanted to start deep conversations with my life-long fans.
The simplest way to do this?
Run a Facebook ad offering my ENTIRE album for free: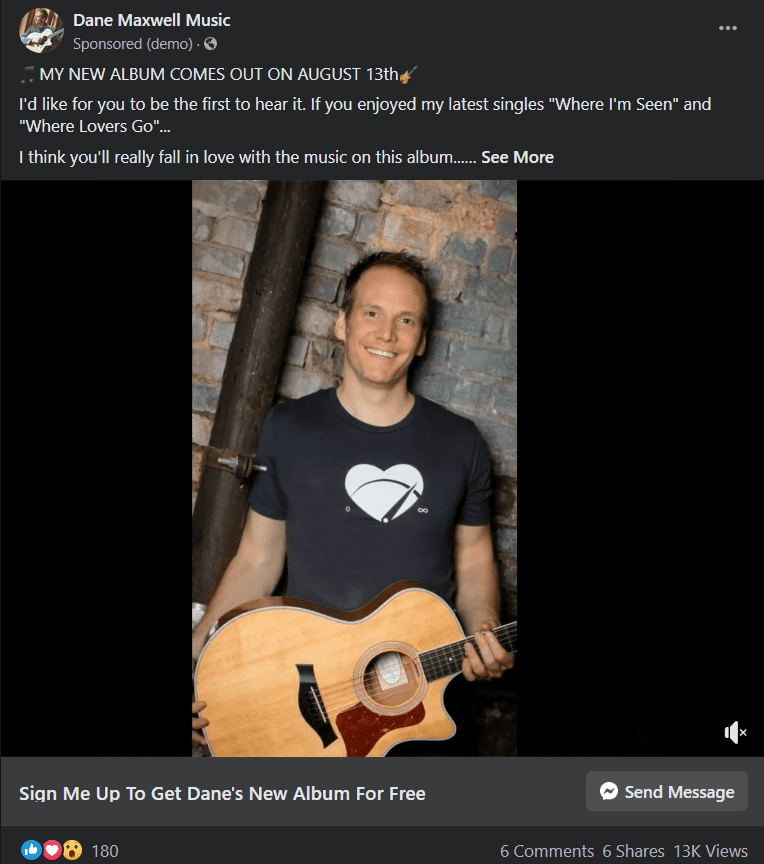 When people clicked "Send Message" they'd opt-in to my chatbot, who'd ask a few cute questions and send them the album.
But I still had to figure out who exactly to target with this ad…
So I ran a little test with my first single off the album: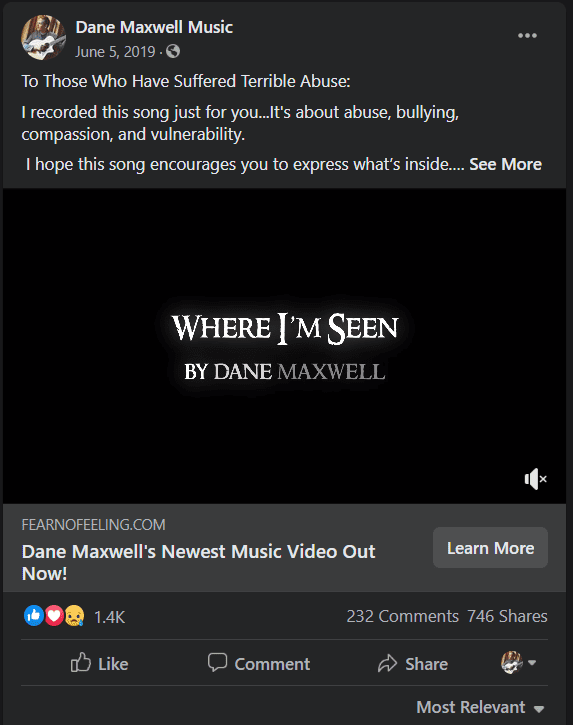 And chose to "target" a wide range of fans who liked somewhat similar music, artists, and even motivational speakers/life coaches: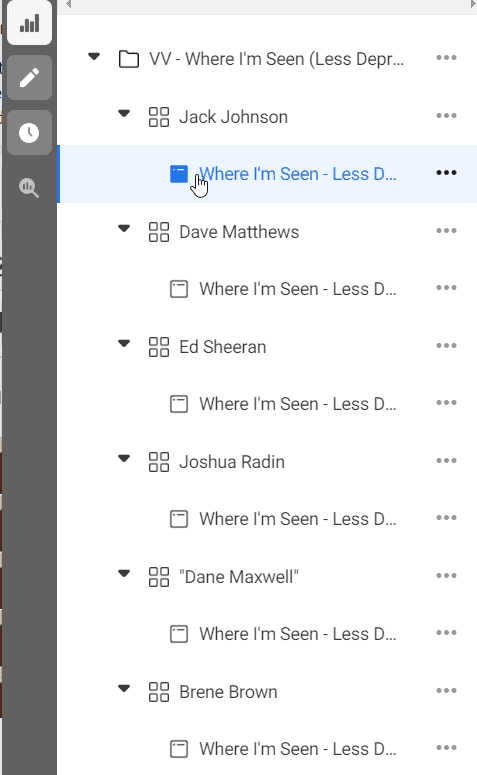 "Old" Ed Sheeran was one of my biggest influences, and I thought fans of his music would react the best to my new single…
Boy was I in for a surprise when I found out TWICE as many Dave Matthews fans and Jack Johnson fans digged my music: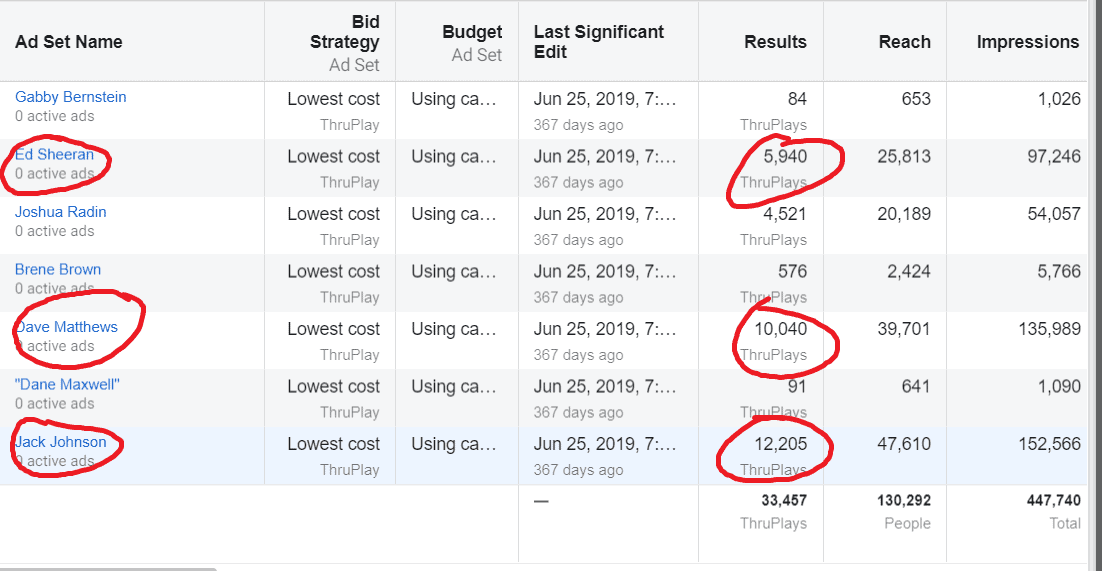 Not only this…but I was able to get a breakdown by age and gender!

Imagine my surprise when I noticed "Females, age 35-64" responded overwhelmingly to my music. Makes sense on reflection, my music is rather deep, fairly feminine in its articulations, it isn't simple teeny bopper stuff like the vast majority of Ed's listeners.
And that's when I realized… don't pick niches, test niches systematically. As a musician, I can test my niche markets? I don't have to pick? Thank God.
With that information I got 2x my money's worth on putting more ads into Dave Matthews and Jack Johnson. I had found my place to belong and promote.
Best to trust the data, and not my gut.
And this gave birth to the entire article you're now reading…
•••
The Two Metrics For Picking A Niche
Unlike other tactics and methods out there which will have you evaluating metrics like keyword volume or CPC (Cost-per-Click) which only give you a rough idea of the potential demand and profitability of a niche.
‍The CPC (Cost Per Conversation) metric is designed around the principle of actually getting you out there and talking to real people about their pain points and where exactly your product or service fits in.

‍Time and time again, this one metric has helped me and countless students discover what the most profitable niches to enter are, down to a scientific certainty.
The CPC metric is such a surefire way to discover what is the right niche for you that making sales becomes almost effortless.
Which is exactly what happened to one of my students after he discovered this metric.
He thought it was a bunch of "woo-woo" when I first mentioned it to him, but I'll let him show you the power behind leveraging this metric step-by-step.
•••
Step 1: Pick 4 Niches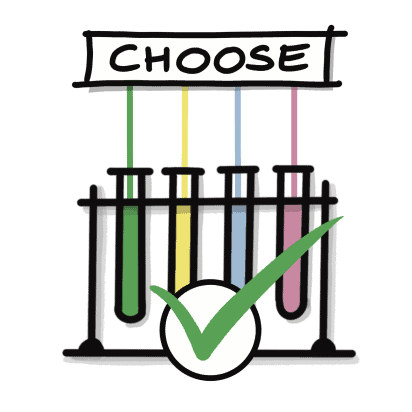 You can't work on something that you don't care about.
It doesn't matter if you're looking at starting a podcast or wanting to build an international conglomerate, the truth is that it's impossible to produce anything of quality unless you have some passion for what you're doing.
"One of my first businesses was selling Christmas tree storage boxes. While I wasn't exactly passionate about the product, I was passionate about running a successful business and helping my audience find the perfect product."
– John Rampton, Chief and founder of Calendar.
With that in mind, the very first step should be to write down 4 niches that you can see yourself working in.
At this stage you don't need to have a solid business, or even product, idea just yet. For now, all you need to do is think about what kind of clients or customers you'd like to serve.
In Edwin's case, he randomly picked the following 4 niches:
Ghostwriters.
Art dealers, curators, gallery owners.
Chinese foreign exchange students, host families, foreign language tutors.
Homeschool moms.
•••
Step 2: Find Out Where Your Audience Lives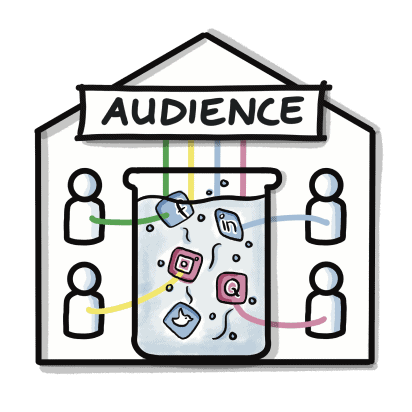 Once you have your shortlist of potential niche you want to work in, the next step is to connect with members of your target audience and start getting a feel of what their pain points are and how you can help.
In order to do that, you're going to need to find out where your audience lives online.
The great news is that social media has made it easier than ever to connect with entire communities of like-minded people, all you need to know is where to look.
As the largest social media platform in the world, Facebook is a great place to start discovering groups for you to join. Depending on your niche, it'll be worthwhile checking out other social media networks and forums such as Instagram, Twitter, or even LinkedIn and Quora.
Sol Orwell, founder of Examine.com, famously built a 7-figure business using Reddit. Initially joining the popular online forum as a way to get advice on fitness and weight loss and eventually leveraging the /r/Fitness community to help him validate and launch his multimillion-dollar business.
"We were participating way before we ever came up with the idea for Examine.com. So it wasn't like we came to reddit to promote our stuff, it was more like, we're part of the community, we've built something, we built it because of our frustration within the community, and the community just wholeheartedly embraced it."

– Sol Orwell, CEO and Founder of Examine.com
For Edwin, to find his audience he simply began looking on Facebook for active groups that were based around his niches.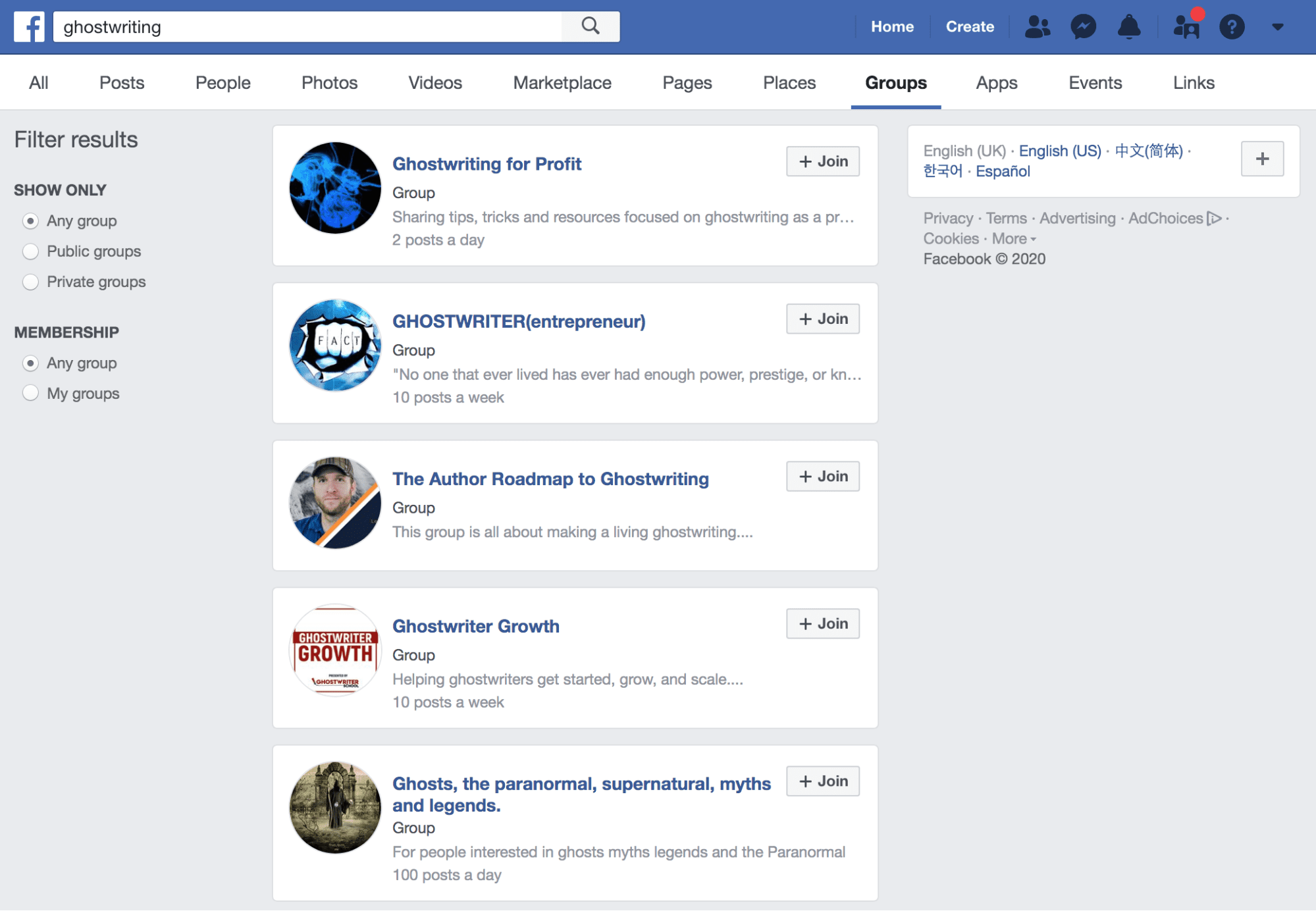 Eventually finding and joining four active groups based on his chosen niches: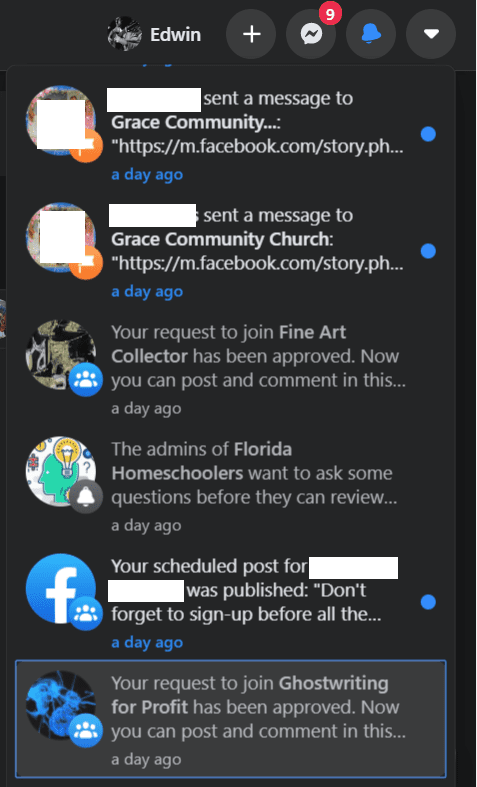 •••
Step 3: Have a Conversation With Your Potential Niches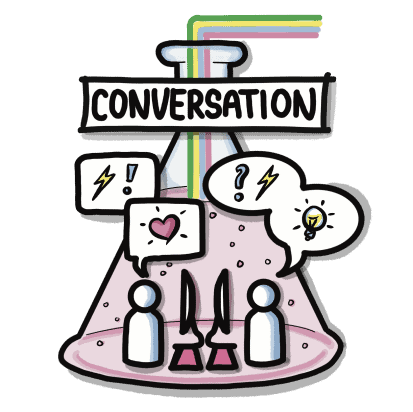 Now comes the "conversation" part of the "Cost Per Conversation" metric.After being accepted into the four Facebook groups – and waiting a day before posting to avoid coming off "spammy" – Edwin drafted a simple message template that he'd post into all four groups.
Hey fellow China Exchange students/teachers! Happy to be here! Would you mind helping me out with an industry question I have? What are some of the core painful problems you deal with that keep you from the things you enjoy either as a teacher abroad or a student abroad?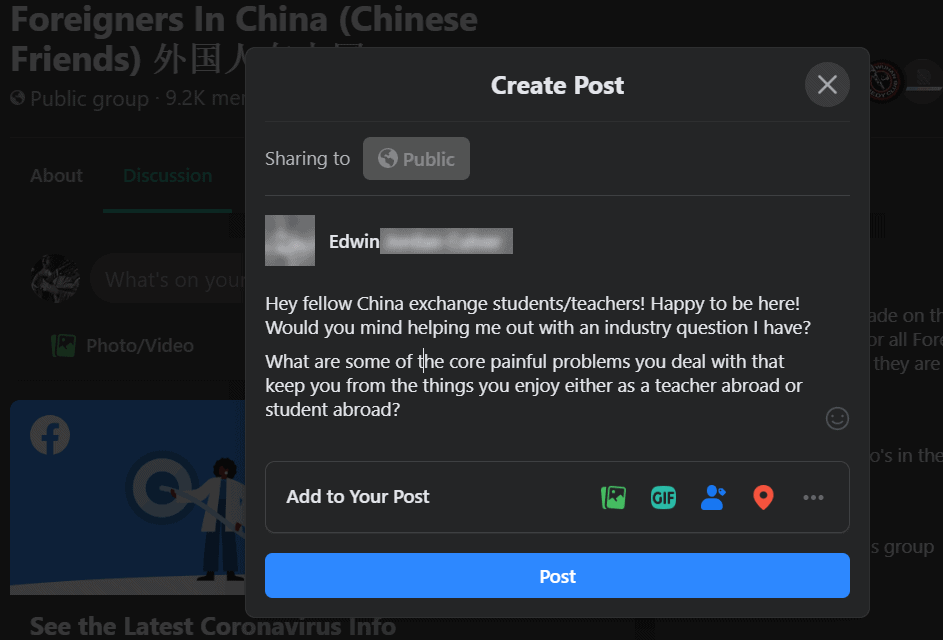 On top of just directly asking the group what their painful issues were, Edwin also took a look through previous posts to get a better idea of the kind of topics they would regularly talk about. Making sure to pay particular attention to any posts that asked questions or generated a lot of discussion.
‍By the end of one day, out of all four niches, Edwin's post in the ghostwriters group had gained some traction, receiving a total of 13 comments, whereas his other posts received only one or two comments.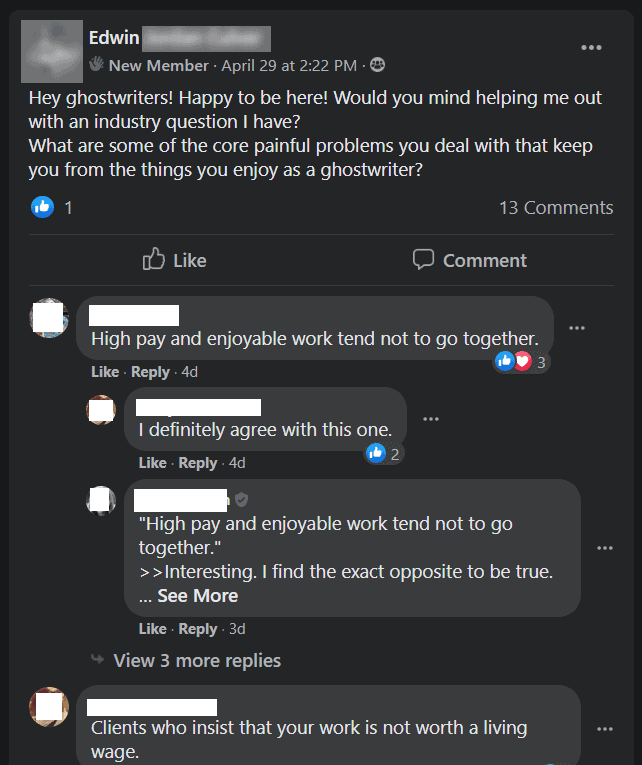 While this was a good start and gave Edwin a basic idea of what pain points each niche was facing, there still wasn't enough information to determine which was the most profitable niche. At least, not yet.
In order to get a better understanding of each niche, Edwin needed to be able to have one-on-one conversations with members of each group.
To achieve this he sent a friend request to 15 members of each group – 60 requests in total – along with the message template he created earlier.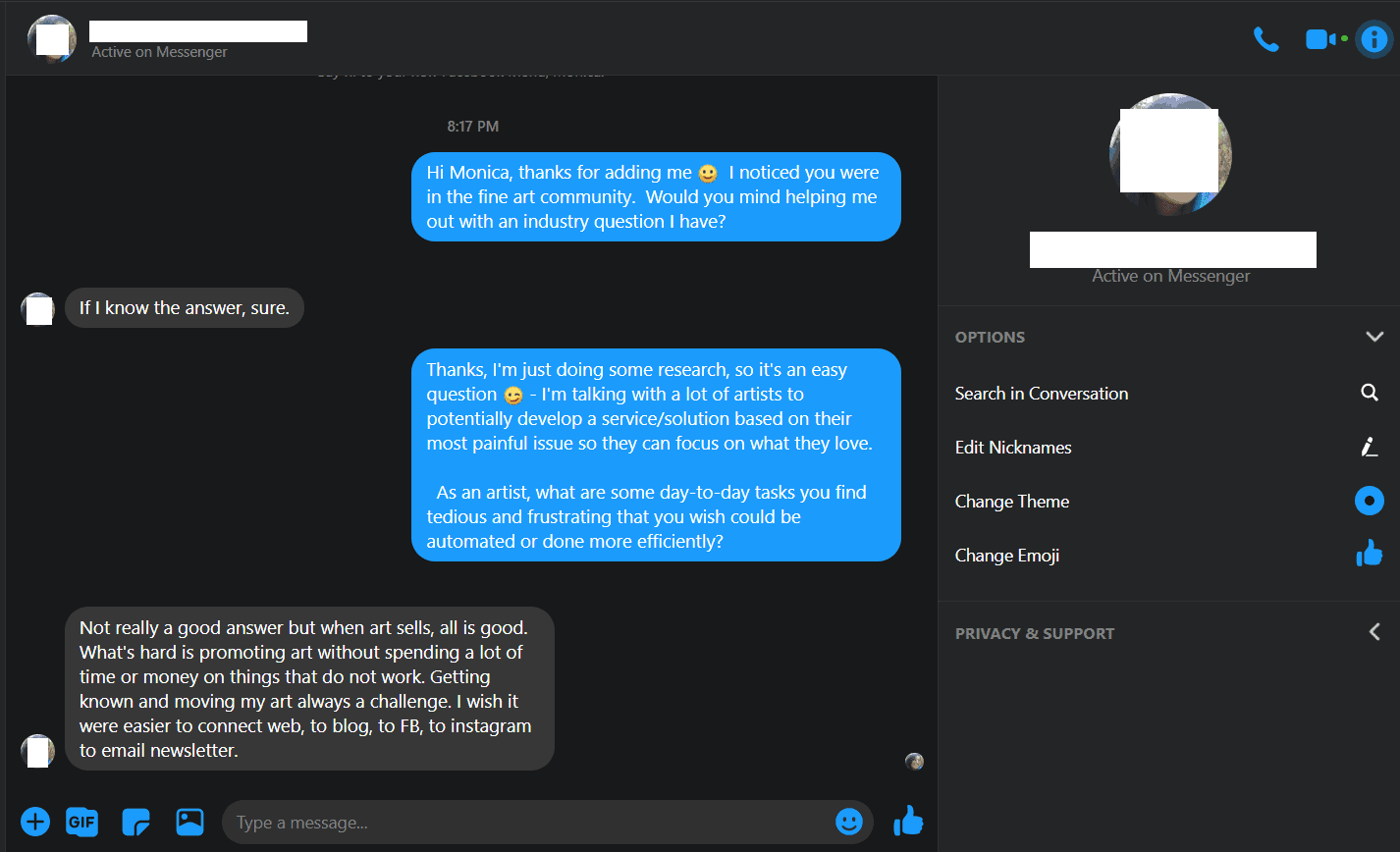 Within the next two days, Edwin managed to connect with and strike up a conversation from a handful of people from each group, gaining valuable responses like:
"Promoting art without spending time or money on things that don't work."
"It's tough making students motivated to finish online homework assignments."
"I wish it were easier to connect the web to blog, FB, Instagram, and email newsletter."
"I've spent too much money on rental galleries. I'm past paying someone and getting nothing but exposure. Neither am I interested in being a business person. I'm a simple painter."
Even in the conversations where the person said that they weren't experiencing any problems whatsoever, you can still gain a lot of useful information by asking the right questions.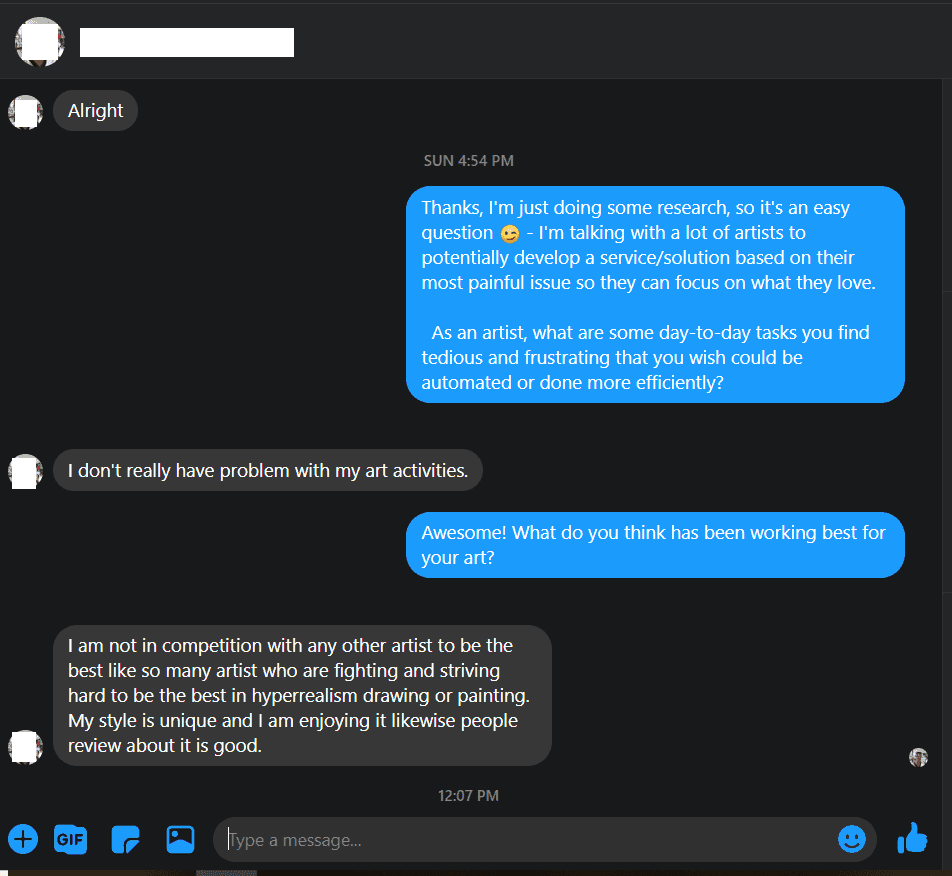 And you can get a gauge for if someone wants to be talked to… and you can just drop it.
•••
Step 4: Test all 4 niches with paid ads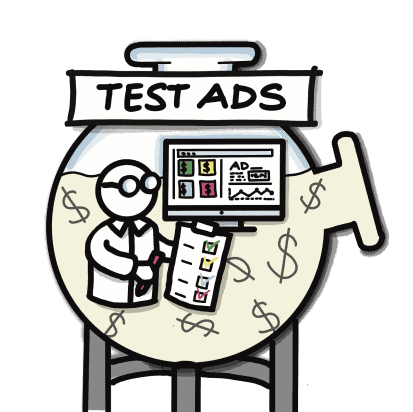 By the time Day 4 rolled around, Edwin had discovered a few problems and potential solutions that each niche was facing.
Now it's time to put some skin in the game and test some Facebook ads.
Just like he had done with his group posts and outreach messages earlier, Edwin crafted a simple template that he could use for each ad set.
"[NICHE]: #1 Way to [PAIN POINT]I've been talking with [NICHE] and found the number 1 challenge they have is [PAIN POINT]…

Does that sound like you…or have you solved this problem?

Whether you are successful at this or unsuccessful, I'd like to chat with you to learn more. I think we can all help each other.

PS. Hi I'm Edwin, an entrepreneur passionate about helping [NICHE] get their [GOAL]. Talk to you soon!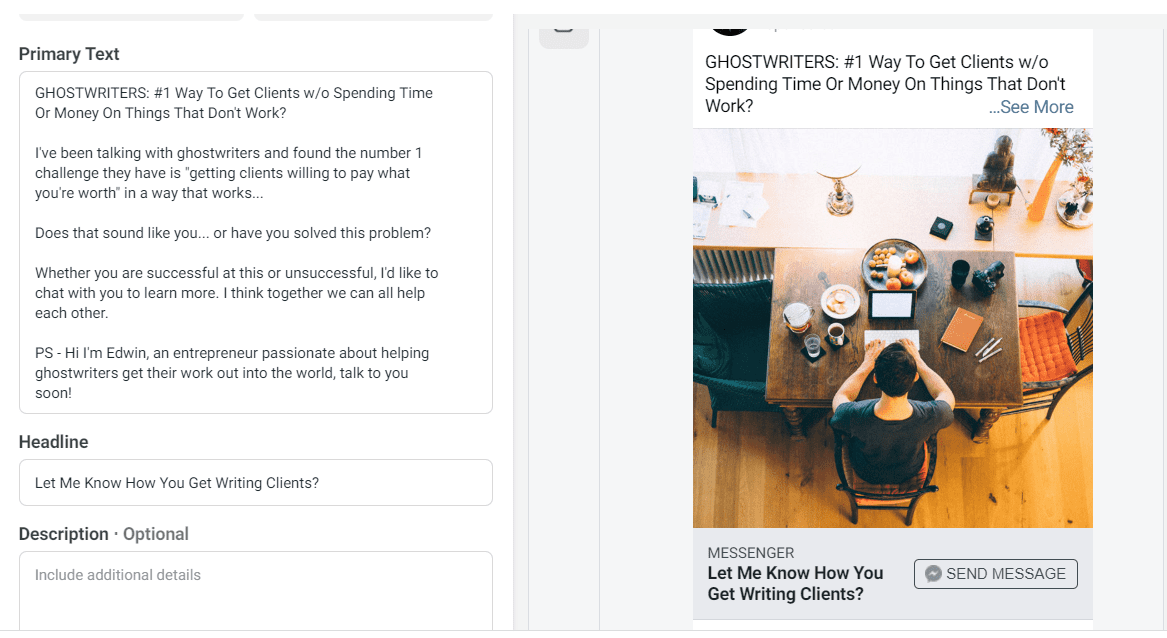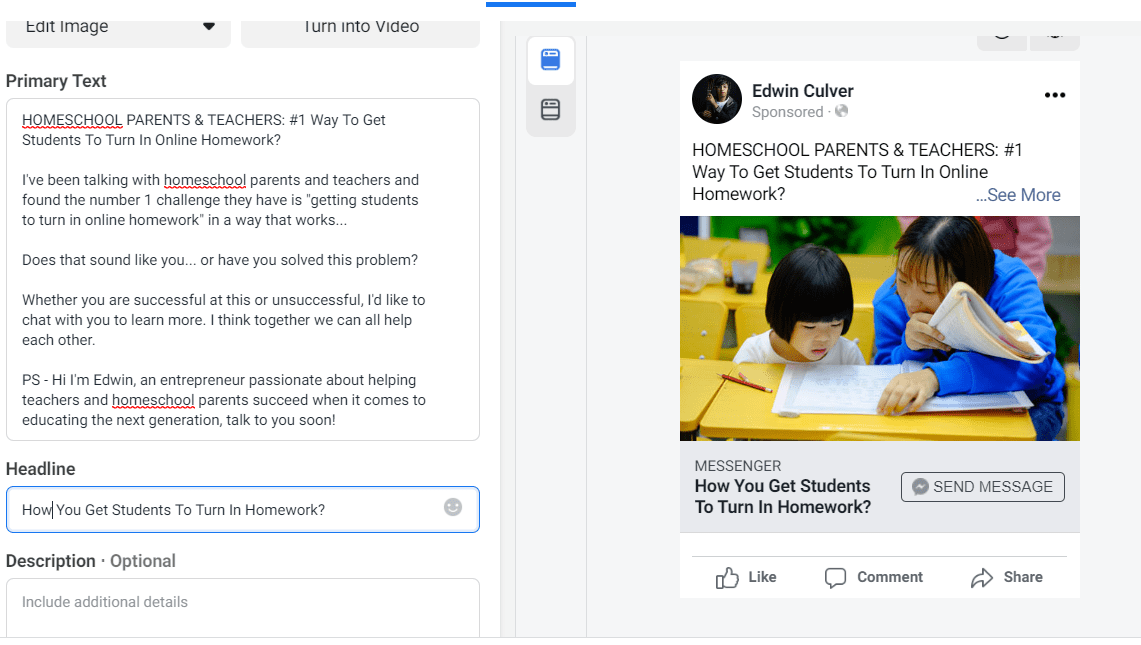 As you can see, there's nothing crazy or complicated involved. Just a simple Facebook Image Ad with a straightforward call-to-action to message Edwin directly.
Depending on the size of your budget and how invested you are in each business idea, you can spend anywhere between a few dollars to a few hundred into Facebook ads.
"Ideally, prior to committing to a niche, you should invest a few hundred dollars to test setting up campaigns in AdWords and Facebook Ads to promote whatever the heck it is you're trying to sell."

– Larry Kim, Founder of MobileMonkey and Wordstream.
As he was still in the ideation phase, Edwin budgeted for $15 for each niche.

Now, all that was left to do was sit back for a few days and wait for the responses to roll in…
•••
Step 5: Compare the CPC of each niche…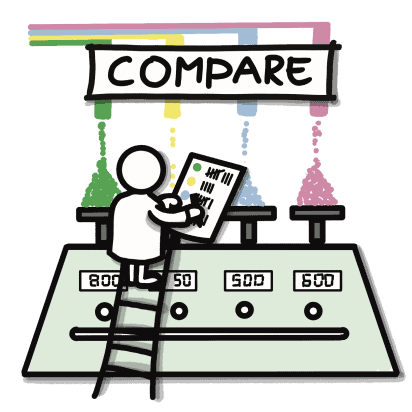 Over the next four days Edwin's ads reached hundreds of people in his chosen niches and received dozens of valuable responses.
Remember, the goal here is to have conversations with people. A conversation is one oriented towards one thing:
Finding a clear pain with someone who has a desire for growth, is generally happy, and willing to be open.
Here's an example of an artist answering the Magic Wand question: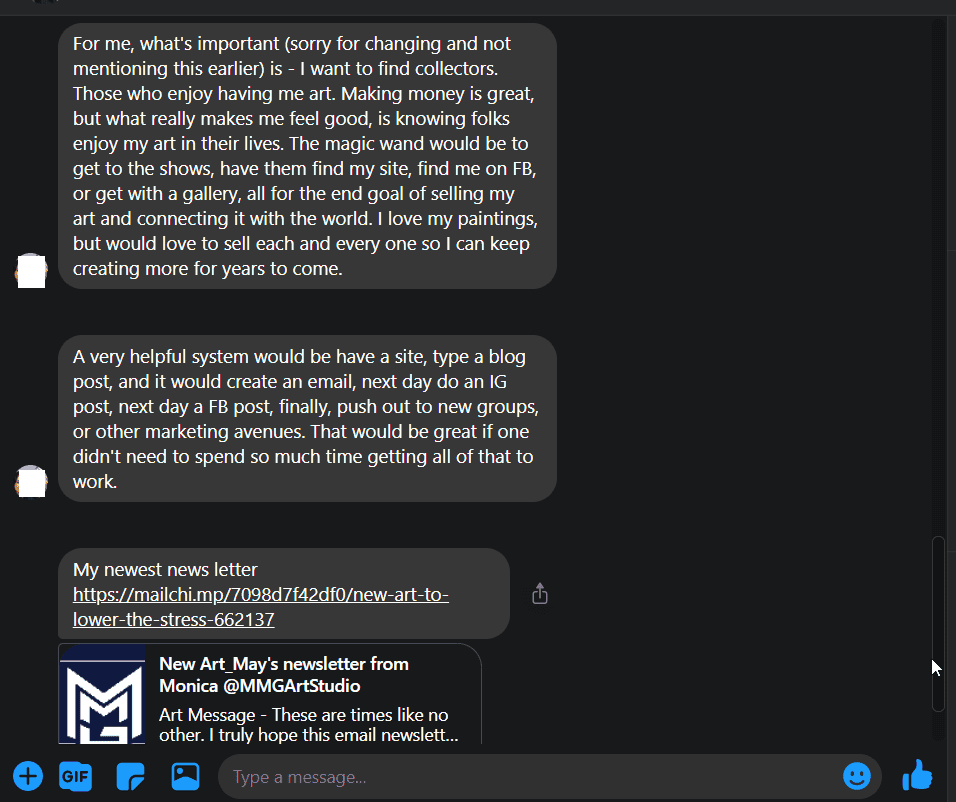 Now let's look at the numbers…Within eight days, after posting in Facebook groups, sending out 15 friend requests and investing $60 in Facebook ads, the final result was:
23 meaningful conversations with Artists
2 meaningful conversations with Ghostwriters
5 meaningful conversations with Foreign Exchange Students, and
3 meaningful conversations with Homeschoolers
To calculate and compare CPC of each niche, all you need to do is divide the number of conversations you had by the amount you invested into each niche.
Therefore, the CPC for Edwin's niches was:
Artists: $15 / 23 = $0.65 CPC
Ghostwriters: $15 / 2 = $7.50 CPC
Foreign Exchange Students: $15 / 5 = $3.00 CPC
Homeschoolers: $15 / 3 = $5.00 CPC
For Edwin it's clear to him, "Artists" have the lowest Cost Per Conversation. And we can already see he's getting product ideas and copywriting handed over by the artists he contacts!
Edwin said…
And while it may not be a lot, it looks like the right artists will buy stuff to grow their business.
"Now Picking A Niche Is Actually Fun." – Edwin
With this incredibly simple 4-step process Edwin had discovered a way to take really quick action across several niches. By using this framework, Edwin was able to not only figure out which niche had the highest chance of success, but also gather valuable information on how to best serve that audience.
•••
BONUS: How Edwin Used CPC Niche Testing On LinkedIn To Pick A Niche & Make $500 In 11 Days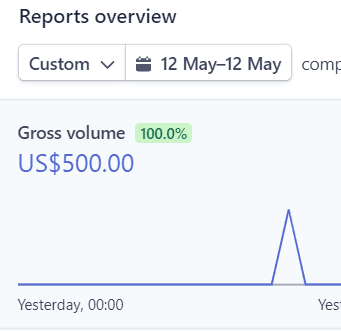 On top of looking to build a new business, Edwin was also running a marketing agency helping other businesses gain new customers through LinkedIn. However, like many new agency owners, he was finding it difficult to grow his business and struggled with attracting more than 1 or 2 clients here and there.
His current niche of restoration firms just wasn't interested in what he had to offer with many of them being jaded from past experiences with marketing agencies that failed to live up to their expectations.
After several months of struggling to get through to this niche market, Edwin realized that the problem wasn't with what he was offering but who he was offering it to.

‍Inspired by his success with CPC on Facebook, Edwin decided to use the exact same framework on LinkedIn to help him figure out which niche he should really be focusing on instead.
To get started, Edwin picked out 4 new niches that he knew would appreciate the services he had to offer, eventually settling on:
Commercial Photographers
Certified Public Accountants
Web Designers
Resume Writers
He had a gut feeling that Certified Public Accountants would be the most profitable niche, but he needed to be sure.
Following the exact same steps from earlier, Edwin sent out 10 LinkedIn connection requests to each niche.
In that very same evening, Edwin found two clear winners: Resume Writers and Web Designers.
In less than 24 hours Edwin had managed to discover what his most profitable niches were.
Confident that he had finally discovered the right niche market for his business, Edwin doubled down on the Resume Writers niche and immediately changed his LinkedIn profile headline to call them out: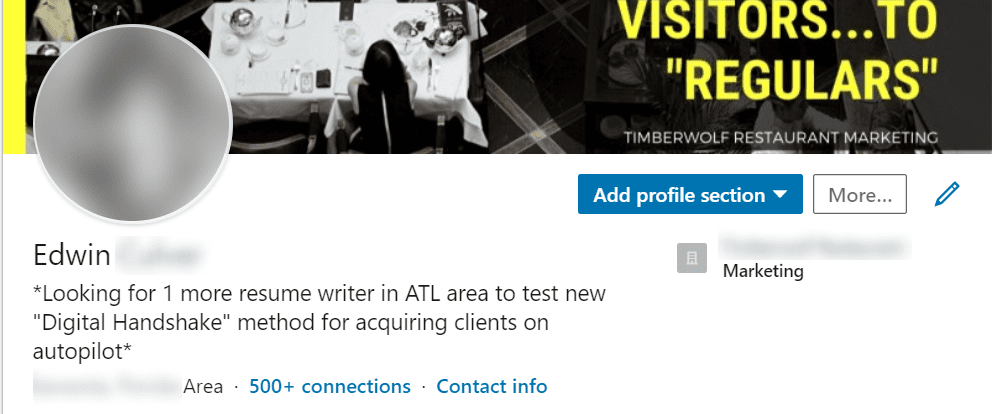 No need to re-write his entire LinkedIn Profile. No need to show case studies. Just one line.
Next, Edwin sent out a total of 100 connection requests to all the resume writers in the greater Atlanta area and, just like he did before, sat back and waited for the results to come in.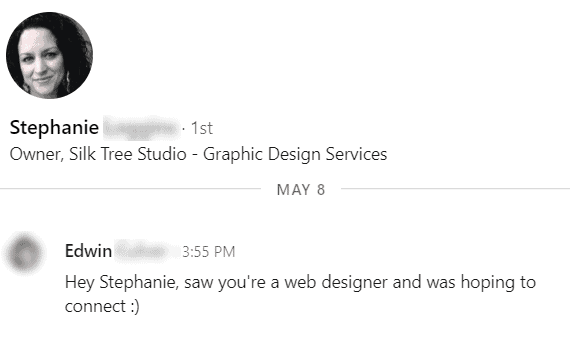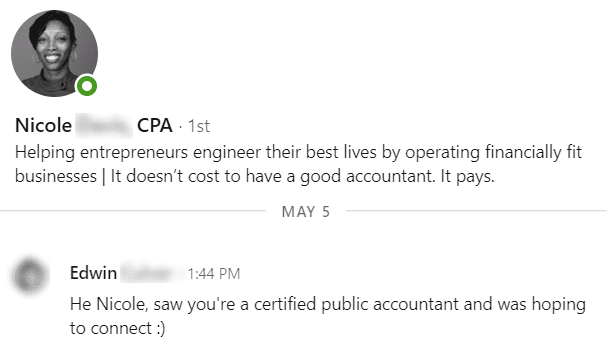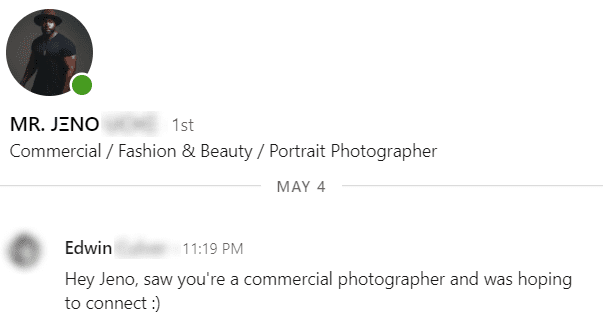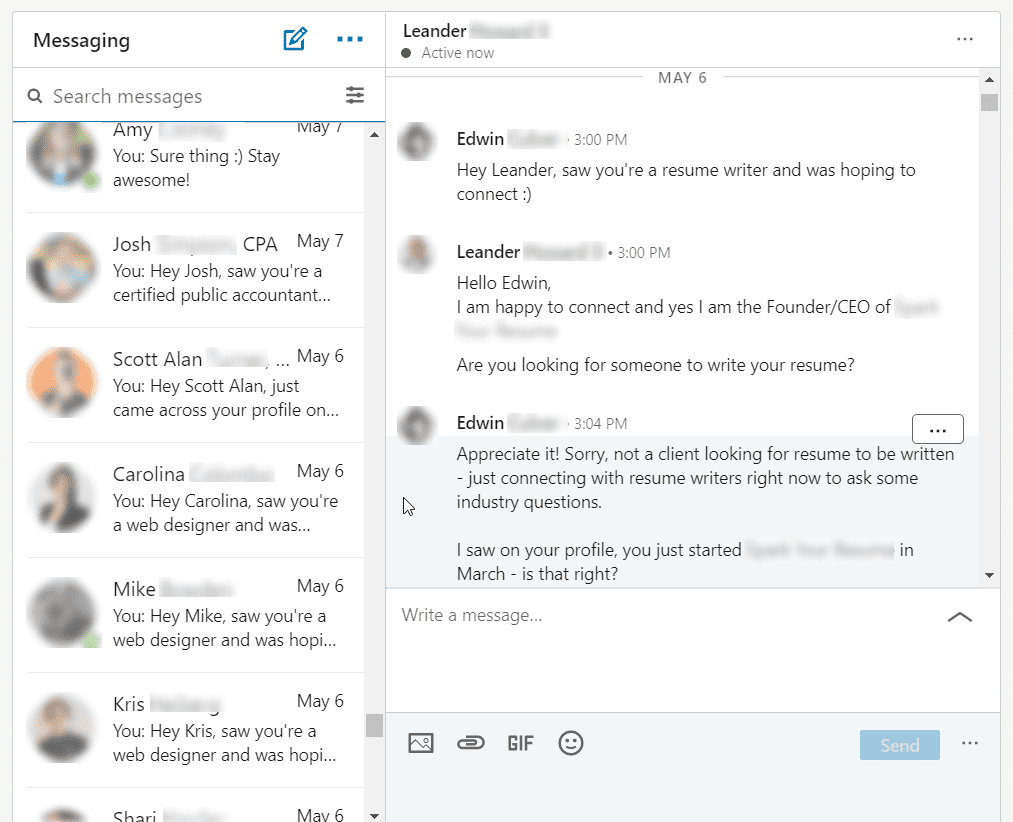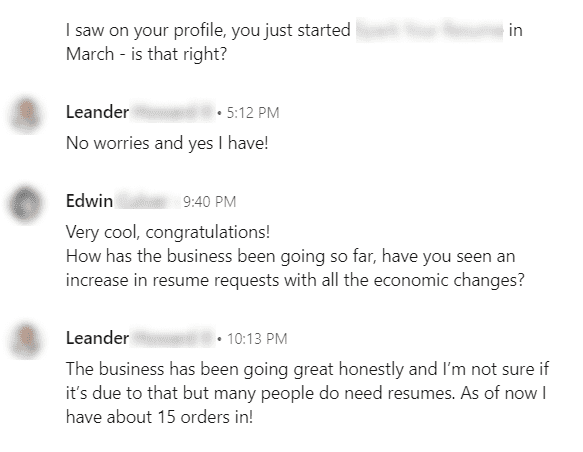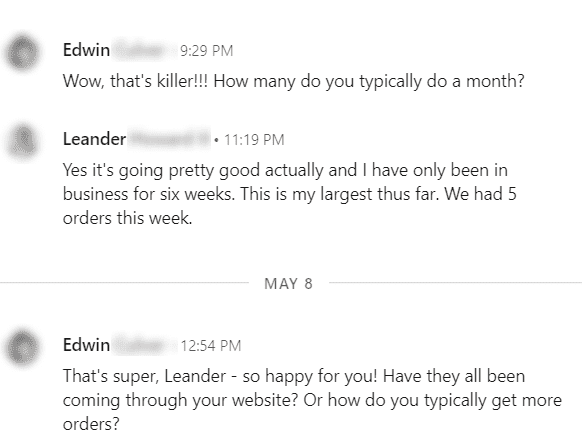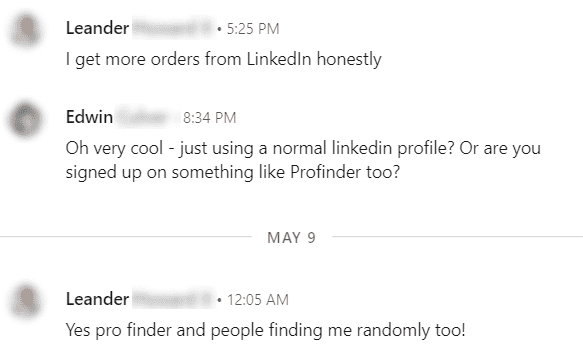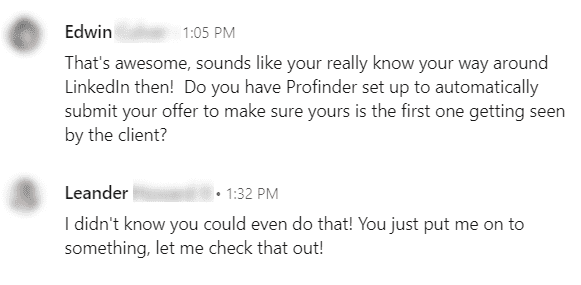 So Edwin reached out, he was honest, polite, direct, and found a way to sell his tool to the Resume Writer. You can see his contact is growth oriented, generally happy, and open too. He's probably not just open with Edwin, he's probably this way with anyone who's kind and direct.
What was Edwin' tool? He wouldn't tell me haha. He is just white labeling some software he wanted to keep private, but I know resume writers like to buy it.
Within a few days of his outreach campaign Edwin had attracted 11 new leads who were interested in what he had to offer and closed his first sale for $500 a month.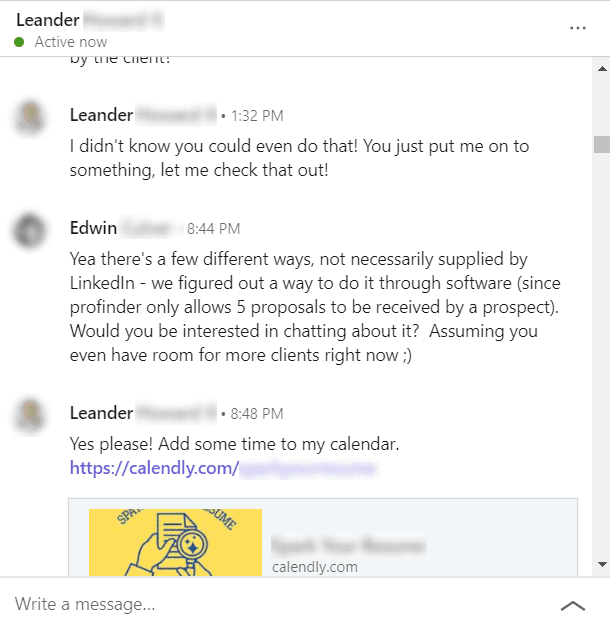 That's the power of Cost Per Conversation.
•••
Advice From 5 Wildly Successful Entrepreneurs On How to Pick a Niche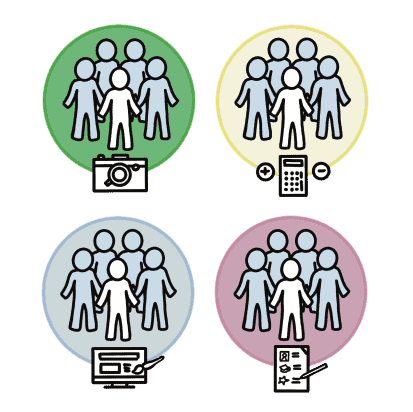 Every entrepreneur out there has their own unique take on how to find the right niche. Which is why I reached out to 5 other wildly successful entrepreneurs and asked them to share their own process behind picking the perfect niche for a new business.
I can't give enough thanks to how generous each entrepreneur was with their advice (even I learnt a new thing or two!) and I highly recommend that you read through all the responses below because there's just so much gold in there.
‍
Alex Kirkpatrick, Managing Partner at Incite New Business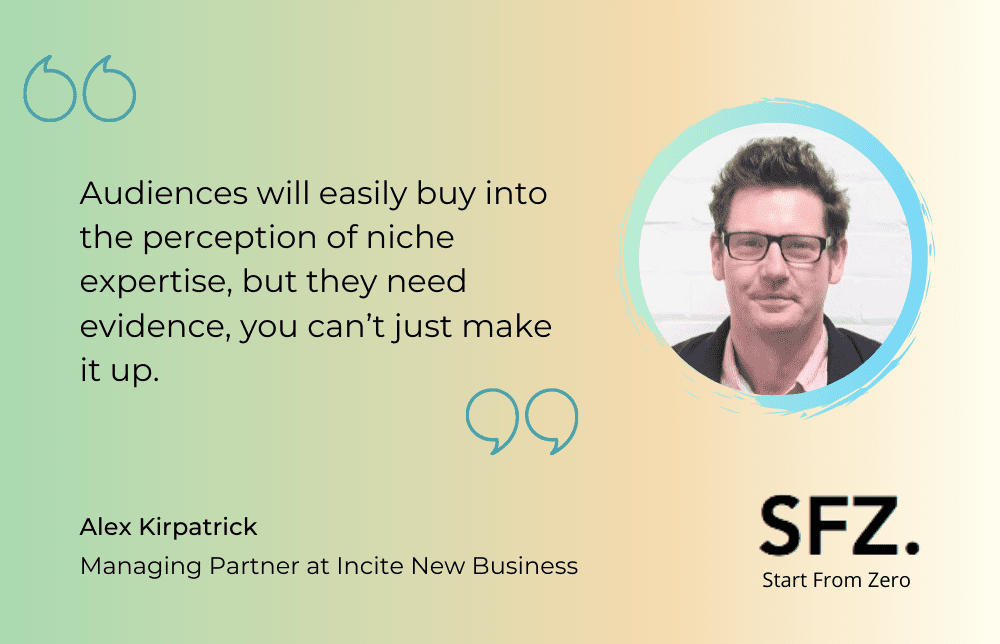 When we are looking for a niche, typically we are talking about a product or a proposition, as opposed to a specific market. We specialise in b2b sales and marketing at Incite New Business and we've found that audiences will easily buy into the perception of niche expertise, but they need evidence, you can't just make it up.

‍For ourselves and our clients, we start with an audit of customer case studies and existing products/services and look for ways to group those together to create new niche offerings. At this stage we're looking to align to new tech or market trends that are generating as yet unfulfilled demand.
Once we have these hooks, products or propositions – and there may be multiple – we need to reference against competitors, asking ourselves questions like:
Is this niche we have tapped into dominated by single service providers? For example, people who only do that kind of work. If so you are going to come second a lot.
Is this niche within the capabilities of existing broad service suppliers? If so you are going to need to educate your buyers but they will ultimately buy from the brands they're already familiar with.
Assuming neither is the case, or you have an entirely new market opportunity (market led niches might be a whole new category, ie: Cannabis), we can start testing the hooks.
Normally we do this using a broad email outreach campaign to a relevant mailing list, with a soft call-to-action designed to drive early response. For example: "Do you want to know more? Call us and find out."
We then measure and qualify that interest by the number of responses we receive – both email and phone – from the initial email campaign. All calls are treated as sales calls first, but they also provide us with a powerful opportunity for more market research.
Once we have proof of the effectiveness of the offer, and after tweaking for market response, we'll then launch a full multi-channel, inbound and outbound marketing campaign. Making sure to invest in the right content at the appropriate points of the lead funnel.
‍Ultimately the benefit of creating a niche is that people come to you, ready to buy and at a premium price point. That is the outcome. How you get to that takes time.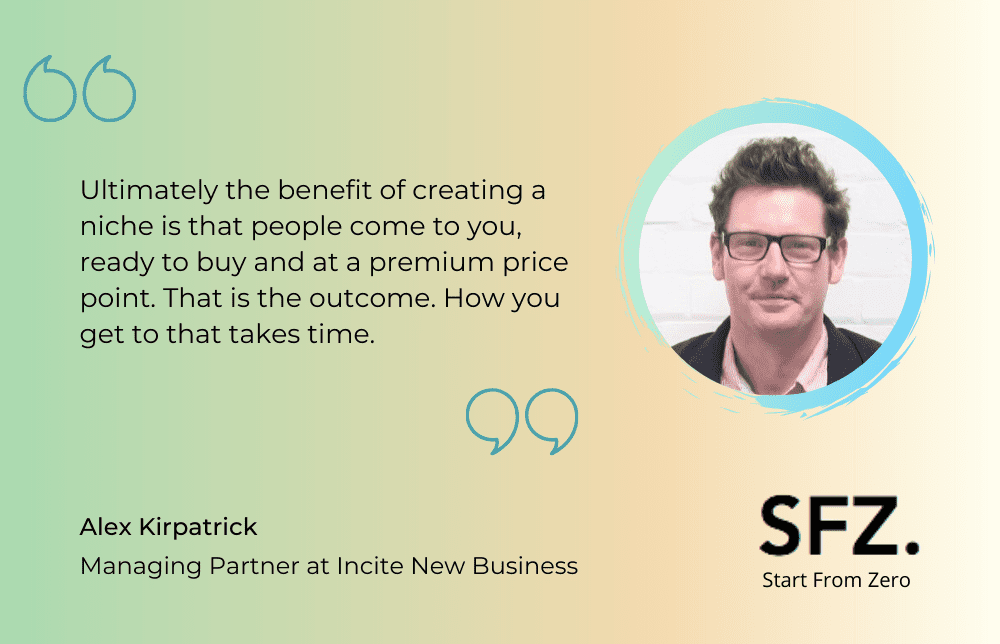 You need to define the area you want to own well, so use the above process. Try and make it an improvement as opposed to a completely new idea.
A good example of our work in this space (and we specialise in b2b sales and marketing for marketing agencies and martech), is for a marketing agency specialising in brand packaging design.
We helped them develop a value proposition tied into semiotics, the study of symbols and signs. This was already an existing niche but one that wasn't being properly leveraged or explored in the wider market.
We developed a complete marketing strategy tied around this trend and category, driven mainly by heavily attended global webinars. So for example: The Semiotics of Veganism, The Semiotics of Sustainability.
This was content, website, social, email, phone, lead gen etc.This consistent content strategy – together with a very easy to buy taster product we helped develop called a Decoder – has seen this small agency win global accounts against much bigger competitors.
All because they were niche, which meant they could be consistent, and therefore experts bought at a premium. Here they are: https://hartandjones.com/


Dan Siepen, Co-founder of Cenario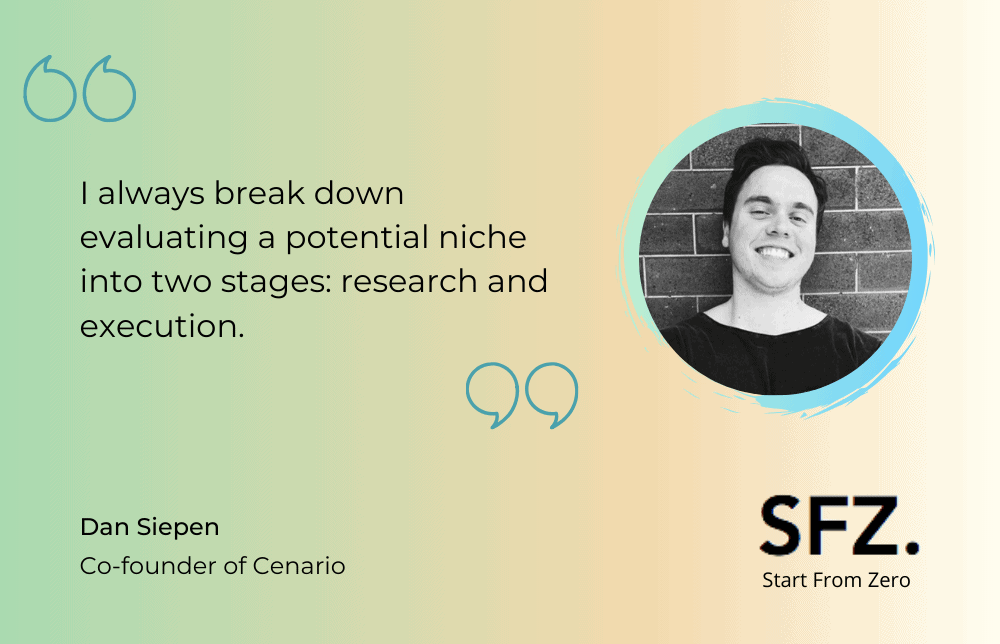 For myself personally, I always break down evaluating a potential niche into two stages: research and execution (validation).
From a research perspective, you want to make sure you have some proof in terms of trends, volume, plus other key factors before you start creating anything around landing pages, ads, etc.
There are 4 main things I always do before deciding on a niche to target which include:
Finding Niche Market Keywords (e.g. Volume of searches, by country, etc). I find who the competitors may be (or close enough in the space) which may be related to what we're doing. I also work out the rough keyword difficulties + CPC costs.
Use SEMrush, Ahrefs or UberSuggest to do a backlink profile of the top 5 companies I find in that niche market. I do this to work out roughly the detail they go into their content marketing, etc. In my mind, I start to work out potential costs of doing content, etc.
I then use the likes of Google Trends to then validate whether or not there is "overall" growth in my niche. It helps back up the data I find in SEMRush, Ahrefs, UberSuggest (although these tools have good data history if you pay for their plans).
Review sites where competitors are/Comparison sites. Once I find the key competitors, I find out some of the pain points or even key features customers may love about them. That way, it gives me an opportunity to capitalise on a gap to market to an audience. This also depends on the product you're selling, for example SaaS and eCommerce have different sites to validate.
These would be the 4 key steps I undertake to determine the research phase.
From an execution standpoint, my process is broken down into these key steps.
Website/landing page. I personally use Webflow as I know the CMS well but there are plenty of landing page or website builders you can use. I don't also just have 1 page (such as the homepage), I make sure to do a few pages and ensure design consistency. Hence, I duplicate pages and change text/images accordingly.
I ask friends. Asking friends isn't always the best way to get true validation, however they can help in giving an honest opinion for how you position your product or service. I normally get to ask 20 and try a variation of backgrounds.
I do cold outreach. As I build more B2B type businesses, cold outreach is daily simple. I use the likes of LinkedIn tools to find emails (like Hunter.io) or even get a virtual assistant to find details of businesses or potential customers through Google My Business listings.
Facebook Ads. Now when it comes to B2C, Cold outreach is hard and to reach many people at scale, then I would use Facebook Ads as they're a cheaper way to get validation quickly.
Facebook groups. If I want to really keep things on a shoestring budget, then Facebook groups are a great way to ask for feedback on a product. I do this often.
Email marketing. If I'm doing B2B SaaS, then I ensure I get some sort of tangible result. Whilst I got the FB pixel firing, nothing beats capturing an email (and other data points you want). I then run a simple, usually 5 steps, email sequence educating about the product & service. Then, I reach out to those people with a custom personalised message.
Once I combine these strategies together, it gives me a good indication of the pain points plus a pretty thorough understanding of the opportunity.
The research part takes me about 3 hours and then the execution to get things all setup (since I do marketing and design), typically I can get it all up and running within 24 hours. Again, it does depend on the product I am selling.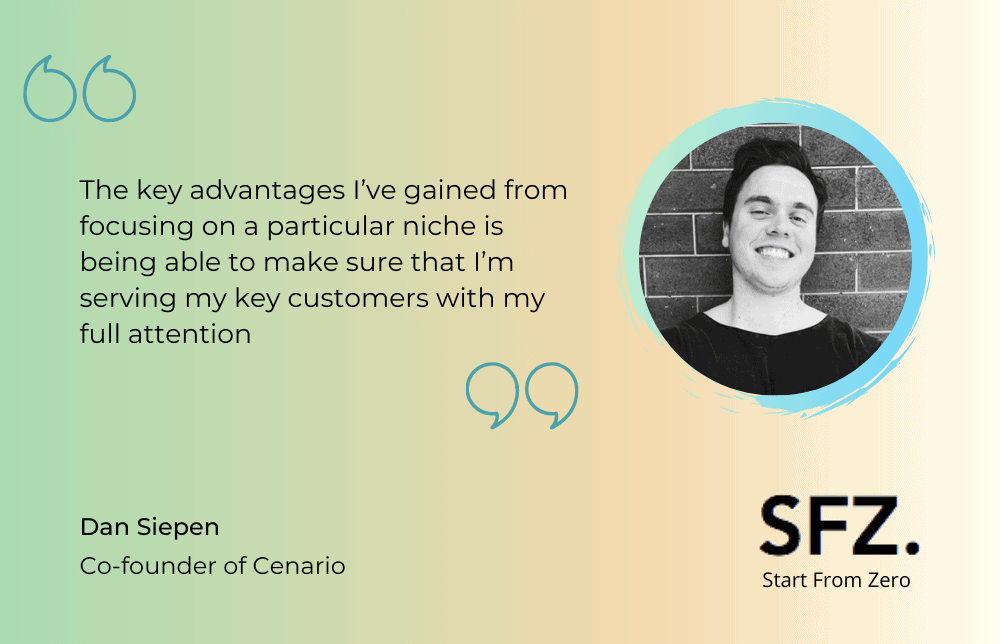 The key advantages I've gained from focusing on a particular niche is being able to make sure that I'm serving my key customers with my full attention, which has then really helped in getting those users/customers "working for me" by referring others they know would get value from the product I am building in the B2B SaaS space at the moment, Cenario.
We're still in the early stages of our startup journey but we have over 1000 users with many paying!
One of the main reasons why many users like us has been due to our focus on customer service. In fact, we've had 1 customer who recently moved from a competitor to ours because they not only liked our product more, but said they were super happy with the customer service that they didn't receive from our competitor.
I am a big believer that customer service = marketing.
‍So the main advantages for honing into a niche is more time, focus and the ability to move fast and double down on channels that are working so you can scale quickly.

‍
Richard Moore, Social Selling Specialist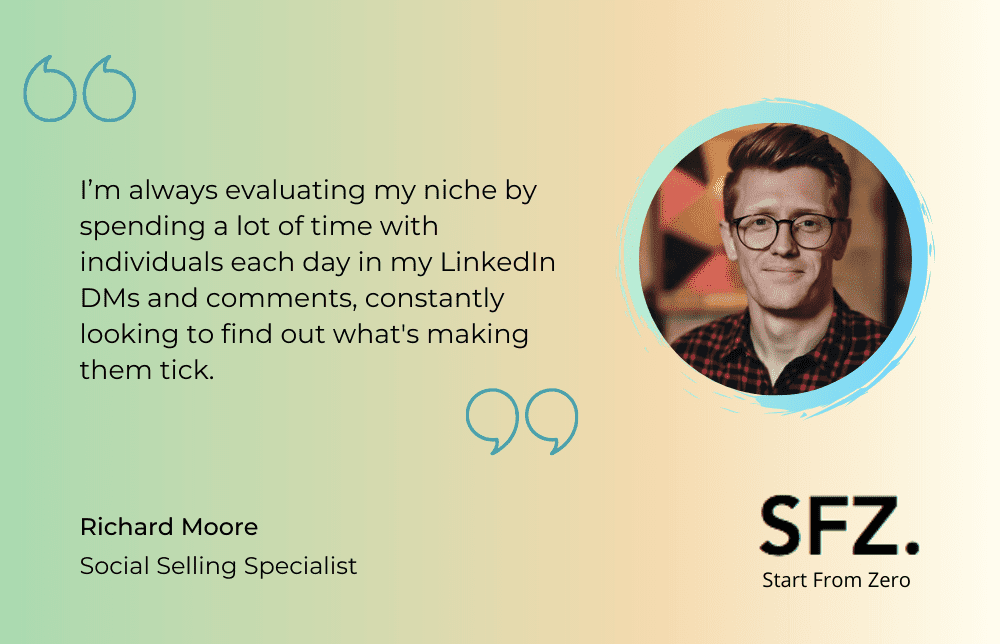 I'm always evaluating my niche by spending a lot of time with individuals each day in my LinkedIn DMs and comments, constantly looking to find out what's making them tick.I
also make sure to combine that with regular content updates to see how my audience reacts and incorporate plenty of polls and requests for opinions. If you don't test the water, you'll never know how hot it is!

‍By specifically zoning in on my niches (for instance: generating strong LinkedIn engagement and conversions of that engagement), I've been able to be an absolute monster in one sweet spot.
It also means that people recognise me as the go-to authority for my niche so that anyone that's looking for my kind of service are all-in on me.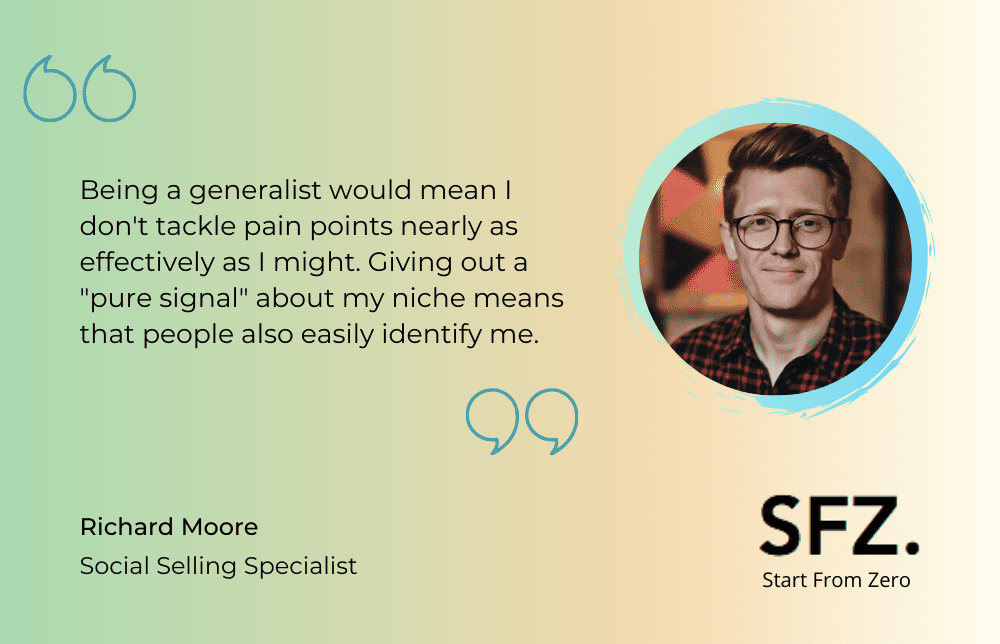 Being a generalist would mean I don't tackle pain points nearly as effectively as I might. Giving out a "pure signal" about my niche means that people also easily identify me and I see frequent daily tagging of me and posts about me, when people write on this particular topic.
‍
Robbie Richards, Author of robbierichards.com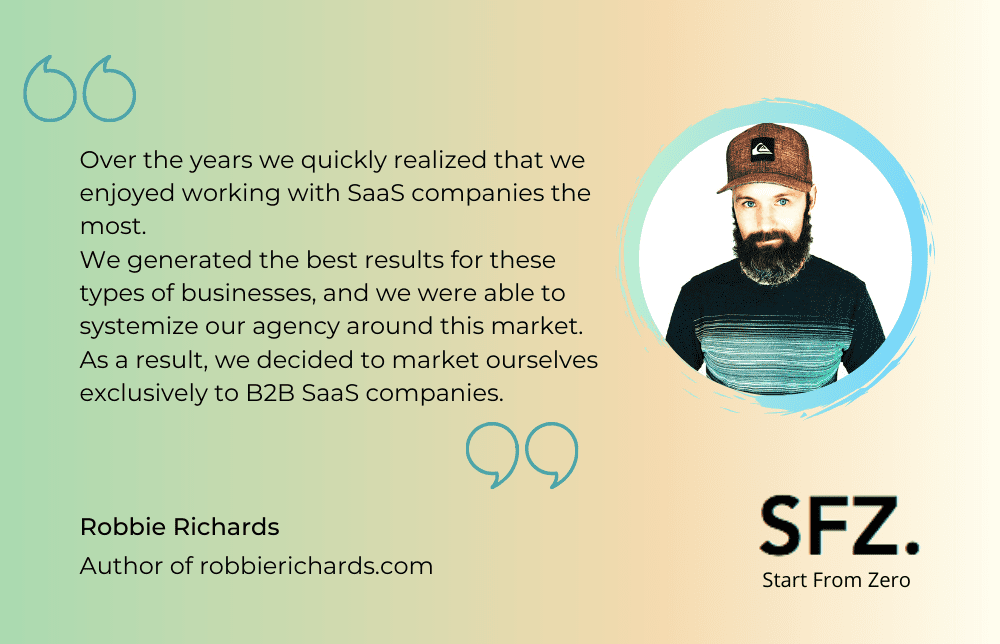 I'll answer this in the context of the agency I work for, Virayo.
We started by working with all types of businesses – local, ecommerce, SaaS – in a variety of industries. Over the years we quickly realized that we enjoyed working with SaaS companies the most, we generated the best results for these types of businesses, and we were able to systemize our agency around this market.
As a result, we decided to market ourselves exclusively to B2B SaaS companies.Focusing on this B2B SaaS niche allowed us to take advantage of several key benefits like:
We are able to market to a very specific audience. This helps make all of our content creation, ad campaigns and outbound so much more targeted. For example: we use terms like trials, demos and MRR in all our marketing materials because this is what resonates with SaaS decision makers. They all want more trials, demos and MRR, not rankings and traffic, which a lot of generalized agencies market.
We have been able to streamline our processes. By working with the same types of business, we have been able to build out processes that we can repeat on most client sites and see consistent results.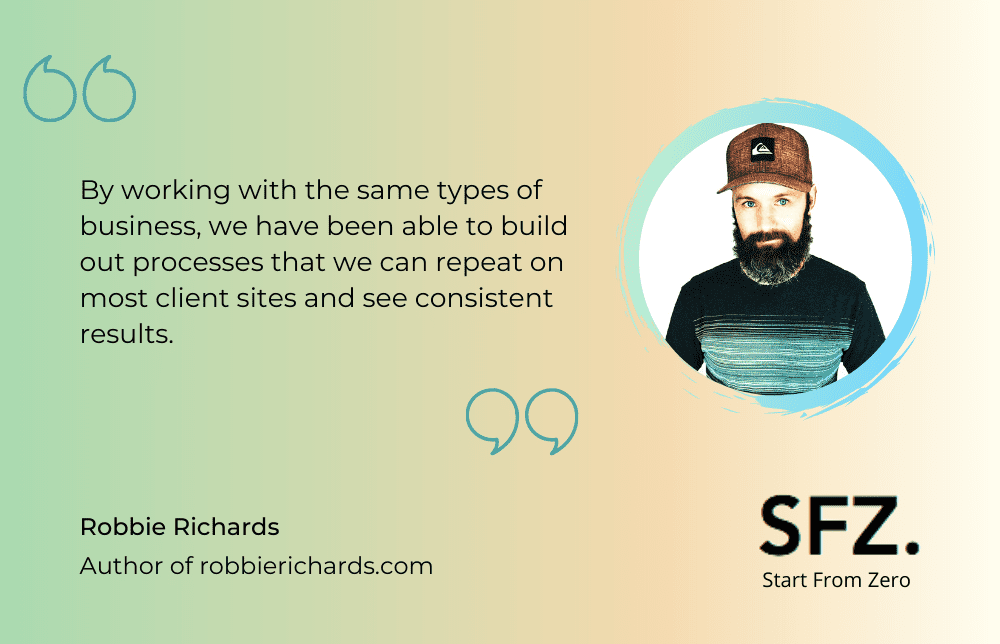 We have been able to reduce the sales cycle. Because we have been able to streamline our services into repeatable processes and standardized templates, it makes it much easier to build proposal templates that can be quickly customized for the client's needs. Plus, all of our proposal case studies are now SaaS businesses which resonates so much more.
We have been able to increase profit margins. Over time we have become extremely efficient as processes have been dialed in, and team members have been trained across services they can apply to all SaaS business types. This efficiency has helped us boost the effective billing rate.
‍
Josh Steimle, Founder of MWI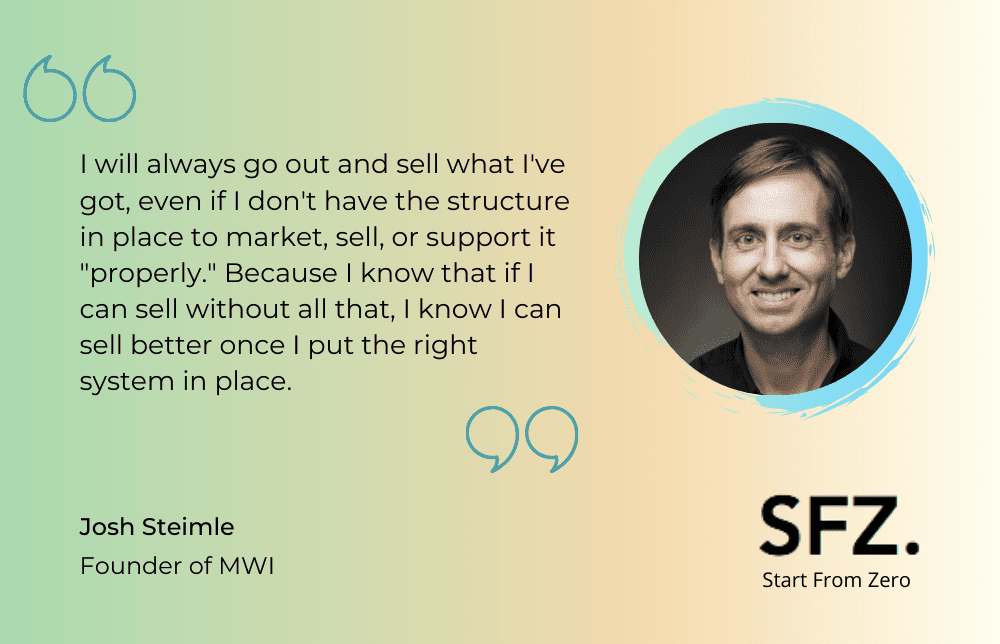 When it comes to picking a niche to focus on, there's no more dependable metric than sales.
I will always go out and sell what I've got, even if I don't have the structure in place to market, sell, or support it "properly." Because I know that if I can sell without all that, I know I can sell better once I put the right system in place.
A niche focus leads to more customers, more profit, easier marketing, and easier selling.
But, you have to remember, it's not magic, it's logic. If you focus on everyone it's hard for anyone to know why they should pay enough attention to you, let alone figure out what you do.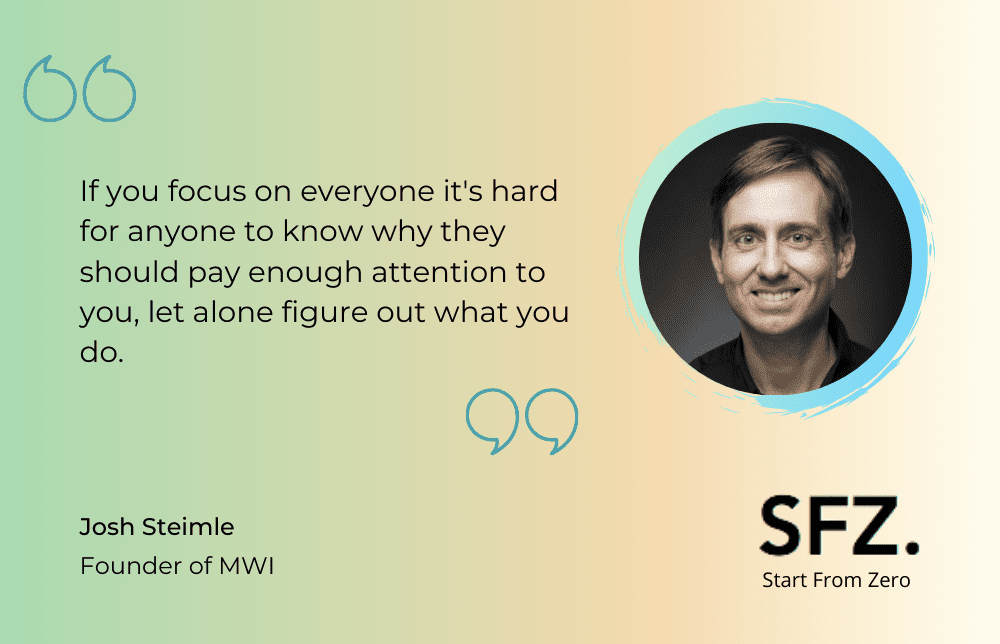 With my digital marketing agency we used to focus on anyone looking for marketing services, then we narrowed down to one key audience – individuals who were actively searching on Google for the right way to hire an SEO firm.
With that focus in mind, I wrote an article for Forbes called "4 Ways to Hire the Right SEO Firm" and that single article is responsible for over $5M in revenue!
That's the kind of result you can optimize for and achieve, but if you're spreading yourself thin then you won't come up with those ideas. You'll end up writing articles like "How to hire a marketing agency," and guess what?
The people who hire generalist marketing agencies aren't searching online or reading Forbes to get information, they already know all the players (the large agencies) or they're going through word-of-mouth.
Everyone else is looking for specialist agencies. Now, how can you adapt this from the marketing agency world to your industry?
•••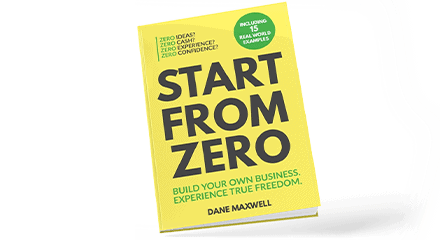 Have Any Questions? Post Below…