Find Your Next Business Idea With 50 Different Examples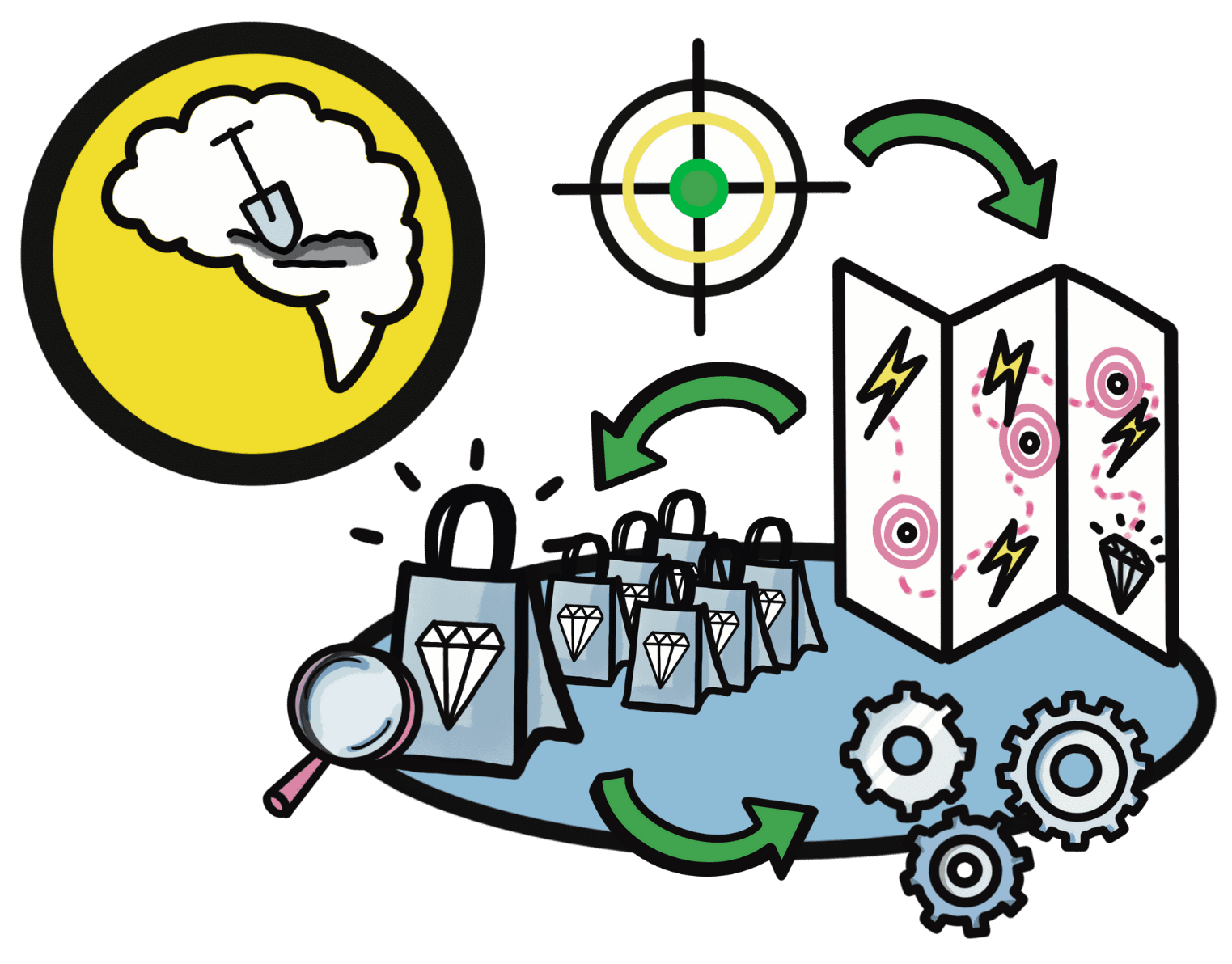 If You're Looking To Start A Business Quickly,
Learn How To Use The C.P.S.O Framework
To Grasp Launching Your Own Thing
Written by: Dane Maxwell & Edwin Culver
In my latest book Start From Zero, I talk about a business pattern you can use to quickly get a grasp on starting your own business.
‍
In essence, every income stream is made up of four key components.
A customer
A pain
A solution
An offer
That is called C.P.S.O.
‍
With these 4 things, we can quickly come up with product ideas that work.. With enough examples, you'll start to see just how abundant the world of business is.
‍
And of course… Find your own product ideas on-demand. 🙂
The Simpler The Business,
The Better For Everybody
If you can't explain your business in these simple terms, you are in trouble.
‍
Let's start with the examples.
•••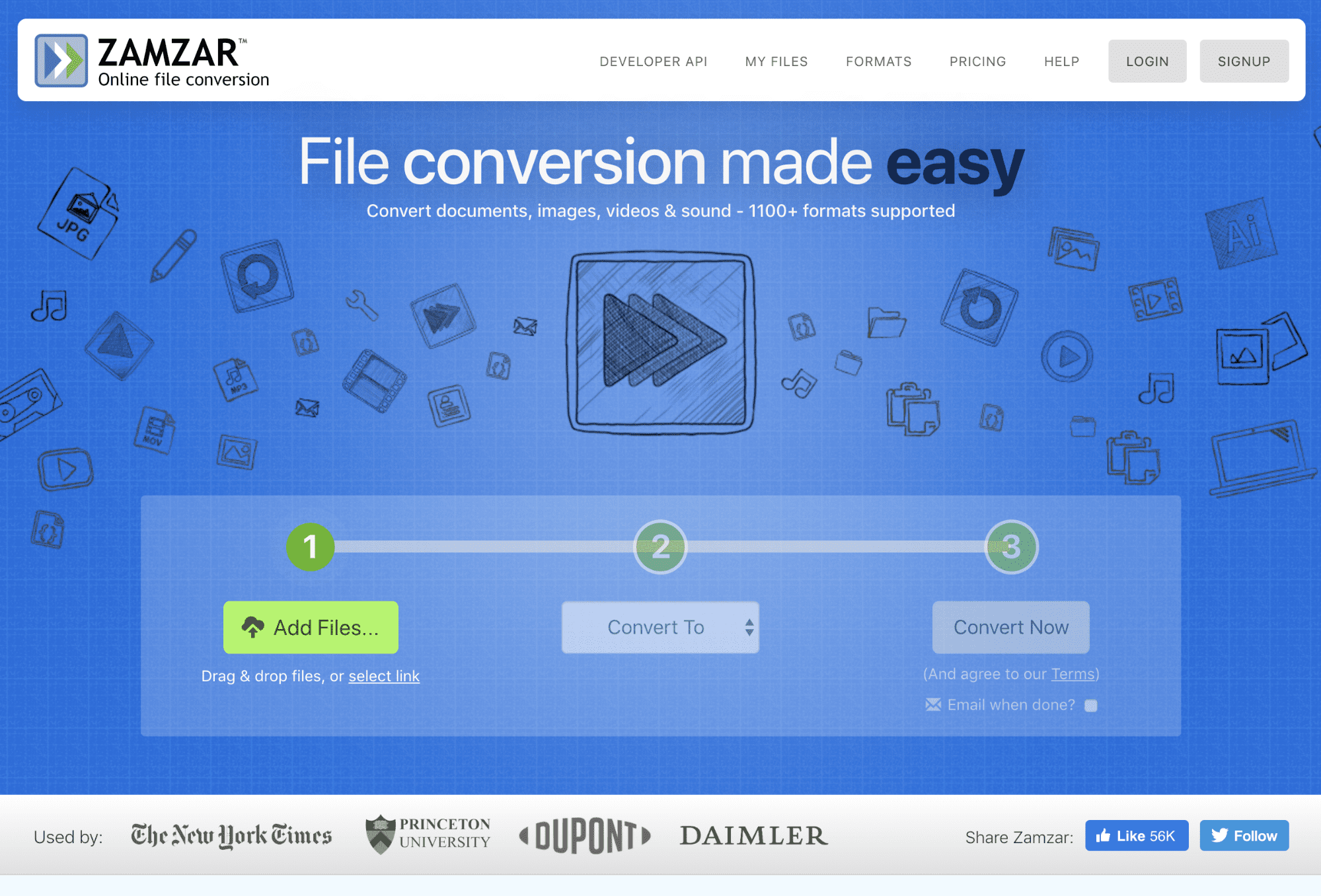 This is such a simple and powerful business. And it does one thing well. Let's look at the C.P.S.O.
‍
Customer: People with different file formats
‍
‍Pain: Sometimes you need to change the format of a file before you can upload it to a website or send it to someone (This sucks hard, what a great pain).
‍
‍Solution: Convert your file to the format you need it to be. No tech skills required.
‍
‍Offer: Free and $9.95 a month for unlimited conversions
‍
Let's move to the next…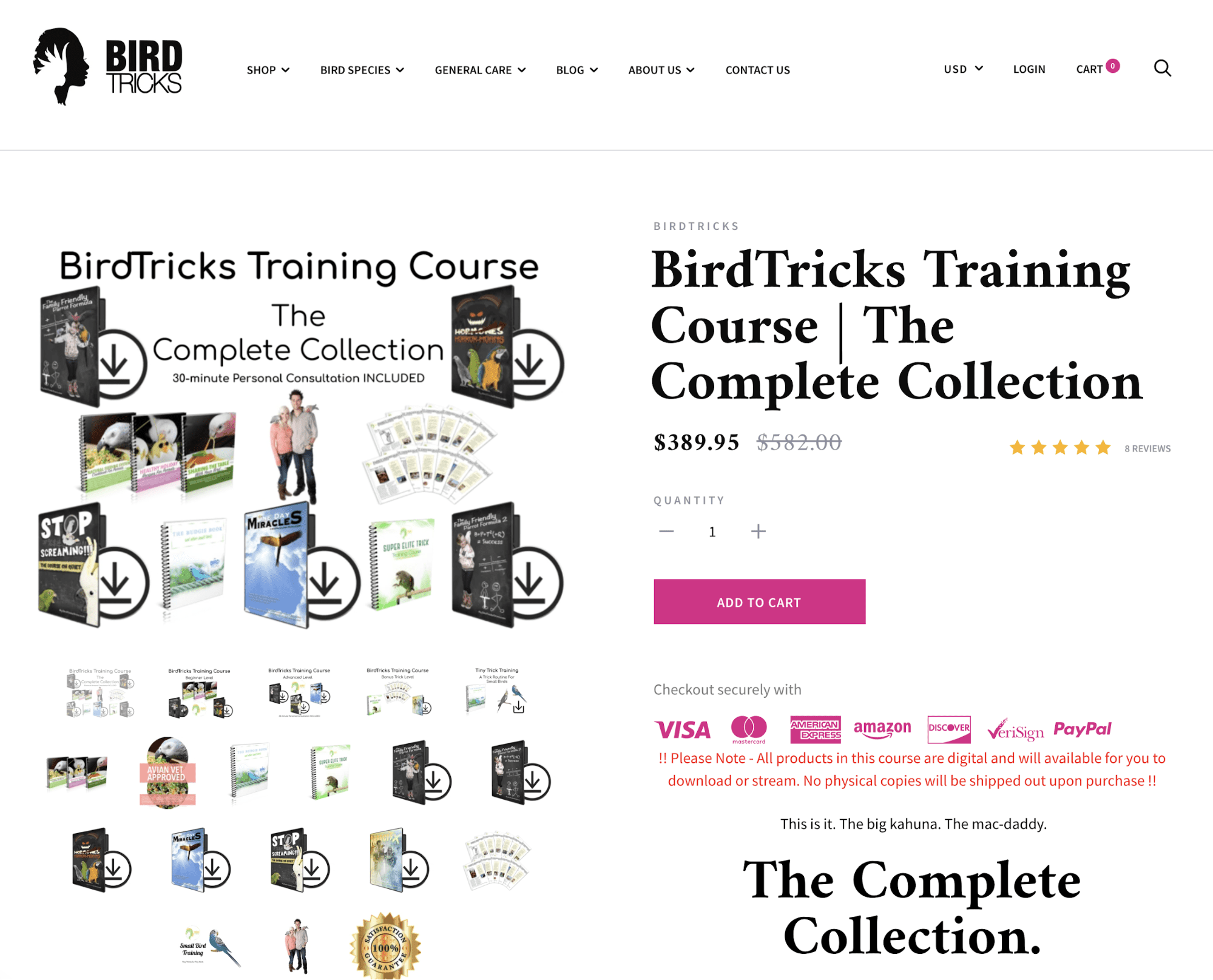 Customer: Bird owners.
‍
‍Pain: Misbehaving birds… (like birds that scream or bite!)
‍
‍Solution: A program that'll show you how to get your birds to behave.
‍
‍Offer: $389.95 one-time. (Which may seem like a lot if you're not someone who owns, loves, but is struggling to live in peace with their bird!)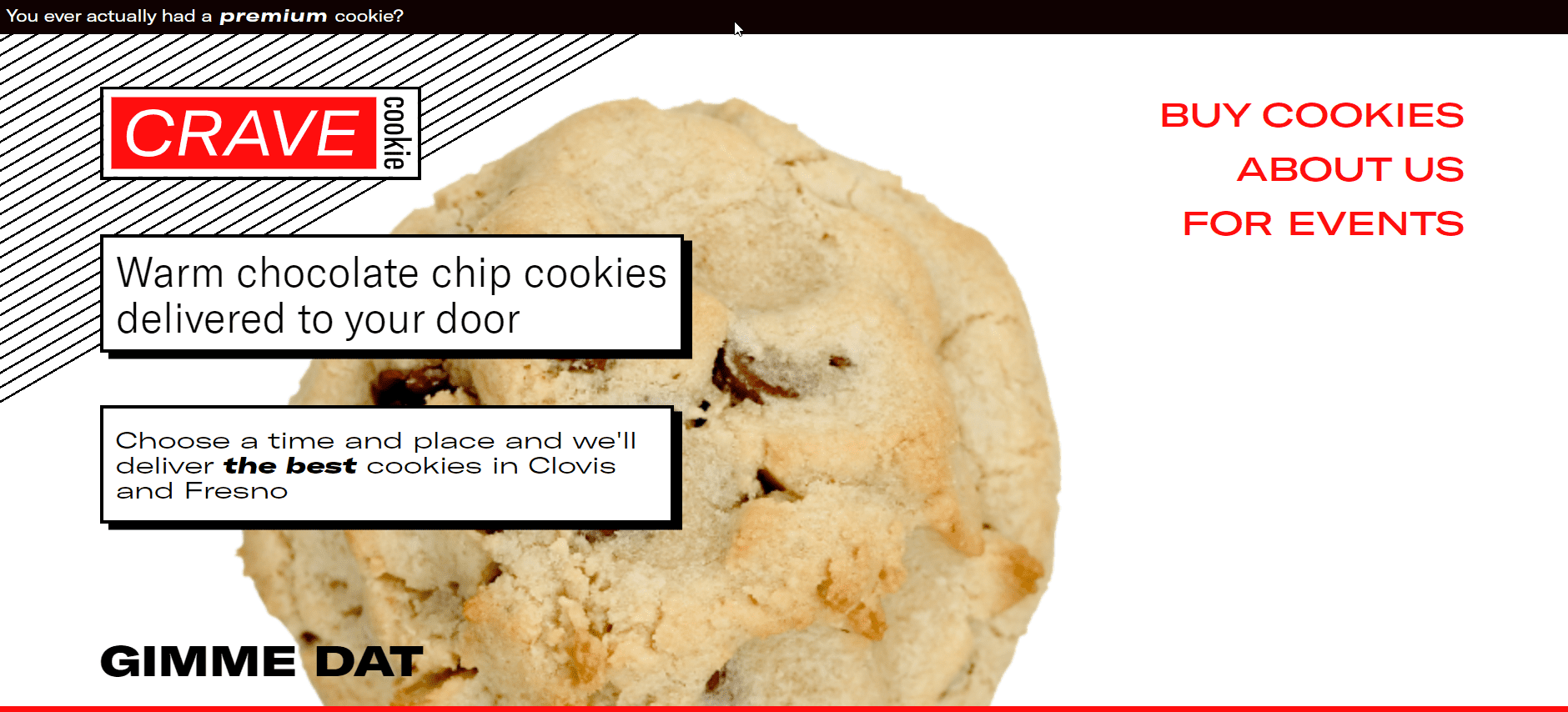 Customer: "Homes, businesses, schools…anywhere with an address in Clovis & Fresno, CA"
‍
‍Pain: Don't have time to bake cookies for a party, or maybe you just suck at baking.
‍
‍Solution: "Warm chocolate chip cookies delivered to your door"
‍
‍Offer: 4 large cookies for $12, 8 for $24, 12 for $36, 16 for $48…you get the idea. (Plus flat $2 delivery fee whether you order 1 box or 100).
‍
Revenue: $73K/Mo (according to IndieHackers.com).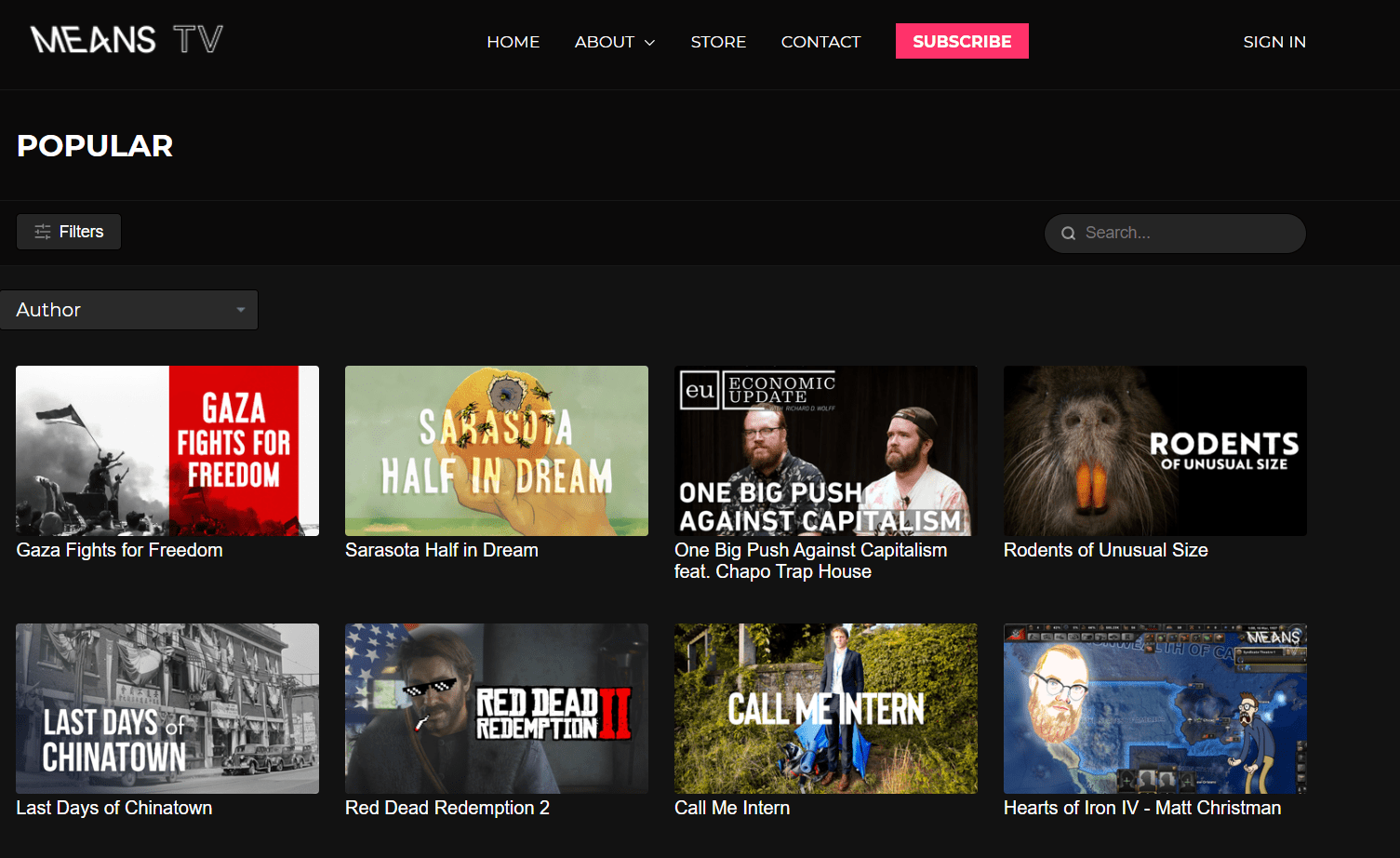 Customer: Left-leaning youth disillusioned by constant advertisements and product placements on the big corporate television networks.
‍
‍Pain: Corporate dominance in the entertainment industry leaves 'captivating worker-centric' stories untold.
‍
‍Solution: The world's first post-capitalist, worker-owned streaming service. "Netflix for the 99%!"
‍
‍Offer: $10/mo or $110/yr.
‍
‍Revenue: $22K/mo (according to IndieHackers.com)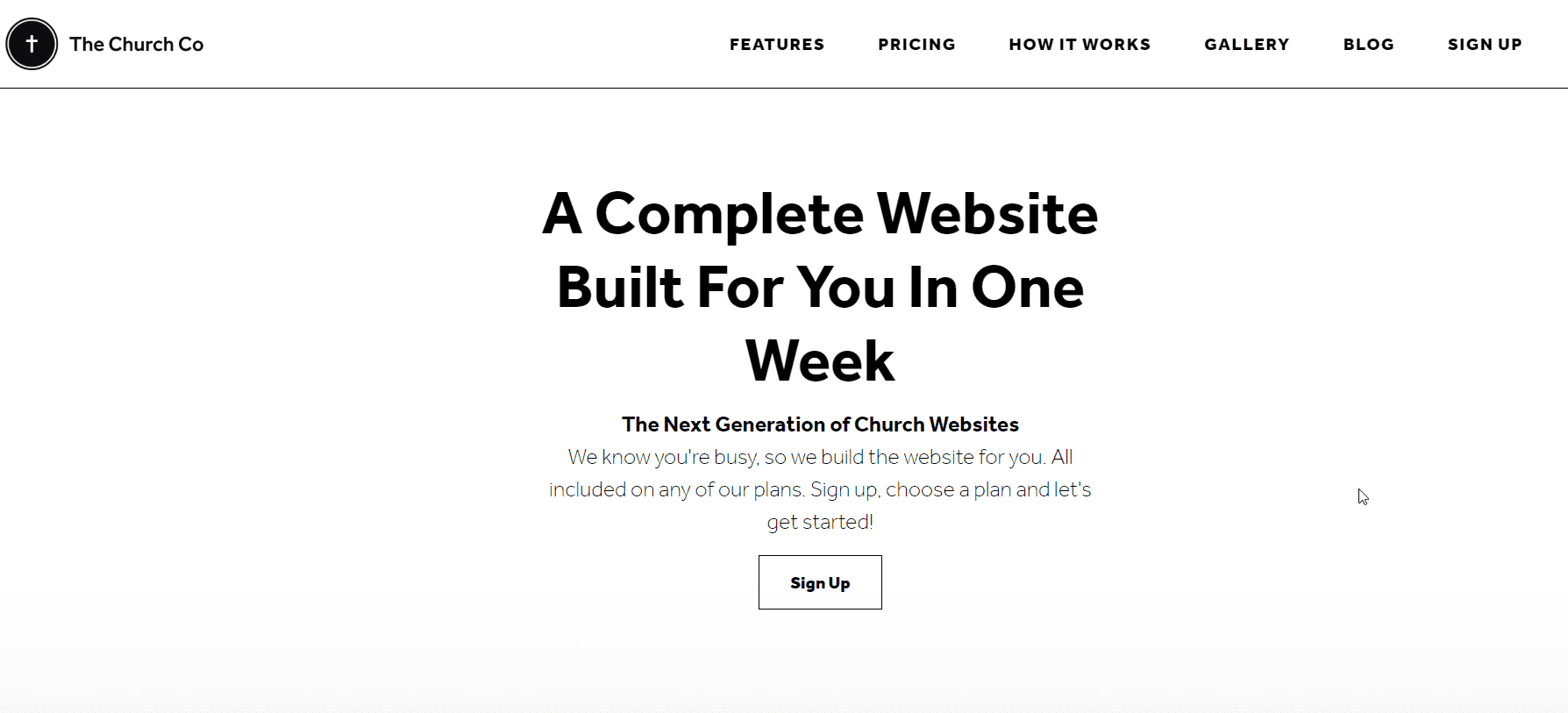 Customer: Pastors who don't have time to build a website, church staff who don't have tech skills.
‍
‍Pain: Building a website takes a lot of time, can be very expensive to hire a designer, and churches often need special features like small-group signups and online tithing w/ accessible contribution statements.
‍
‍Solution: "We build the website for you, for free."
‍
‍Offer: A Complete Website Built For You In One Week: $20/mo + Free Setup. $50/mo for Premium features like online giving, $199 for Ultimate.
‍
‍Revenue: $27k/mo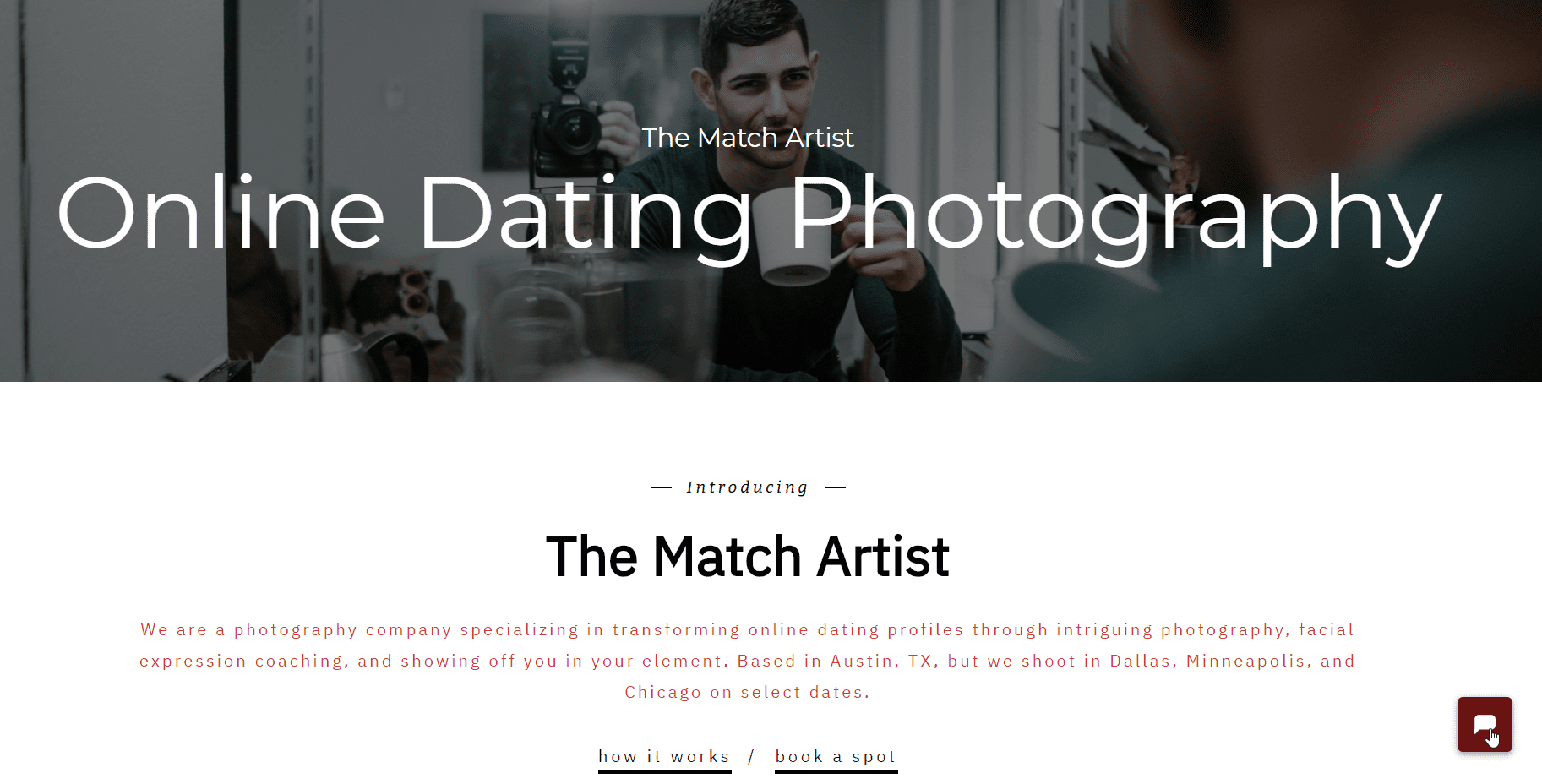 Customer: Single males using online dating apps.
‍
‍Pain: You don't get dates because of low quality photos. Or, even though you have high resolution photos, you still don't get matched with ideal dates because your photos fail to communicate the most attractive traits of your personality.
‍
‍Solution: Facial/confidence coaching + studio photos that make you look like a model w/o having to be a model + life-style photos that show how unique and interesting you are.
‍
‍Offer: "Grab a spot, Inquire via Email Now"
‍
‍Revenue: $11k/mo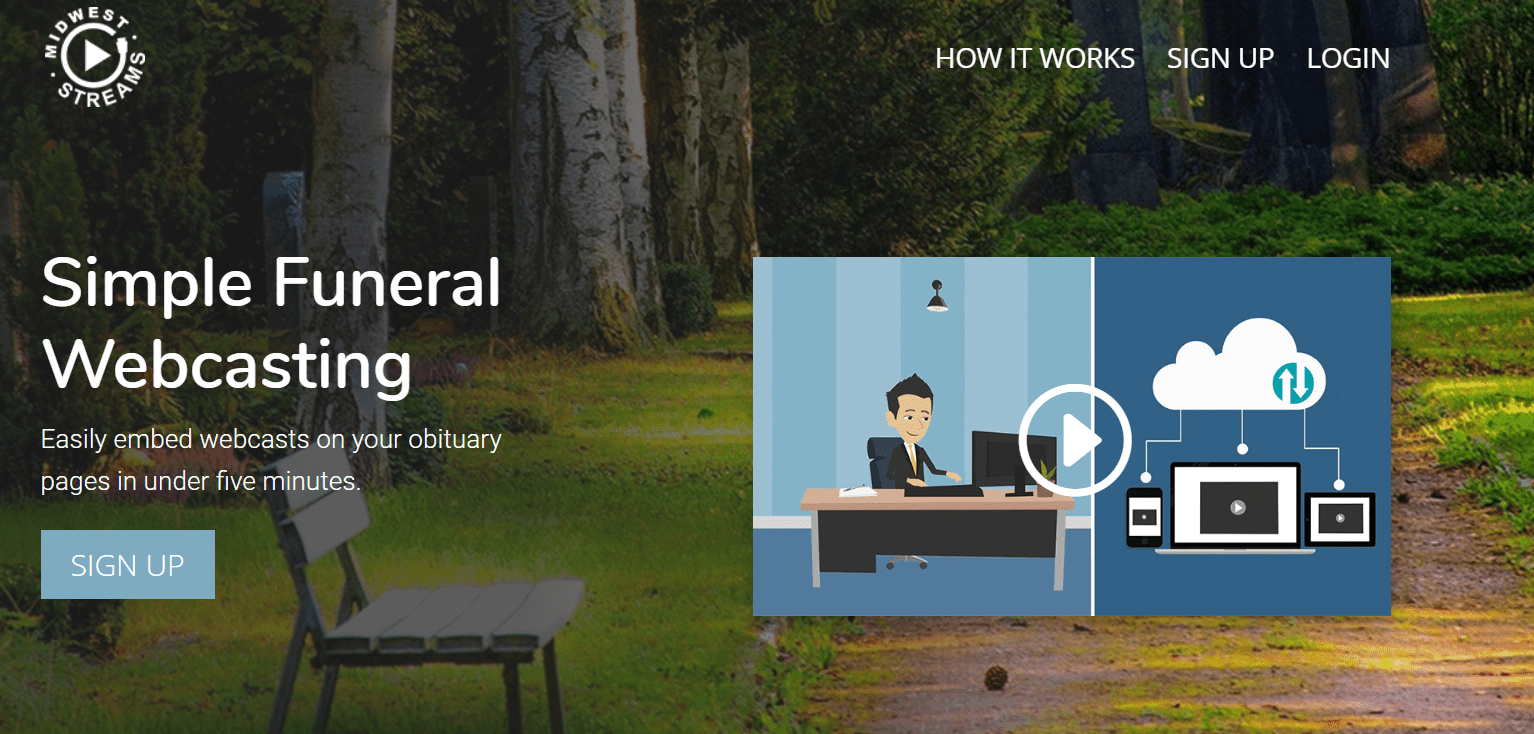 Customer: Funeral homes. (Family members organizing a funeral.)
‍
‍Pain: Oftentimes family members and close friends live too far away to attend the funeral service in person.
‍
‍Solution: Webcast the funeral and post to the obituary page so family and friends can watch from half-way across the country.
‍
‍Offer: Free Trial for funeral homes, will send a camera and tripod.
Example 8: Elsie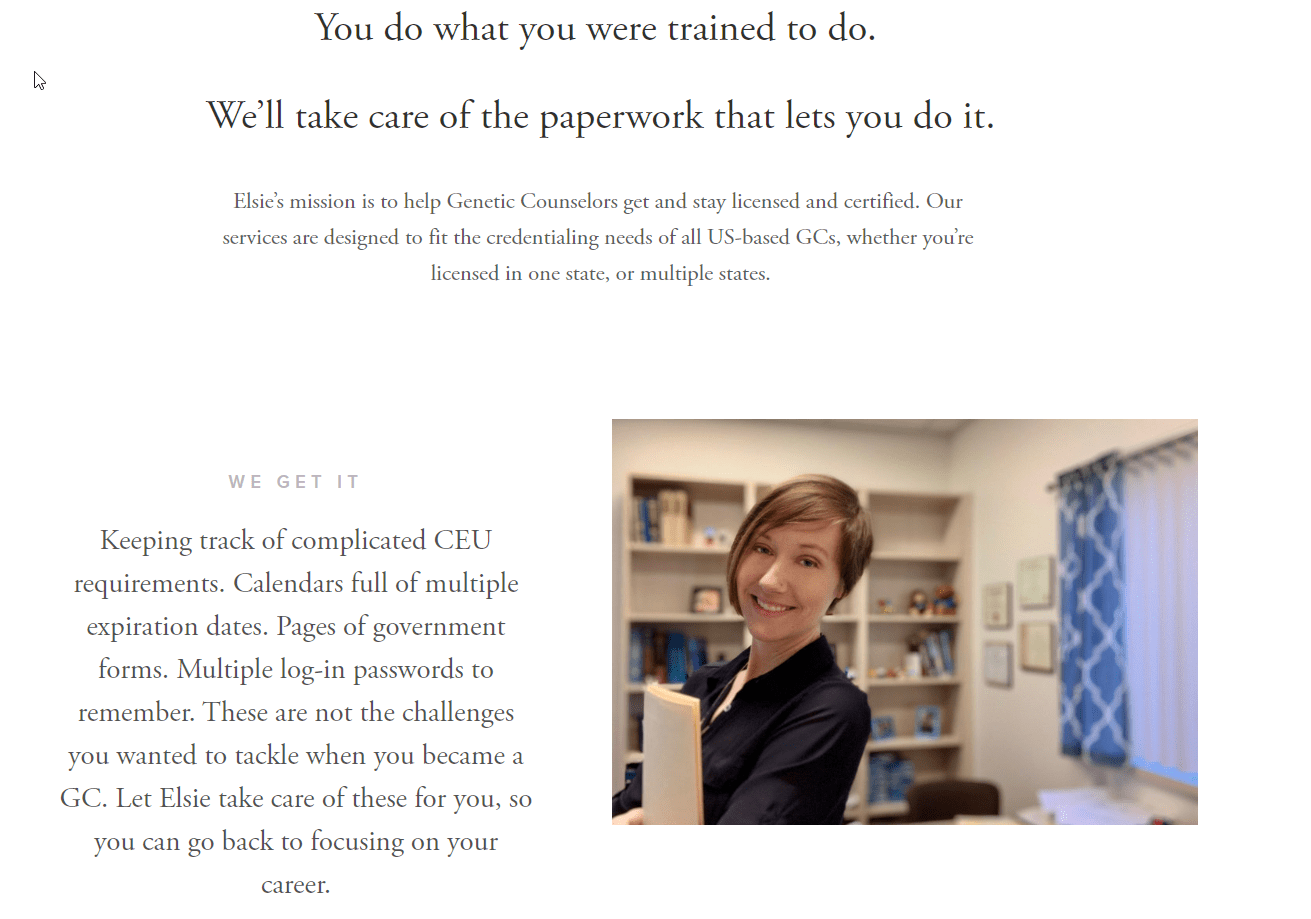 Customer: Genetic Counselors who need to get and stay licensed and certified.
‍
‍Pain: Complicated CEU requirements, a calendar full of expiration dates, pages of government forms, multiple log-in passwords to remember. And if any of these slip, it could cause your practice to get shut down.
‍
‍Solution: Renewal requirement tracking, get reminders for important deadlines if you still want to do it yourself. Or, full-service licensing done for you hands-free.
‍
‍Offer: $12-16/mo for tracking. Contact for full-service pricing.
‍
‍Revenue: $20k/mo (according to IndieHackers)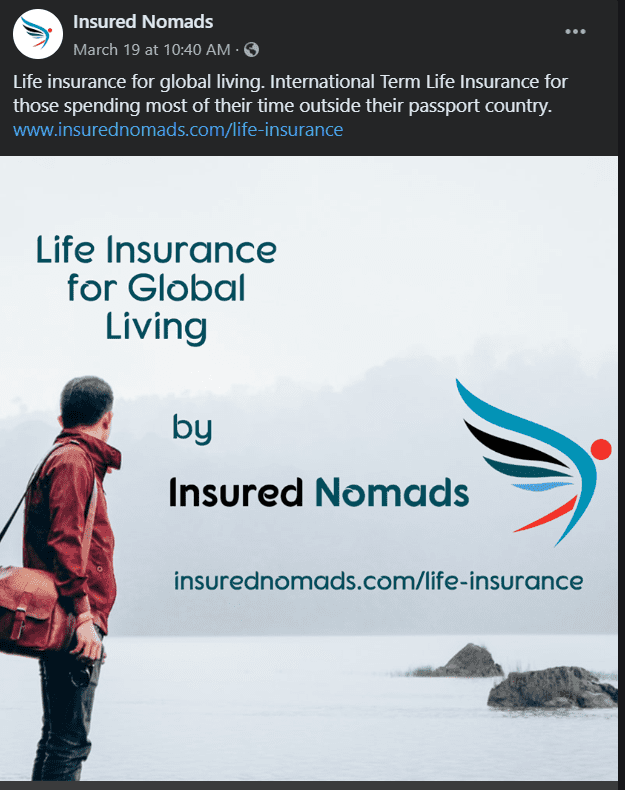 Customer: Digital nomads who need health insurance while traveling the world.
‍
‍Pain: Purchased a policy in the past only to find it didn't have enough benefits, slow and poor claims services, and too much fine print.
‍
‍Solution: Health insurance tailored for the world traveling lifestyle. (Partnered with Point Comfort Underwriters & Expatriate Group to fulfill insurance…plus donates to 'Not For Sale' to end human trafficking worlwide).
‍
‍Offer: Free consultation call
‍
Revenue: $100k/mo (according to IndieHackers posting)
Example 10: Wavve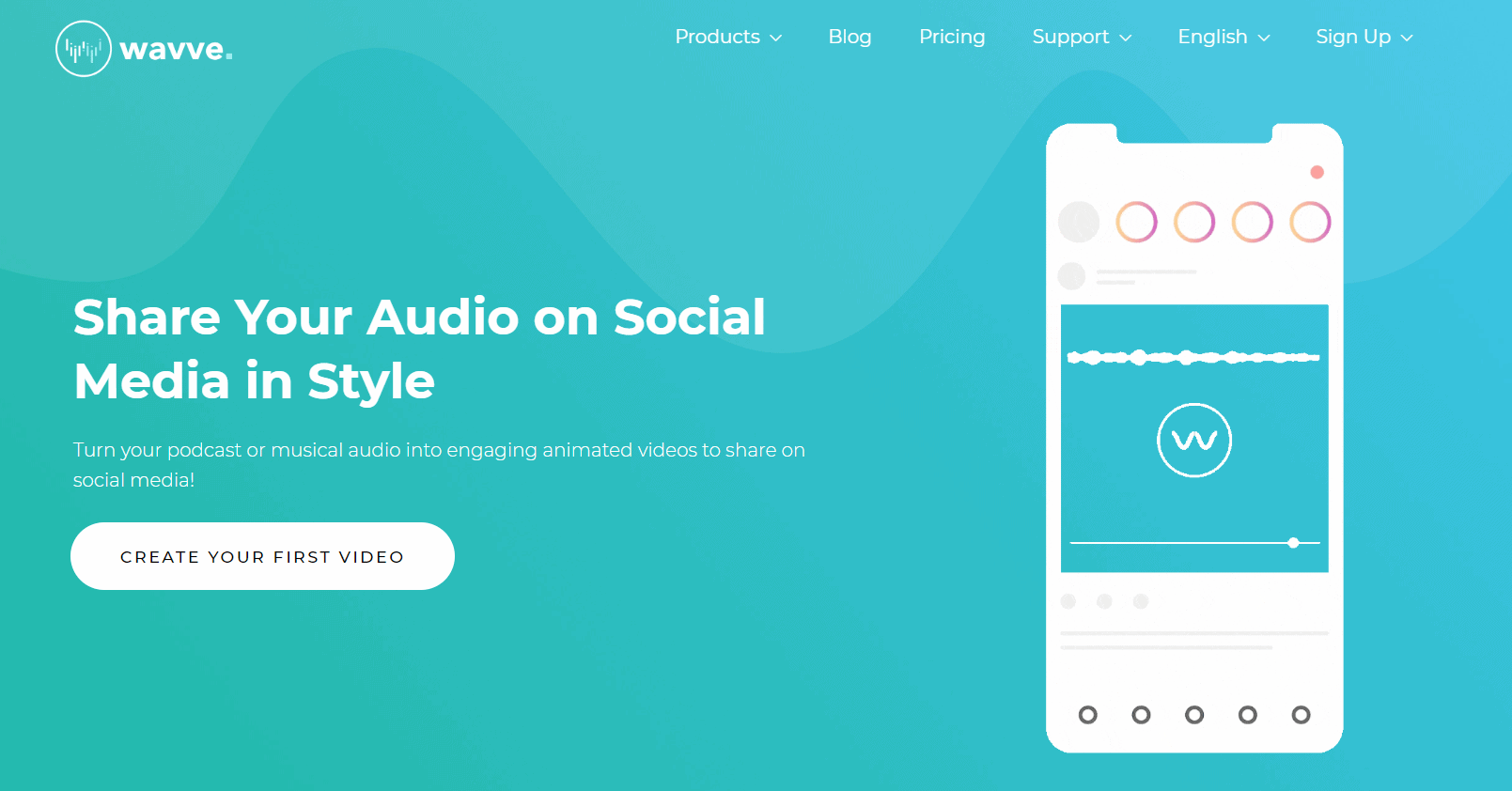 Customer: Musicians, podcasters, anybody producing audio content to be shared online.
‍
‍Pain: Social media platforms like Facebook and Instagram discourage the use of audio and external links by restricting their organic reach and engagement.
‍
‍Solution: Turn your podcast or musical audio into engaging animated videos to share on social media. Videos are 6x more likely to be retweeted than photos and 3x more likely than GIFs (pronounced with a hard G, btw).
‍
‍Offer: Get started with a free plan: Create Up to 1 Minute of Video Free. (Paid plans range 10-300 minutes of video/month for $10-32/mo).
‍
‍Revenue: 84k/mo (according to IndieHackers)
‍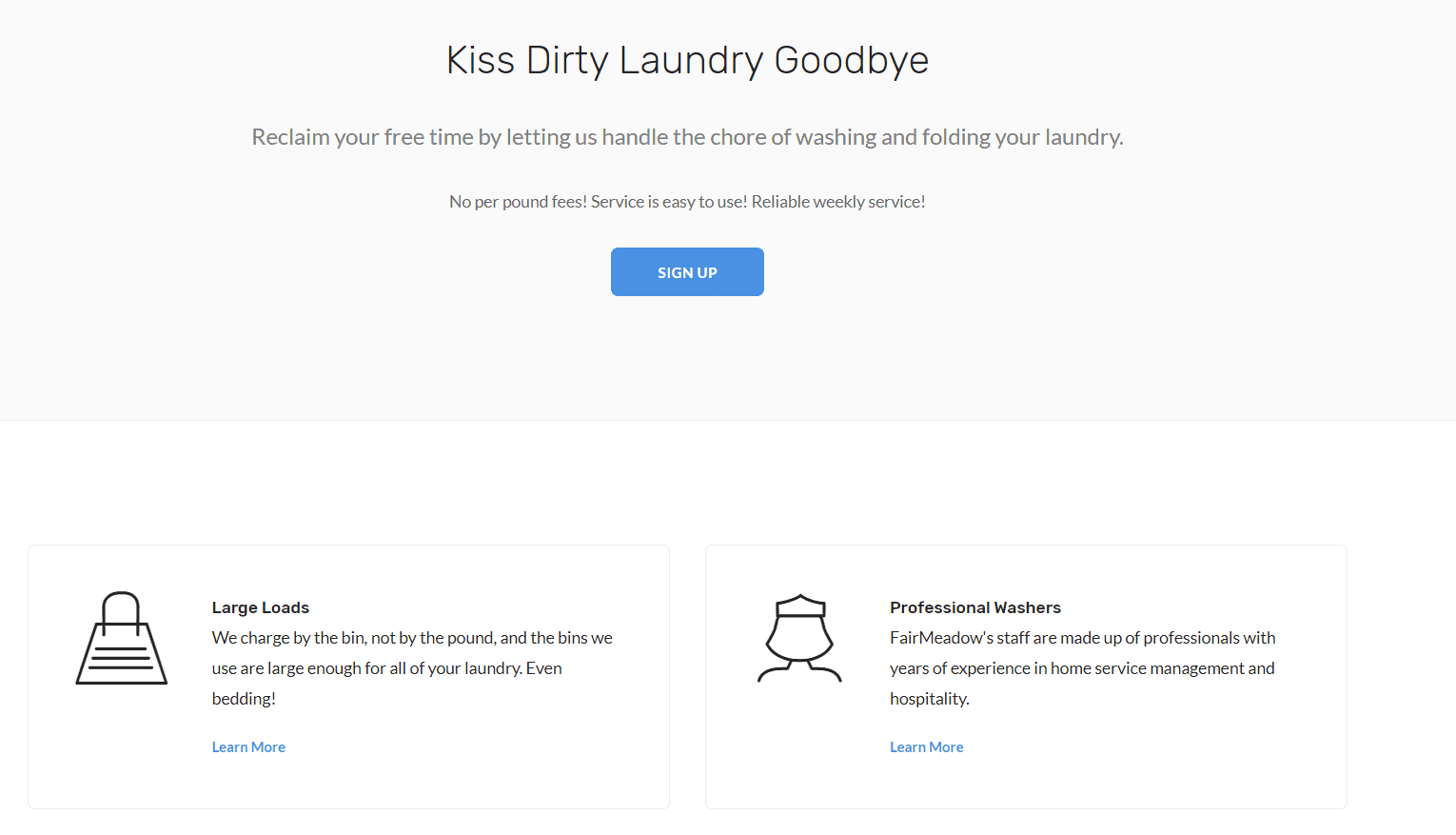 Customer: People who have a hard time keeping up with their laundry.
‍
‍Pain: Washing and folding your laundry is a chore that sucks up your precious free time.
‍
‍Solution: They'll pick up your laundry and deliver it cleaned and folded the very next day.
‍
‍Offer: $15-18 per week for one large bin of laundry (large enough for all your laundry, even your bedding!)
‍
‍Revenue: $22k/mo (according to IndieHackers)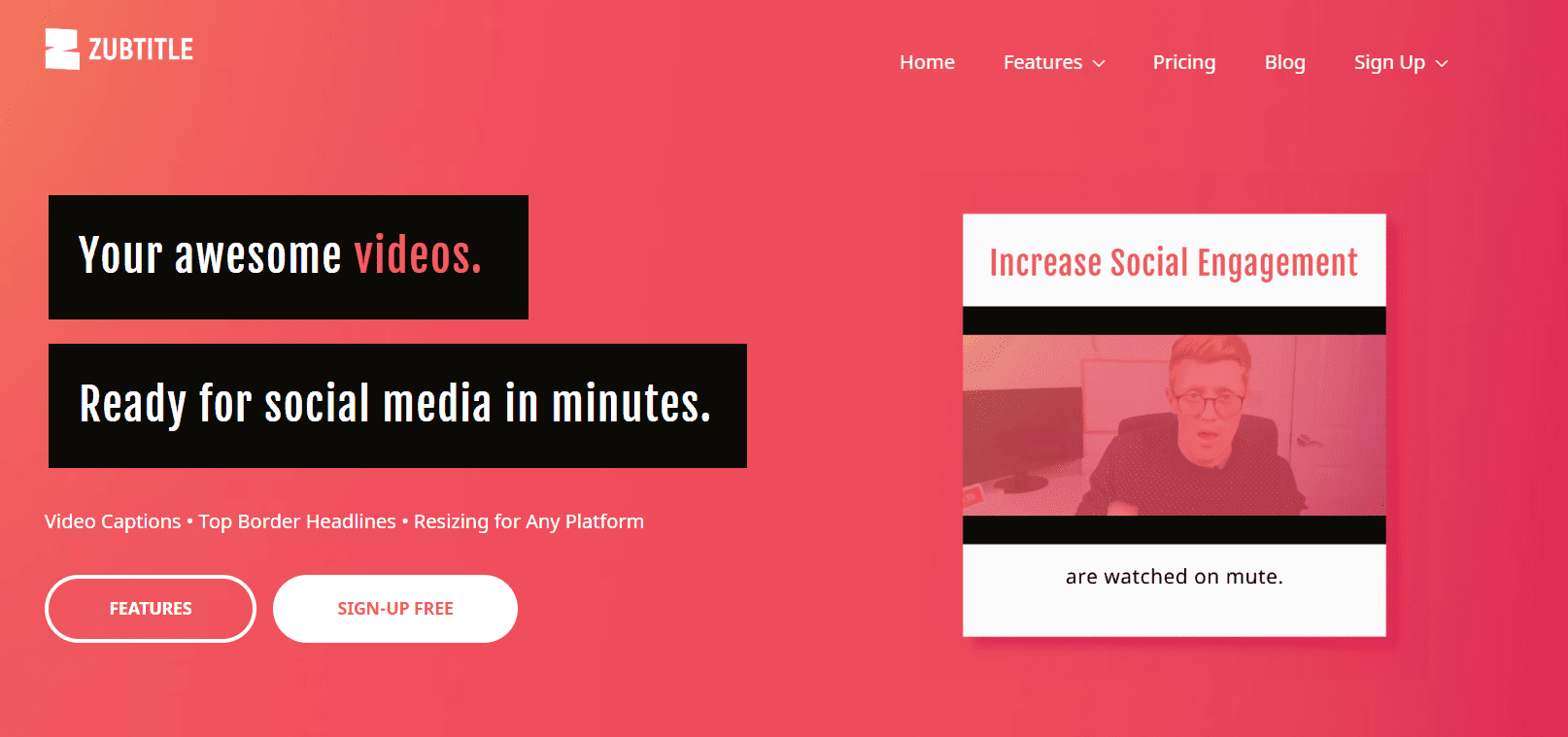 Customer: Social media influencers needing to upload engaging video content with attention-grabbing headlines and subtitles on a regular basis.
‍
‍Pain: 80% of social media videos are watched on mute. And in the game of social media, the person who can capture the most attention wins.
‍
‍Solution: Auto-captioning tool, no need for hiring a virtual assistant to manually add captions, no complicated software, just upload the video and let Zubtitle add the captions automatically.
‍
‍Offer: Free trial for 1 video. $19-49/month for 10-30 videos per month.
‍
‍Revenue: $40k/mo (according to IndieHackers)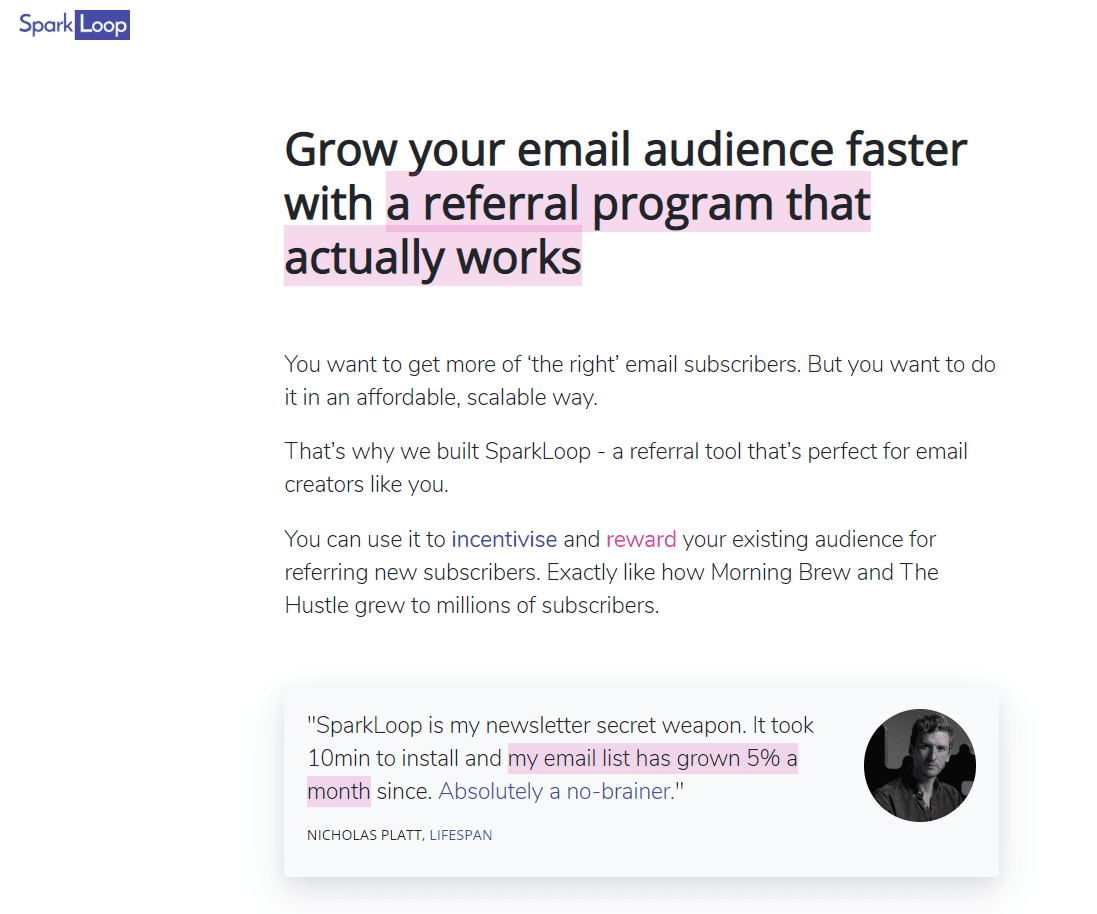 Customer: Anyone needing to grow their email list faster.
‍
‍Pain: It can feel impossible trying to build an audience from 0. And running ads to cold prospects often means you don't get the 'right' subscribers to your email list.
‍
‍Solution: Referral tool that incentivises and rewards your existing audience for referring new subscribers.
‍
Offer: "Your best email address…Get My Invite" – we personally onboard you to make sure your referral program is a success.
‍
‍Revenue: $2K/mo (according to IndieHackers)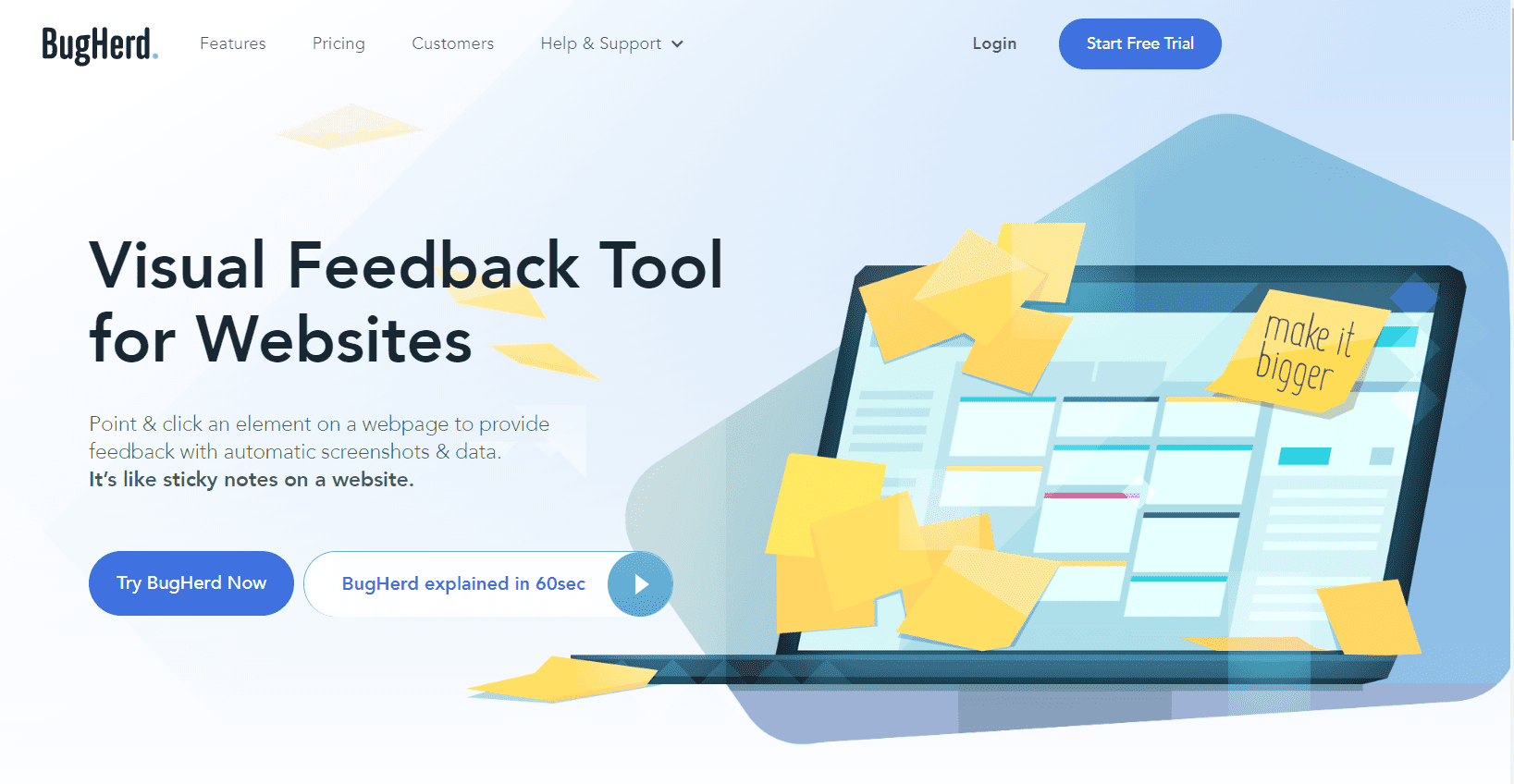 Customer: Web designers/managers.
‍
‍Pain: Debugging websites means long chains of feedback emails between web team and clients. Vague emails lead to lots of frustration and time wasted.
‍
‍Solution: Bugherd: It's like sticky notes on a website – the fastest way to collect and act on client feedback. Feedback is sent directly to the task management board complete with screenshots, browser, OS & CSS selector data and more.
‍
‍Offer: Free for first 14 days…$39-189/month for 5-50 member teams.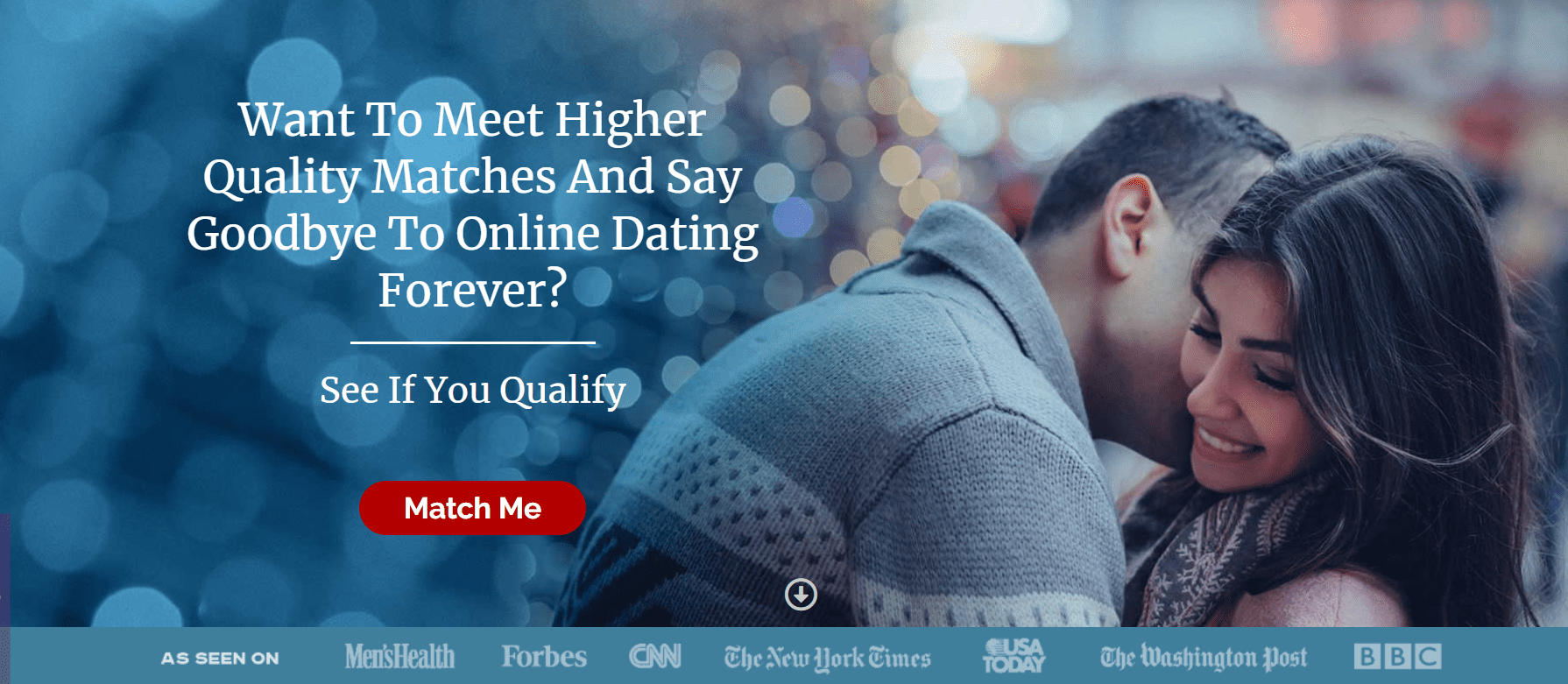 Customer: Men struggling to meet women for dates.
‍
‍Pain: Dating apps put you in direct competition with every single guy in your area. And data shows it takes an average of 12 hours/week just to stay up to date with all the dating apps you'll need to "find the one."
‍
‍Solution: Outsource your online dating to virtual assistants who've set up thousands of profiles since 2009, get dates scheduled on autopilot, and 'beat the odds by stacking them in your favor.'
‍
‍Offer: Simply take 60 seconds to answer a few questions to see if you qualify. If selected, one of their matchmakers will get in touch with you to schedule a casual, confidential consultation where you can decide together whether VIDA's right for you.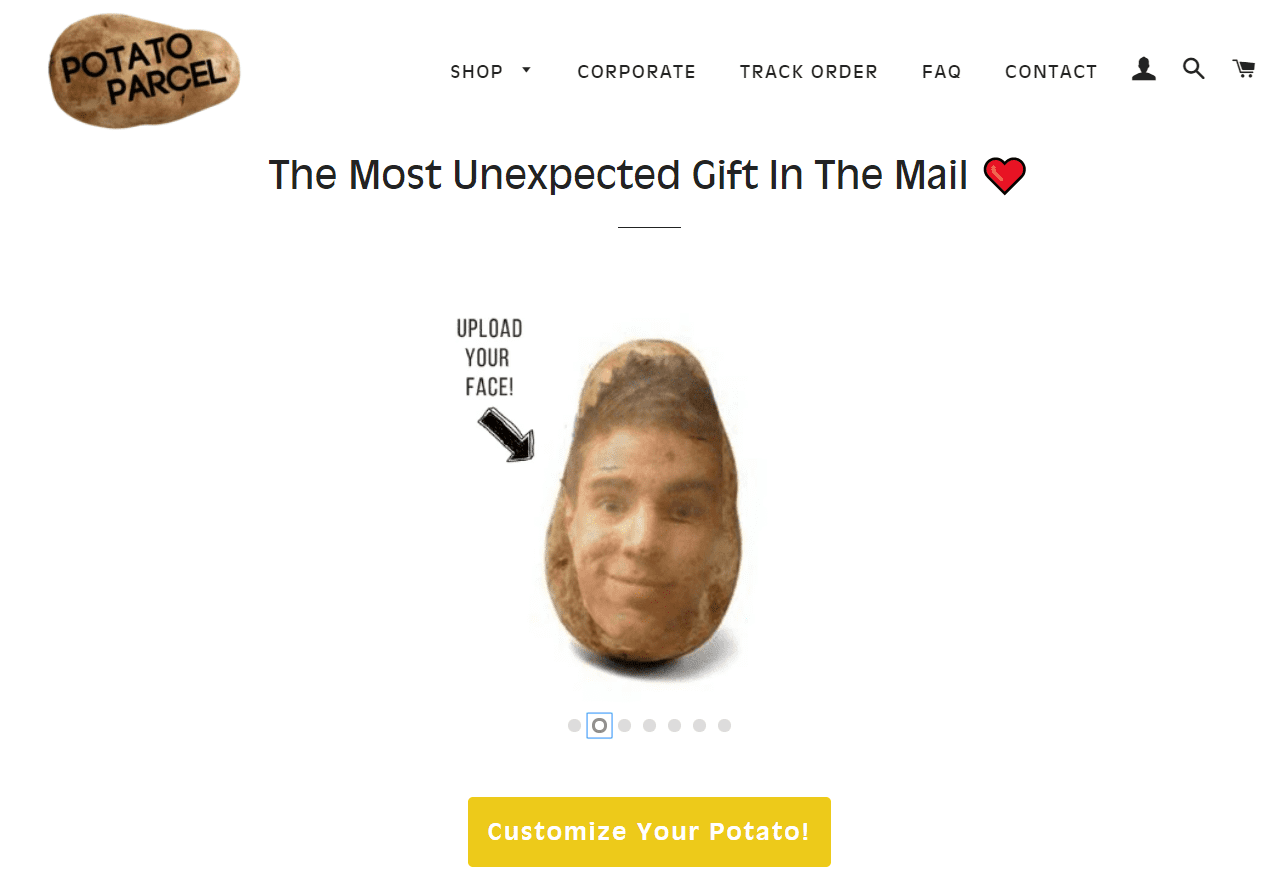 Customer: People bored with sending cards and flowers on special occasions.
‍
‍Pain: It's hard to find something creative and whimsical at the last minute that's also personalized.
‍
‍Solution: The Most Unexpected Gift In The Mail: A potato with a special message or full-color image printed on it.
‍
‍Offer: $14.99 and up for a potato parcel, bundles, etc.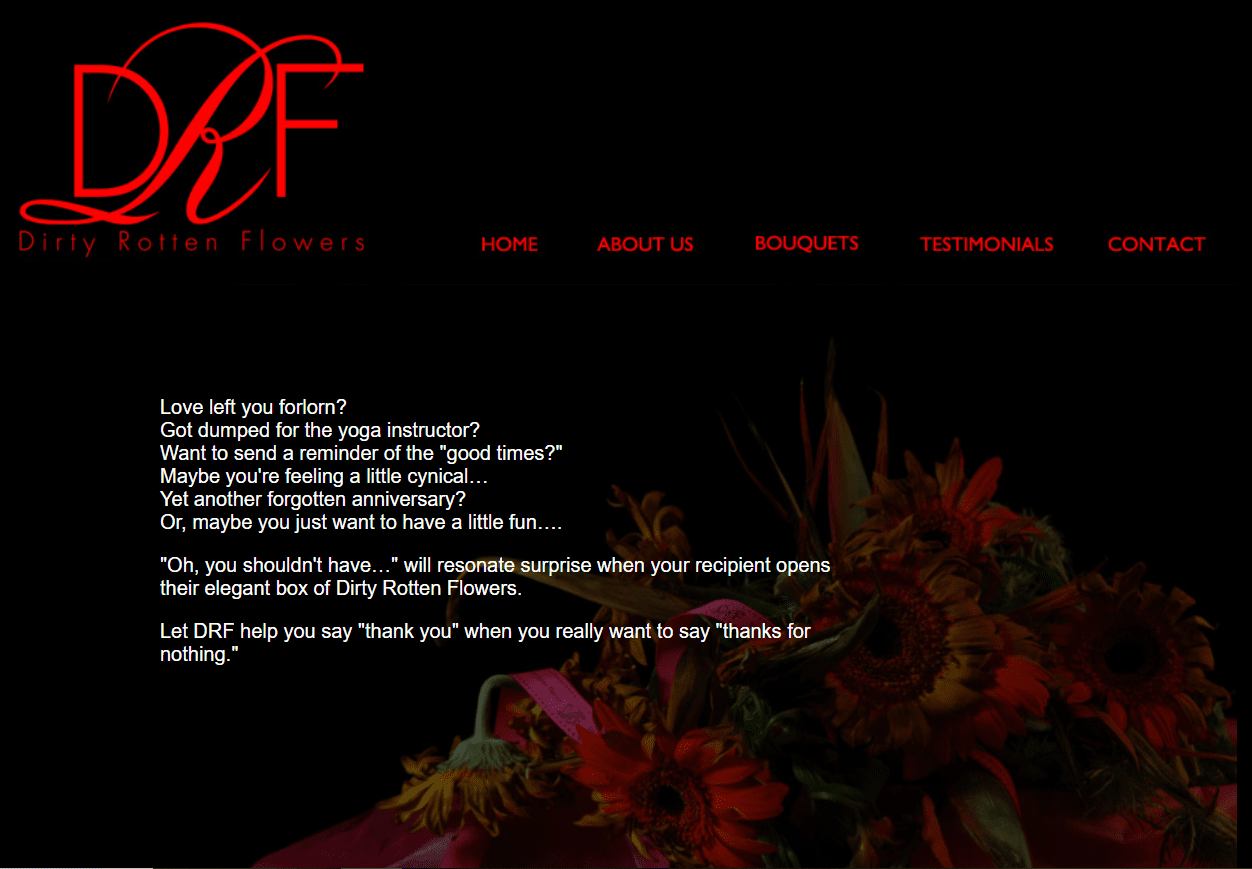 Customer: Anyone who's looking for vengeance. Perfect for someone who just got dumped by their ex, passed over for a job promotion, or just feels a little cynical today.
‍
‍Pain: How to get back at someone in a 'good-natured' way without breaking the bank or breaking the law?
‍
‍Solution: Send them dirty, rotten flowers with a torn-up teddy bear that reads "I love you…not!"
‍
‍Offer: Bouquets starting at $29, up to $40 for a custom bouquet, plus shipping and handling.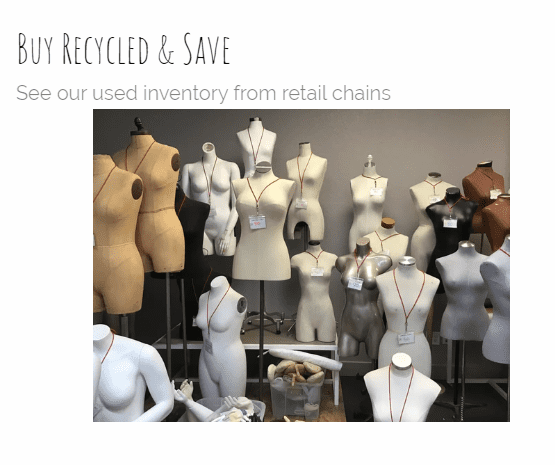 Customer: Brick & mortar clothing boutiques only needing a handful of sharp, elegant mannequins.
‍
‍Pain: Ordering from a factory can be pricey when all you need is one or two sharp looking mannequins.
‍
‍Solution: Mannequin Madness recycles old mannequins from large chain stores like Macy's, Sears, and Nike.
‍
‍Offer: Used mannequins starting as low as $50, up to $175 (plus free shipping on orders $450 or more).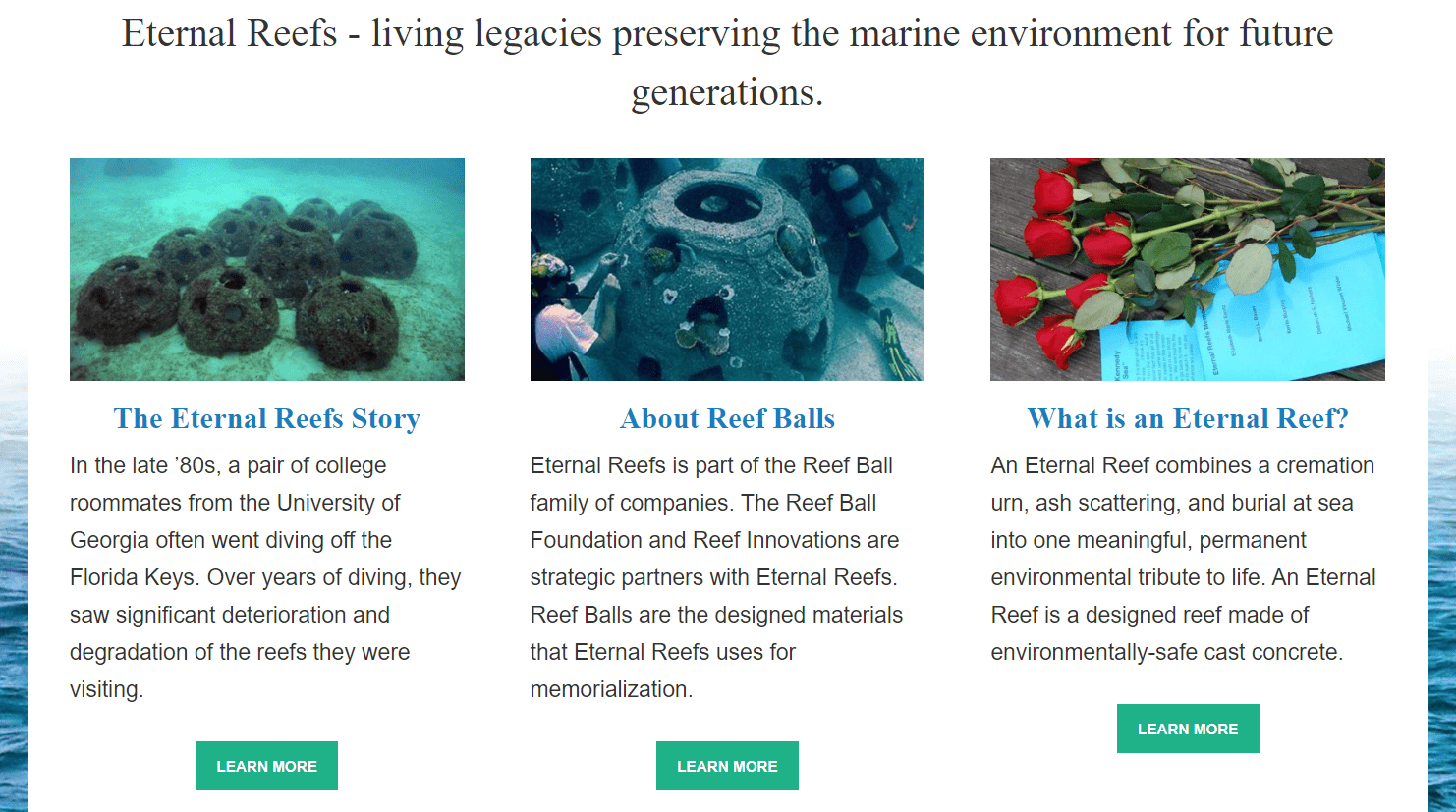 Customer: Family of recently deceased organizing a funeral, or someone in the midst of writing their will.
‍
‍Pain: Cremation doesn't leave a permanent legacy or have a lasting environmental impact.
‍
‍Solution: An "eternal reef" or "reef ball" that combines a cremation urn, ash scattering, and burial at sea into one meaningful, permanent environmental tribute to life.
‍
‍Offer: Memorials run from $2,995 up to $7,459 depending on the size of reef you'd like to be buried in.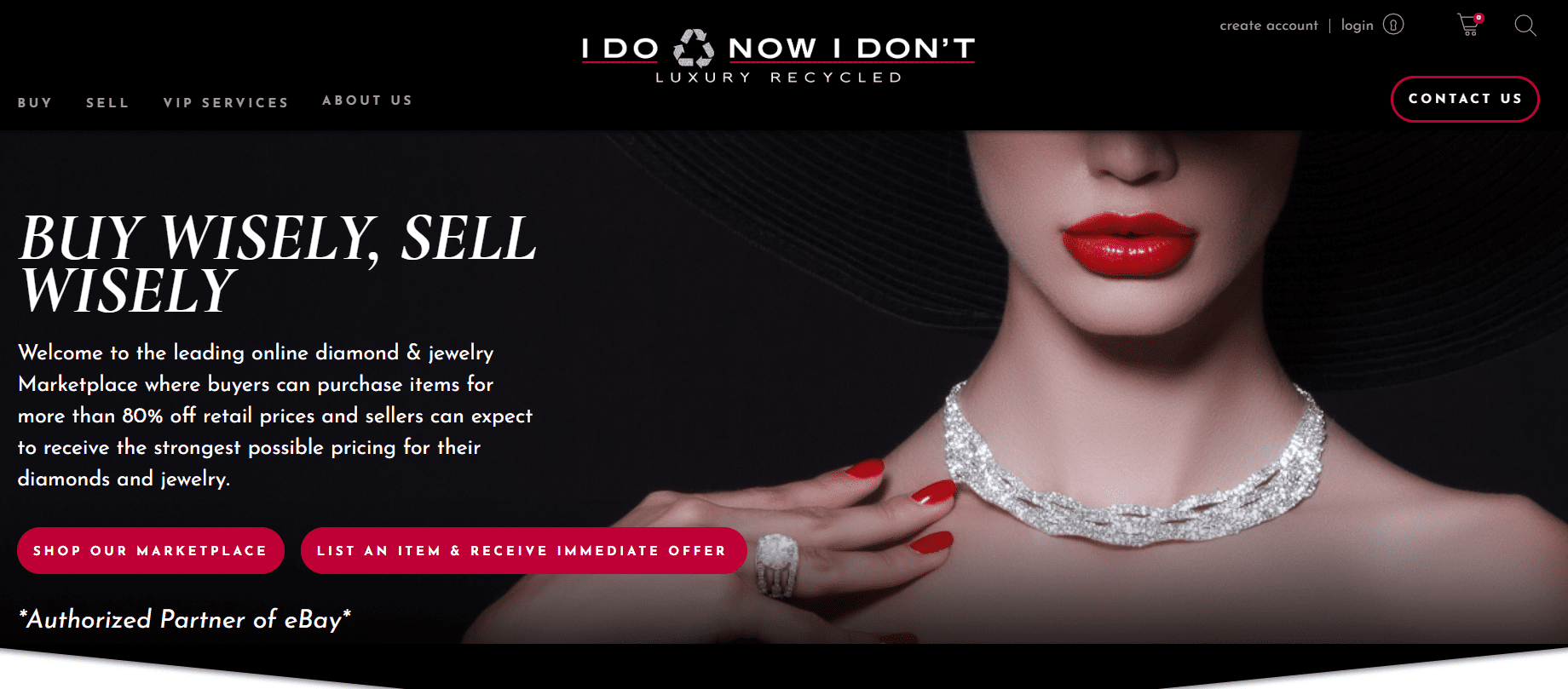 Customer: Your fiance just broke up with you (and now the jeweler will only offer peanuts in return for the $10,000 ring you slaved for!) Anyone looking to sell their engagement ring or any other fancy jewelry.
‍
‍Pain: Gold and diamond shops only make offers based on the weight of the jewelry and what they can make by melting it down. Leaving you screwed out of thousands of dollars.
‍
‍Solution: Post it online and sell the jewelry directly to someone who sees the value in it.
‍
‍Offer: List an item and receive an immediate offer, 20% commission goes to I Do, Now I Don't once sold.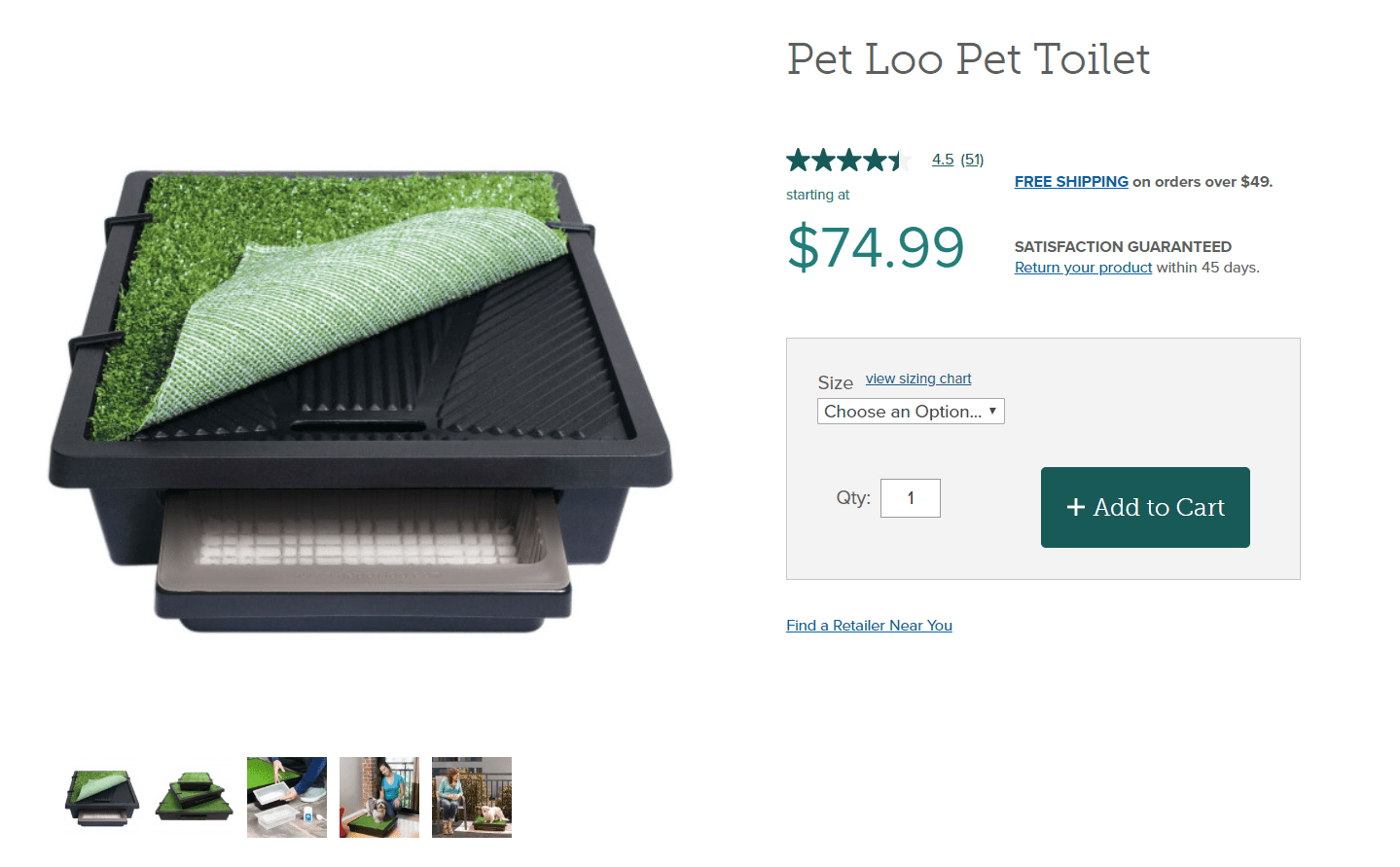 Customer: Anyone who owns a pet that needs to be let out.
‍
‍Pain: Not fun to take your dog out when it's cold outside, sometimes you just don't have time to make a trip back home and let the dog out, or maybe you have a handicap that makes it difficult to take your dog outside several times a day.
‍
‍Solution: The Pet Loo is a portable indoor toilet for you dog/cat and makes for easy cleanup.
‍
‍Offer: Available in 3 sizes, small, medium and large – $74.99 up to $124.99.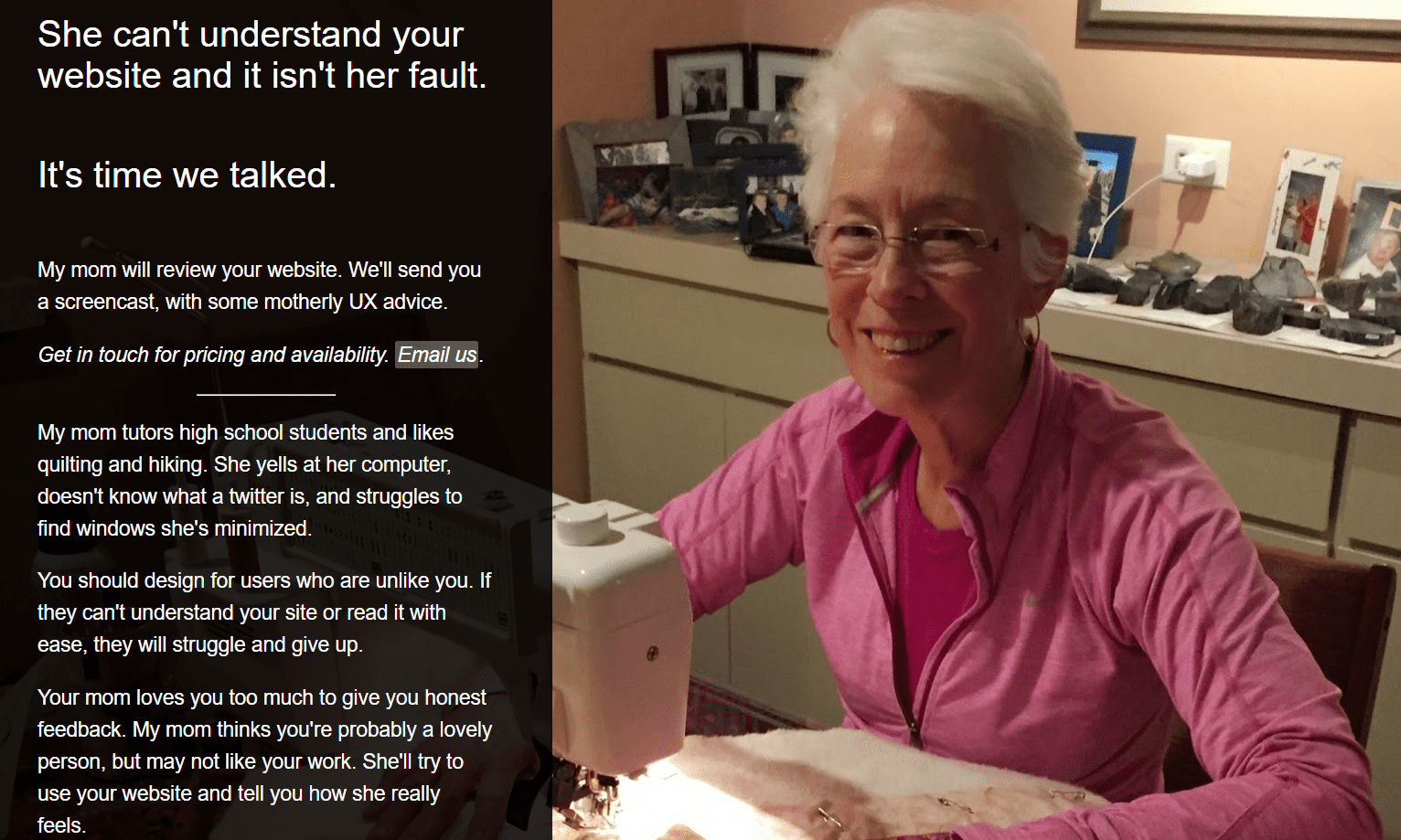 Customer: Website and app developers needing to test their latest UX (User Experience).
‍
‍Pain: It can be time confusing to test your own site, and as a techy, you're probably going to be biased when navigating your own site (as opposed to a brand new user with inferior tech skills).
‍
‍Solution: "The User Is Drunk" will literally get drunk, hop on your site and try to use it while recording his screen so you can test whether the UX is simple enough for brand new users. Same with "The User Is My Mom," except she's not drunk (we hope!).
‍
‍Offer: Email to find out pricing, the price has gone up because of increased demand. (Site started as a joke for $50/review, then raised to $500 after the founder received 300k website visits in the first week).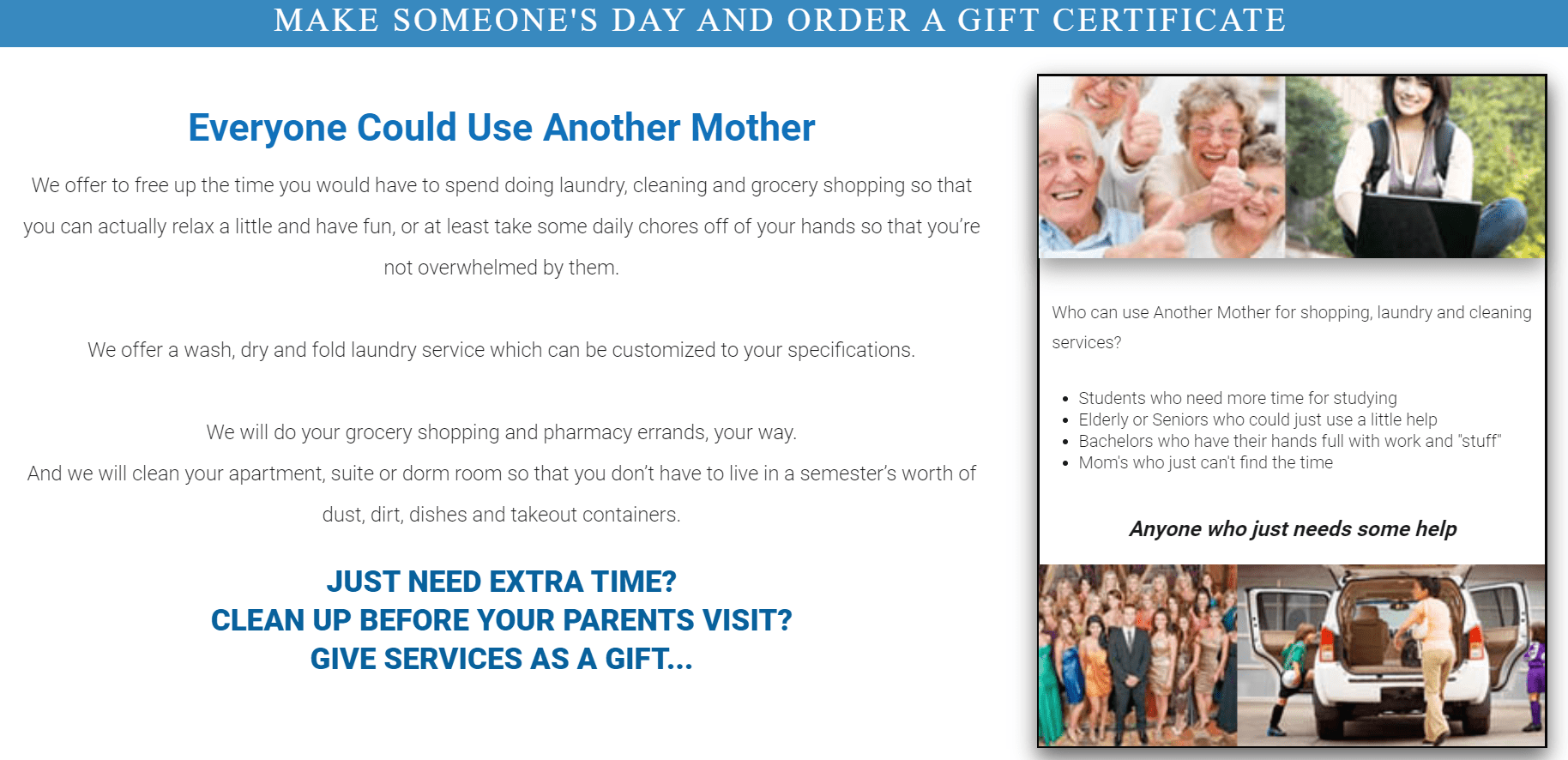 Customer: Lazy college students.‍
Pain: Chores like laundry, cleaning, grocery shopping, and pharmacy runs are time consuming and interrupt your studies. Or maybe your parents just announced they're coming over for a surprise visit…
Solution: Rent a mom! She'll come in and do all the cleaning for you, plus your errands. You can even give the service as a gift to other college students.‍
Offer: Shopping service starts at $25, and laundry is by the pound!

Customer: Anyone who's angry and looking to vent it.
‍
‍Pain: Destroying stuff is usually illegal, if not frowned upon. Also it's dangerous.
‍
‍Solution: A nice, controlled environment with air conditioning and CROWBARS and SLEDGEHAMMERS for smashing stuff into pieces! Guilt-free!
‍
‍Offer: Individual sessions start at $35 for 20 minutes, or $30 if you bring your own box of stuff. Kids group sessions are where it's at though, for only $24/session…time for a field trip kids!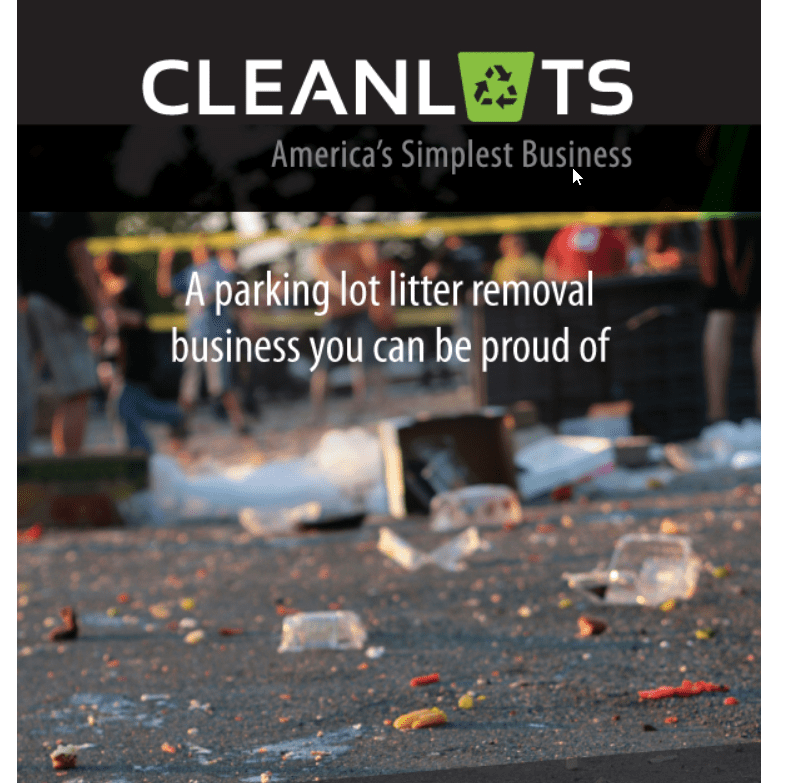 Customer: Small to medium sized shopping plazas, office buildings, and industrial plazas.‍
Pain: Generally these properties are too small to keep someone on site for daily litter pickup.
Solution: Contract to pick-up trash by foot (or hire others to do the work for you).
Offer: Depends on size of parking lots, call to get a quote!

Customer: Anyone looking for a unique experience they can boast to all their friends about.
‍
‍Pain: You can't walk up to your local jail and ask for a room for the night…unless you committed a crime.
‍
‍Solution: AirBNB…in JAIL!! Renovate your property and provide a full "role-playing" experience, great for a unique AirBnB experience.
‍
‍Offer: Closed for now until coronavirus blows over.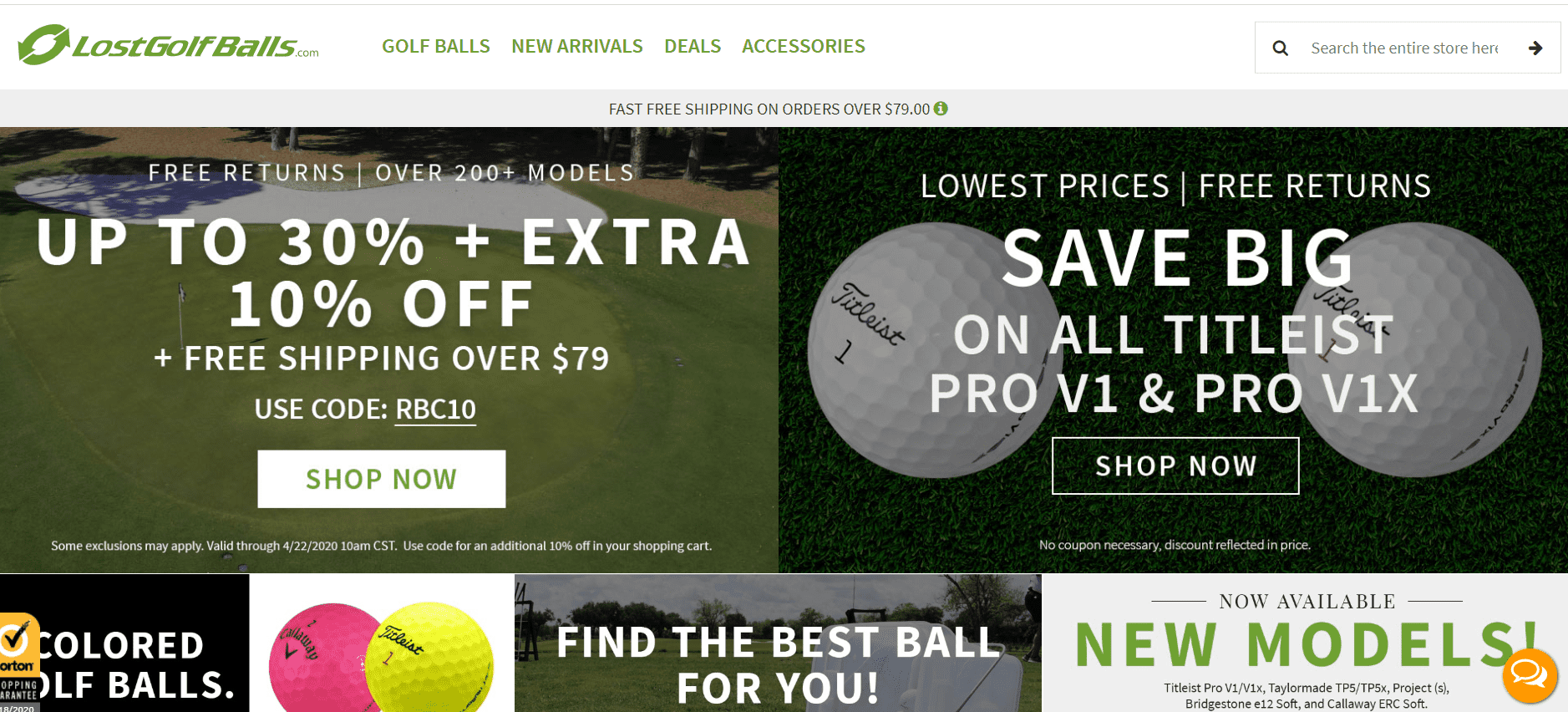 Customer: Amateur golf players.
‍
‍Pain: Golf balls start to get expensive the more you "accidentally" send into the pond!
‍
‍Solution: Company dives to the bottom of ponds in professional golf courses after big tournaments, and resells the used balls at a discount to amateurs.
‍
‍Offer: Balls range from good to mint condition, starting at a dozen for $11.24 up to $23.99 mint.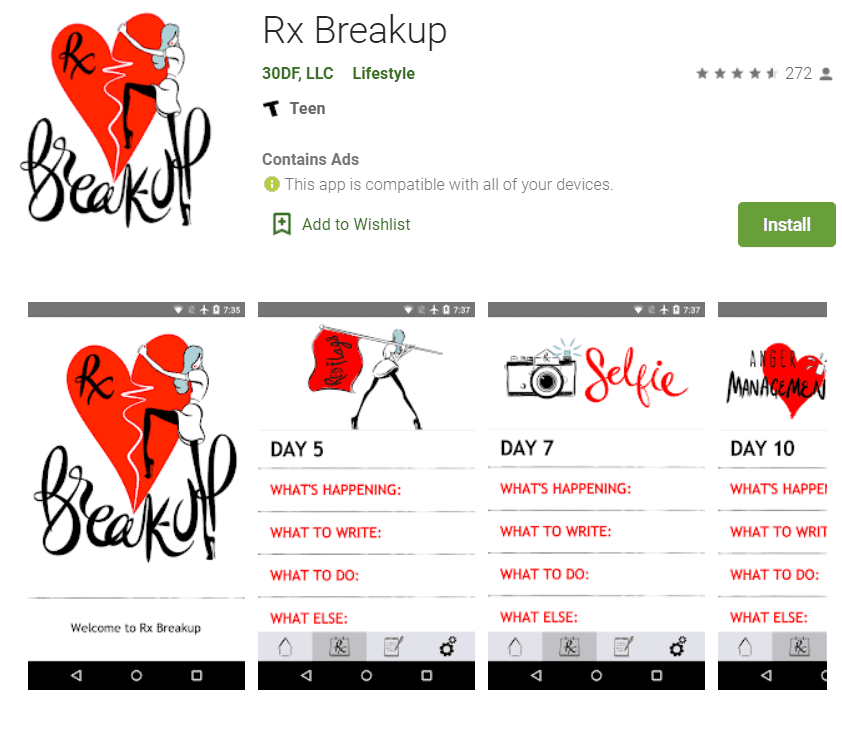 Customer: Girls who just broke up with their boyfriend.
‍
‍Pain: Experiencing a break up can be a terrible time of heartache, you're fighting the temptation to reach back out, and it's difficult to know exactly what you're supposed to learn to grow.
‍
‍Solution: Rx Breakup is an innovative new App to help you get over a recent break up or lingering obsession. The App is a 30-day guide that delivers professionally developed self-help techniques in the tone of a trusted girlfriend.
‍
‍Offer: Download for free, as incentives for completing tasks the app will offer vouchers and discounts for services like spa treatments (this is how they make their money).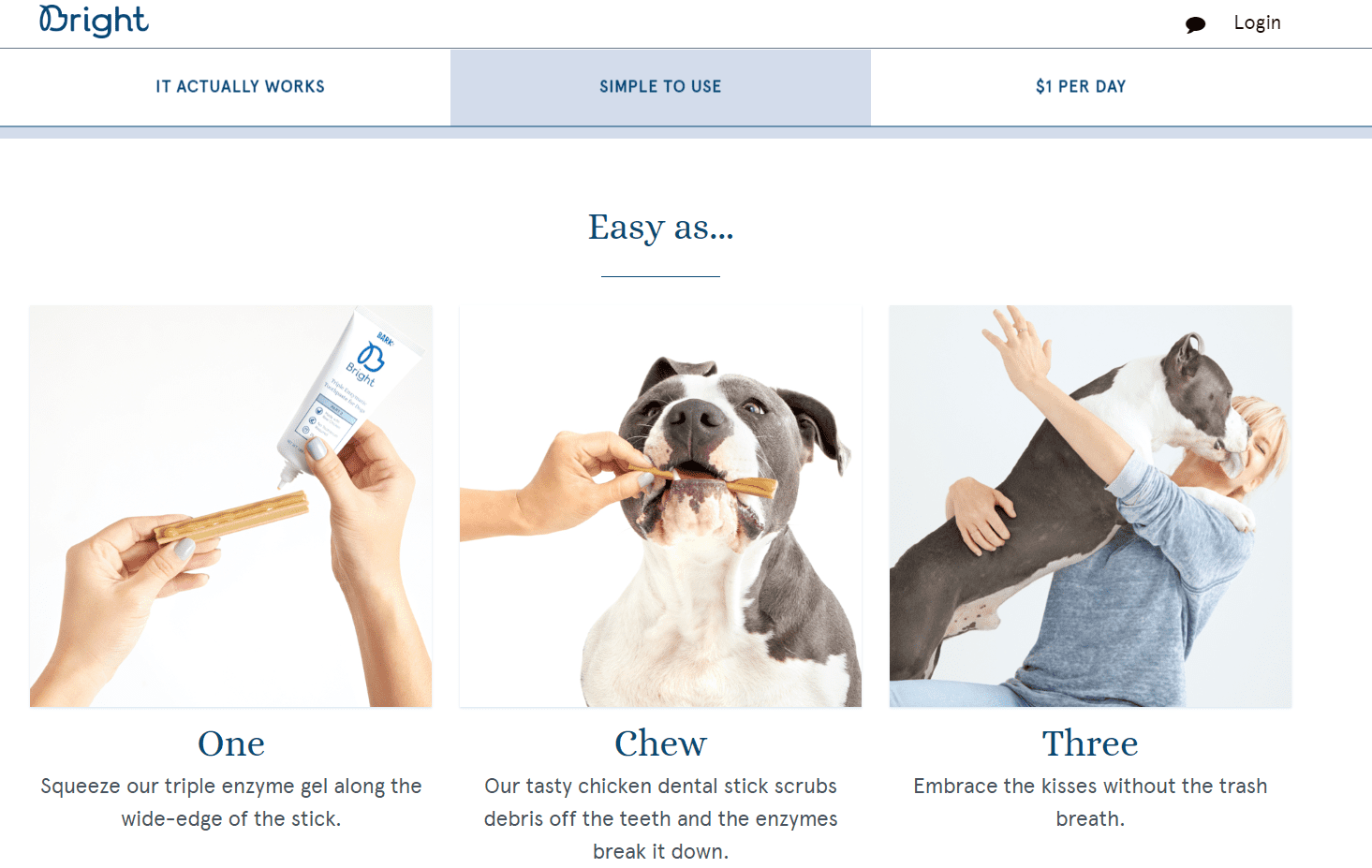 Customer: Owners of dogs with bad breath.
‍
‍Pain: You've tried going to the store and finding dog food that helps with this, but nothing works (and your wife is about to make you put the pooch up for adoption if it doesn't get fixed soon!) Oh, and 80% of dogs will have periodontal disease by age 3.
‍
‍Solution: Squeeze this "triple-enzyme gel" along a tasty chicken stick that breaks down debris on your dog's teeth.
‍
‍Offer: Get the whole kit with a month's supply of dental sticks and enzyme gel for only $1 a day.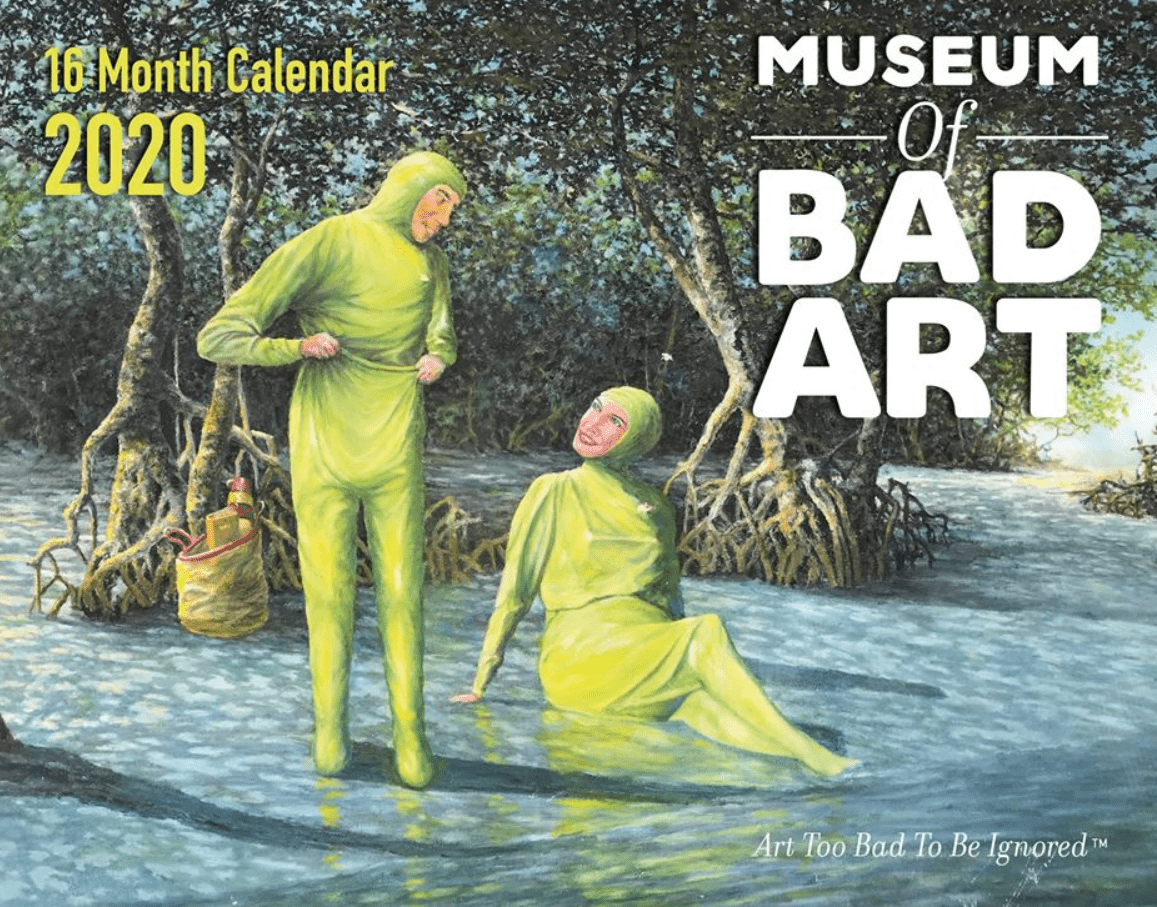 Customer: Rebels, art connoisseurs.
‍
‍Pain: Fine art is too snobbish. Great art is hard to come by and appraise accurately.
‍
‍Solution: Celebrate and curate "bad" art. Art too bad to be ignored.
‍
‍Offer: Admission to the gallery is free, but you can go away with souvenirs like a "Pablo Presly" t-shirt for only $16.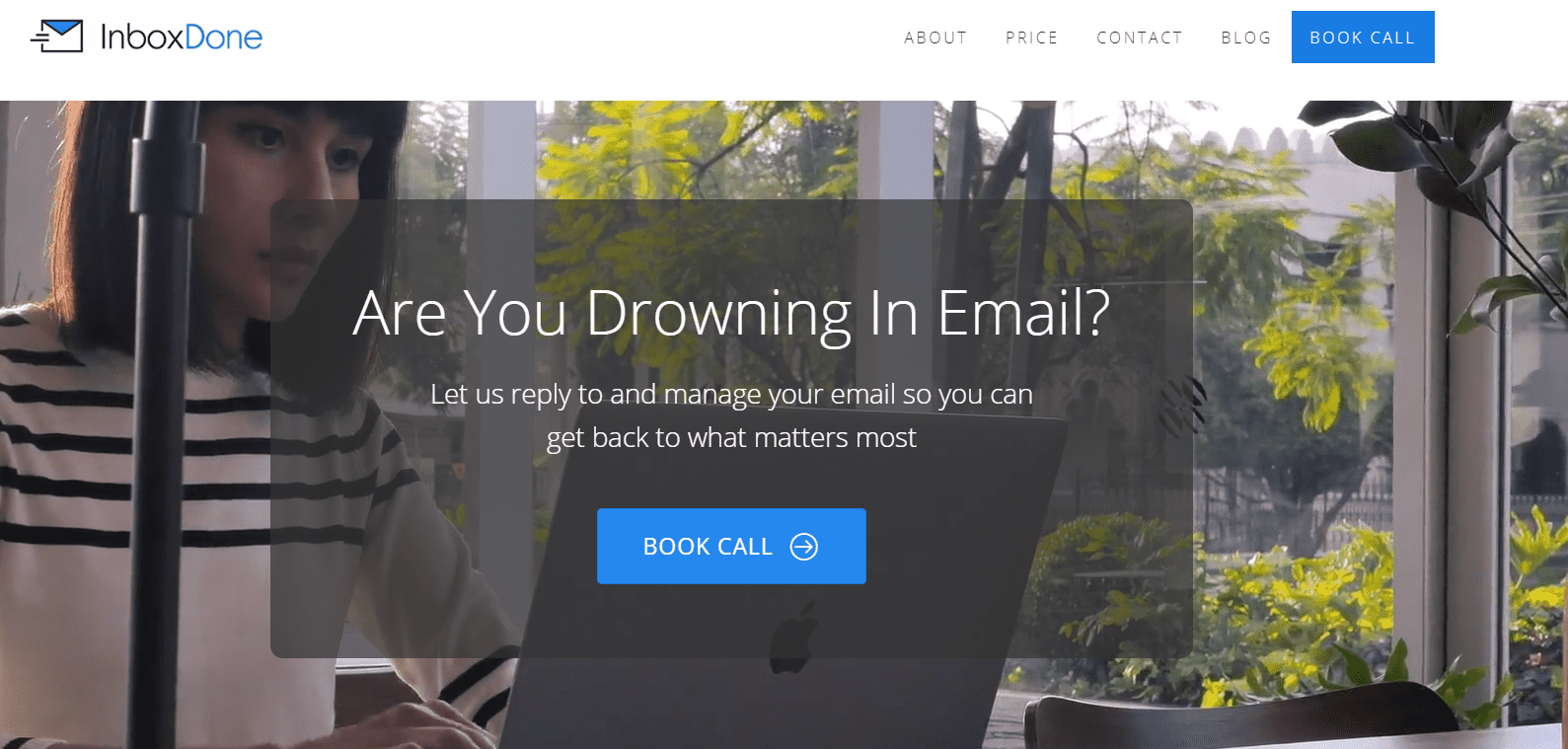 Customer: Busy people with tons of emails coming in.
‍
‍Pain: Feels like you're constantly drowning in emails, missing opportunities, you're a slave to your computer every morning and evening.
‍
‍Solution: Let someone else manage your inbox FOR you.
‍
‍Offer: Clear your inbox to zero, setup systems for responding, and have a dedicated manager for an unlimited number of inboxes and emails for just $1,495/mo.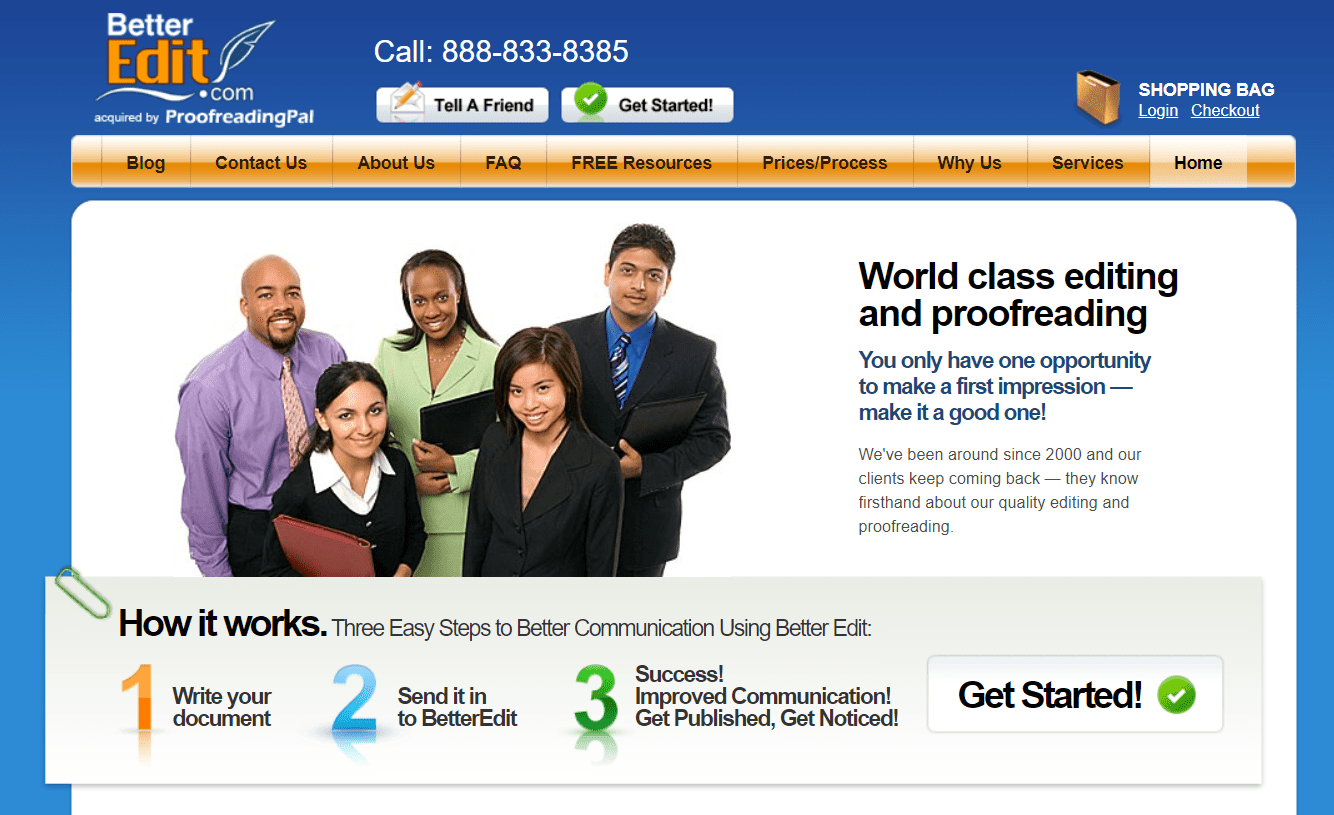 Customer: Anyone needing to turn in professional documents like resumes, essays, theses, business documents, webpages, etc.
‍
‍Pain: Common grammar mistakes can lead to poor grades, failing a job interview, lost customers, etc.
‍
‍Solution: World-class editing and proofreading done by a team who even specializes in editing for non-native English speakers!
‍
‍Offer: Call-for-quote!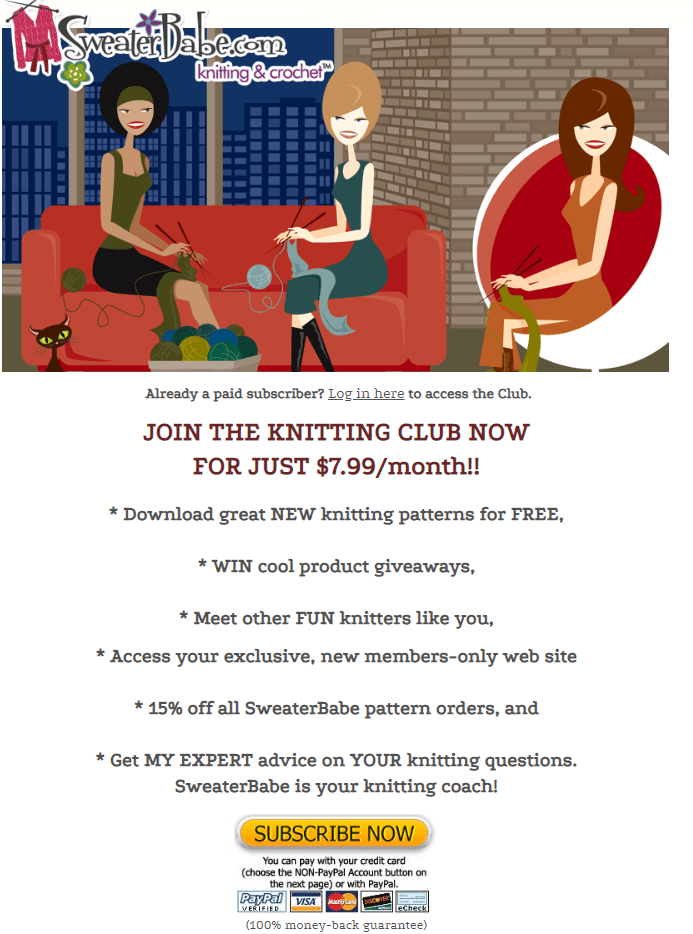 Customer: Knitters, amateur and professional!
‍
‍Pain: Coming up with new, trendy, and creative knitting patterns is tough, especially if it's an article of clothing you've never knitted before.
‍
‍Solution: Download a knitting pattern w/ step-by-step instructions in .pdf form.
‍
‍Offer: Most patterns sell between $4-14 per download, or you can join the knitters club and get one exclusive pattern before anyone else for just $7.99/month.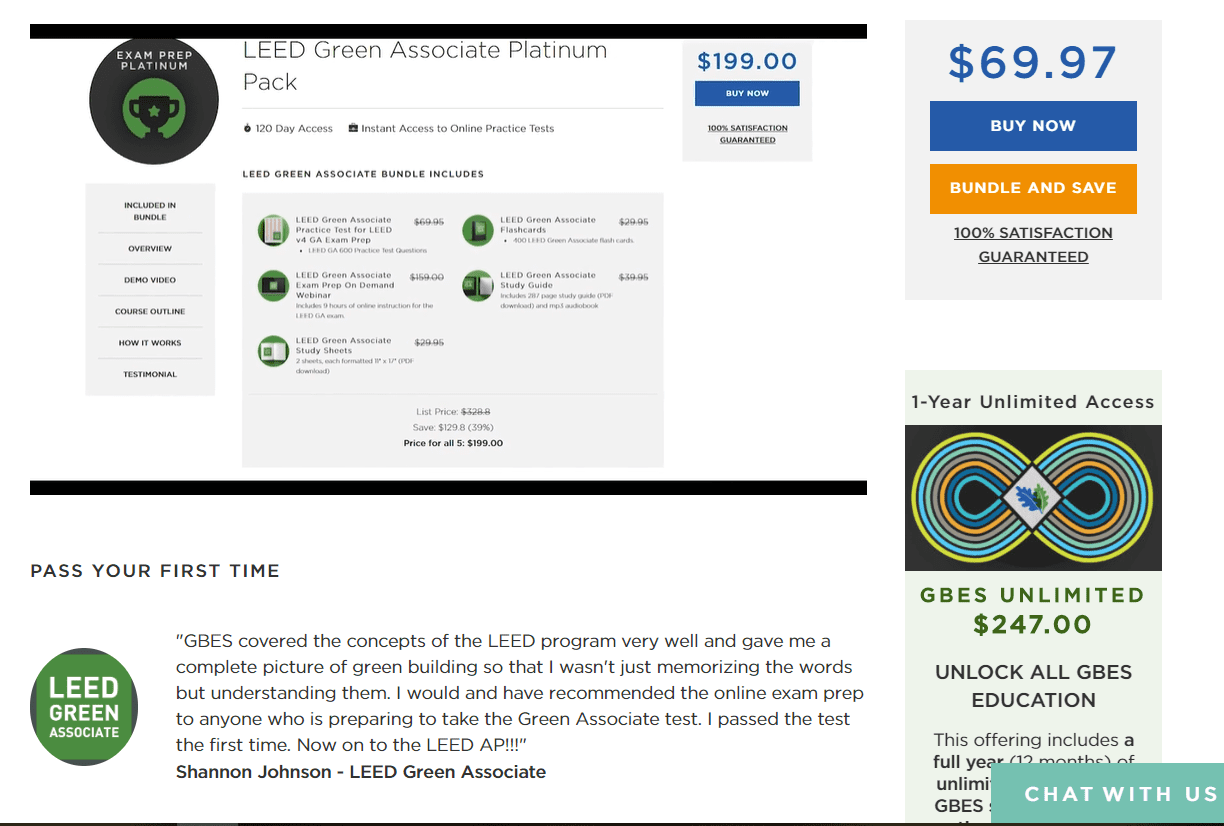 Customer: Architects who want to pass the LEED exam and earn their license for working on "Green" buildings and projects (and add an extra $20,000 on average to their yearly salary).
‍
‍Pain: Failure rate for the exam is 60-70%.
‍
‍Solution: Practice tests that you can take as many times as you like for 120 days, your scores are recorded and questions even have explanations when you get them wrong!
‍
‍Offer: "Pass Your First Time." There are several different practice tests, for about $69.97 each. Or get all of them for $247. They guarantee that you'll be 100% satisfied with this education or get your money back.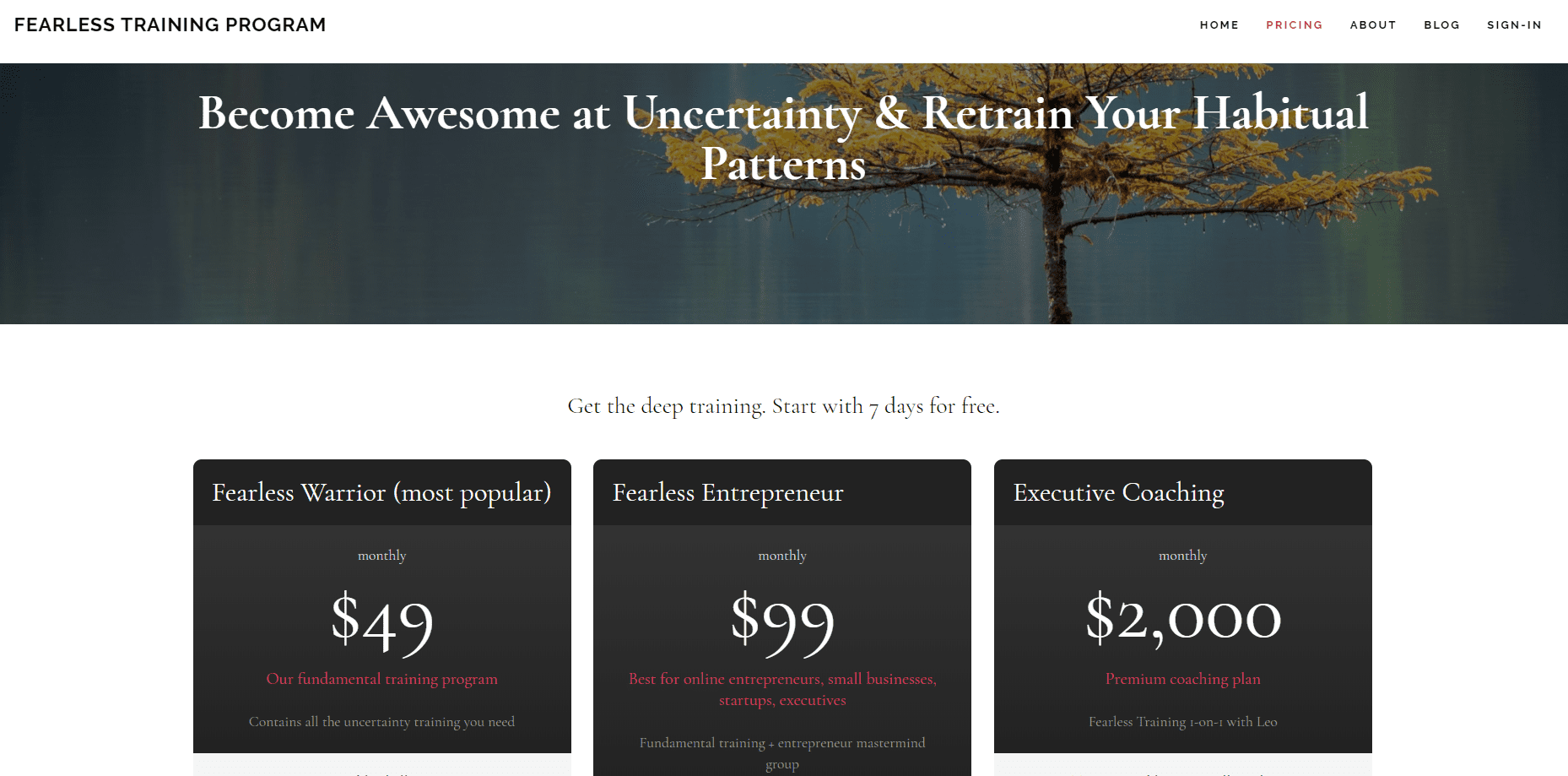 Customer: Creators, entrepreneurs, etc. whose love for the people they serve is greater than their fears and discomfort.
‍
‍Pain: You want to be more disciplined, yet struggle with procrastination and distraction. Fear holds you back daily. You want to live a life of purpose, but struggle with doubt, indecision, and busyness.
‍
‍Solution: Fearless Training Program: an online course for training fearlessly in uncertainty and getting beyond old habitual patterns.
‍
‍Offer: 7-day free trial, and then $49/month. Upgrade to $99/month for access to an exclusive entrepreneurs group and the opportunity to submit your creations for critique.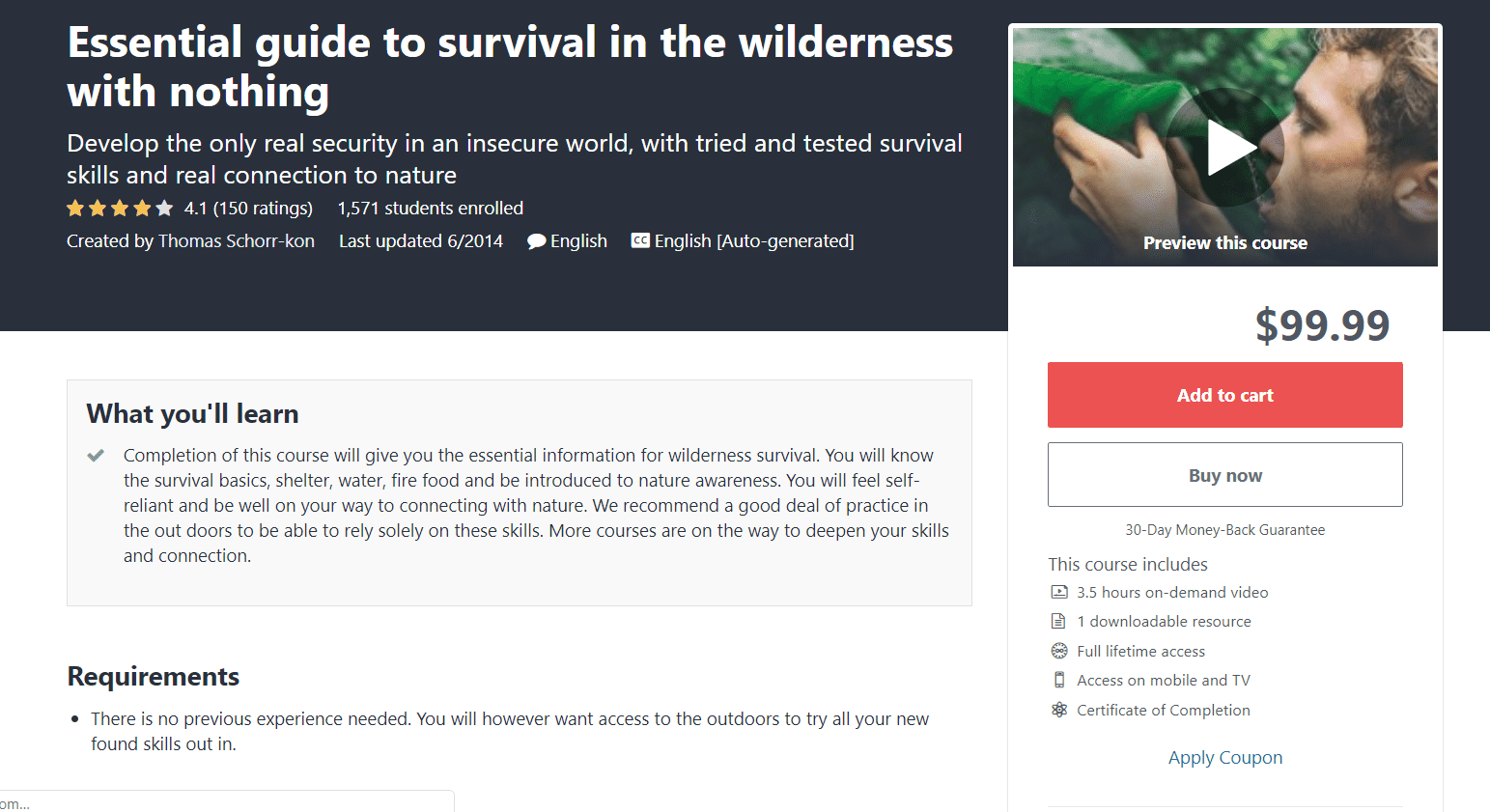 Customer: Folks who love the outdoors or are looking to learn the skills of survival in case of natural (or un-natural) disaster!
‍
‍Pain: Maybe you're not an expert yet, or didn't grow up in the boy scouts, or have such bad luck you'd probably pick the poisonous mushrooms once you did try surviving on your own…
‍
‍Solution: The Essential Guide to Survival In The Wilderness with Nothing – an online course for developing the only real security in an insecure world (with tried and tested survival skills and real connection to nature.)
‍
‍Offer: 3.5 hours of video content and a certificate of completion for $99 one time!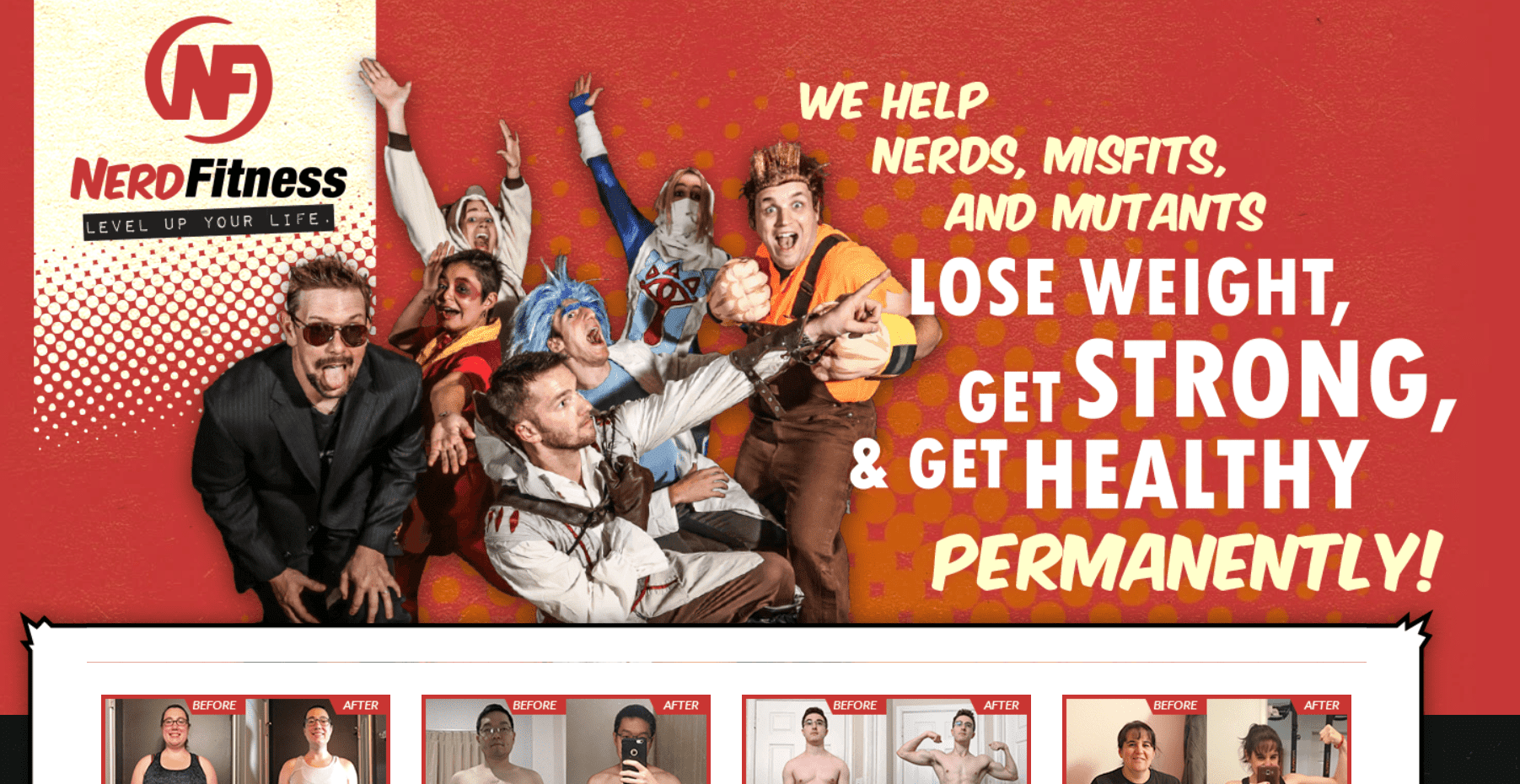 Customer: Nerds. (Who want to get in shape.)
‍
‍Pain: You know you need to get healthy, but you might feel too intimidated by working out at the gym with a bunch of jocks.
‍
‍Solution: A private, supportive community of nerds online with gamified workouts, live coaching, and live events!
‍
‍Offer: Just $99/yr for online access to the Nerd Fitness Academy.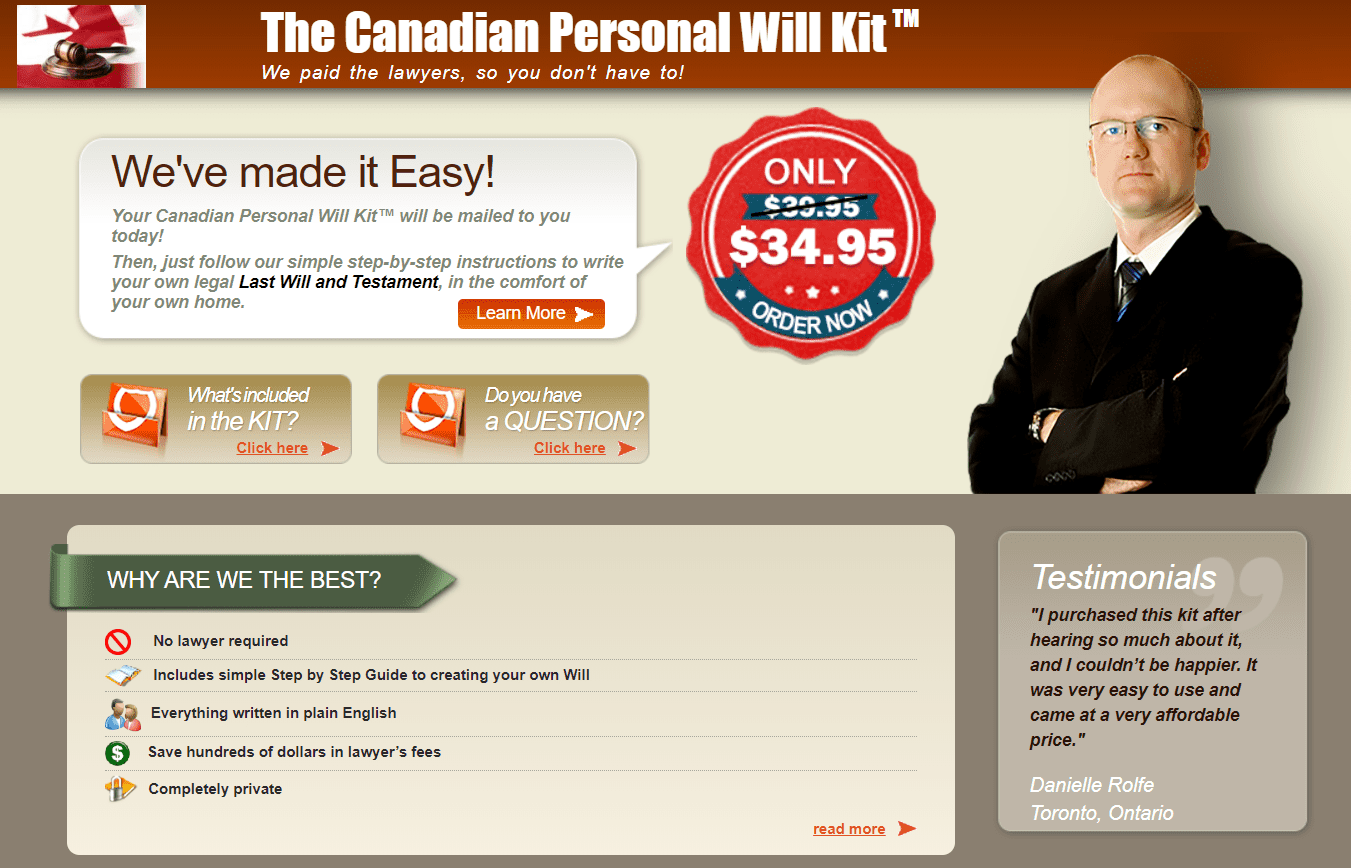 Customer: Retiring Canadians needing to write their will.
‍
‍Pain: Laws and legalese are complicated, hiring a lawyer is expensive, and ain't nobody got time for that!
‍
‍Solution: The Canadian Personal Will Kit™ includes everything you need to create a completely legal Last Will and Testament. A done-for-you template with plain English instructions with an organizational workbook and fire-proof bag for keeping your will safe once its finished.
‍
‍Offer: Get the kit for only $34.95 and fire-resistant bag for $29.95.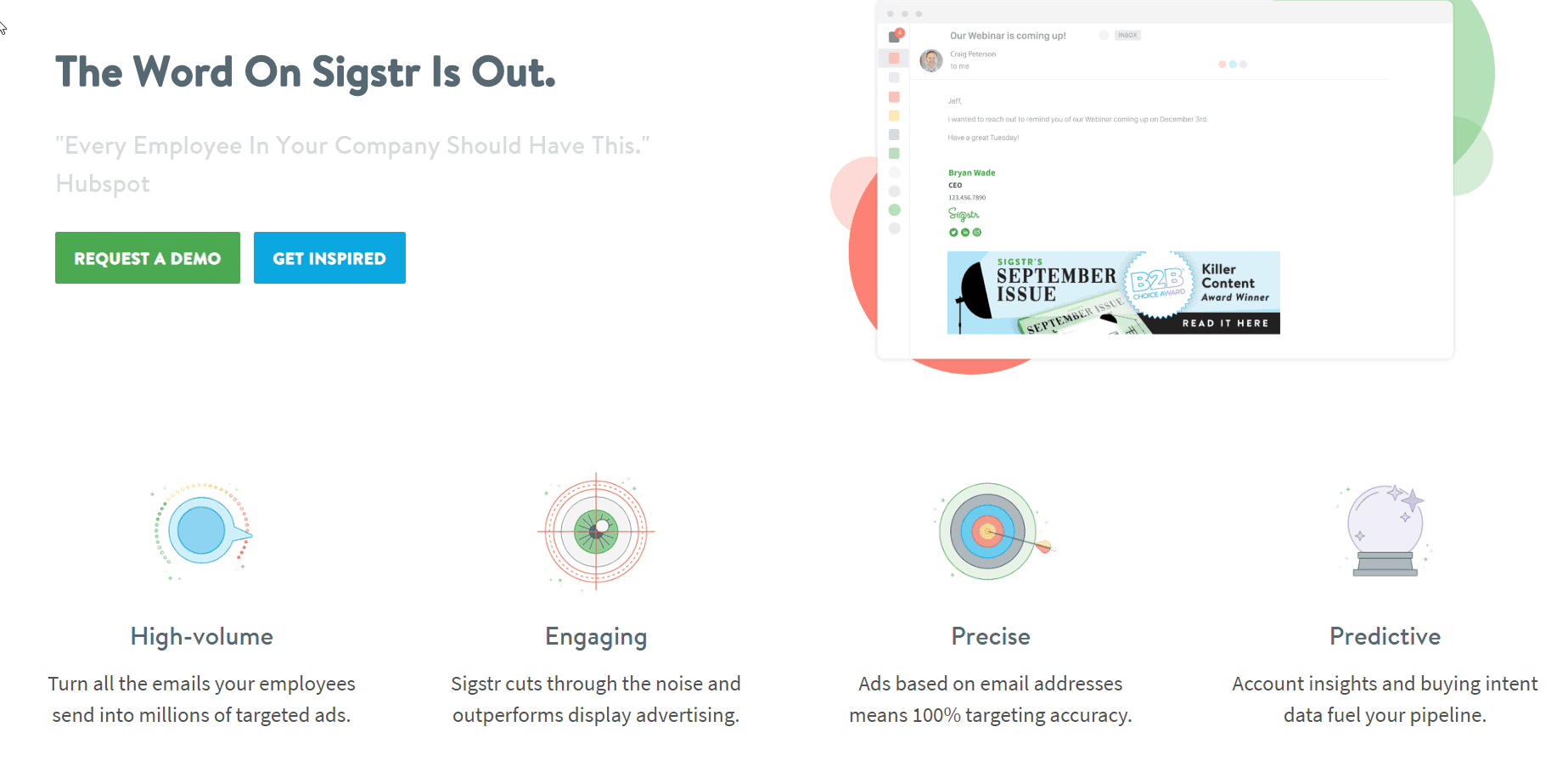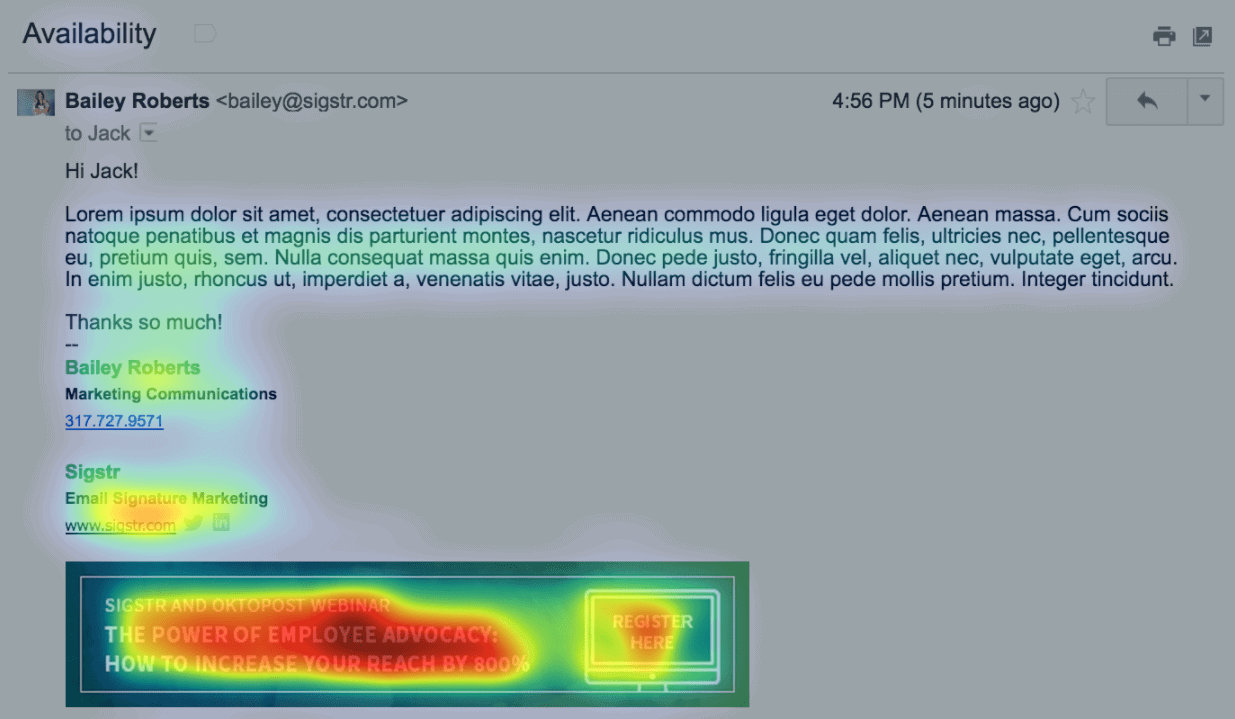 Customer: Any business needing to market itself.
‍
‍Pain: You've worked hard to "own" your traffic by building a mailing list, but still not seeing high conversion rates or sales. Also, customers have grown used to email and don't tend to click CTA's like they used to.
‍
‍Solution: Turn your email signature into a billboard – the average person spends 6.3 hrs per day checking their inbox. Scientific eye-tracking testsshowed that people are much more likely to click your CTA when you use a large display banner ad for your email signature.
‍
‍Offer: Plans range from $250/mo to $500/mo per 50 employees.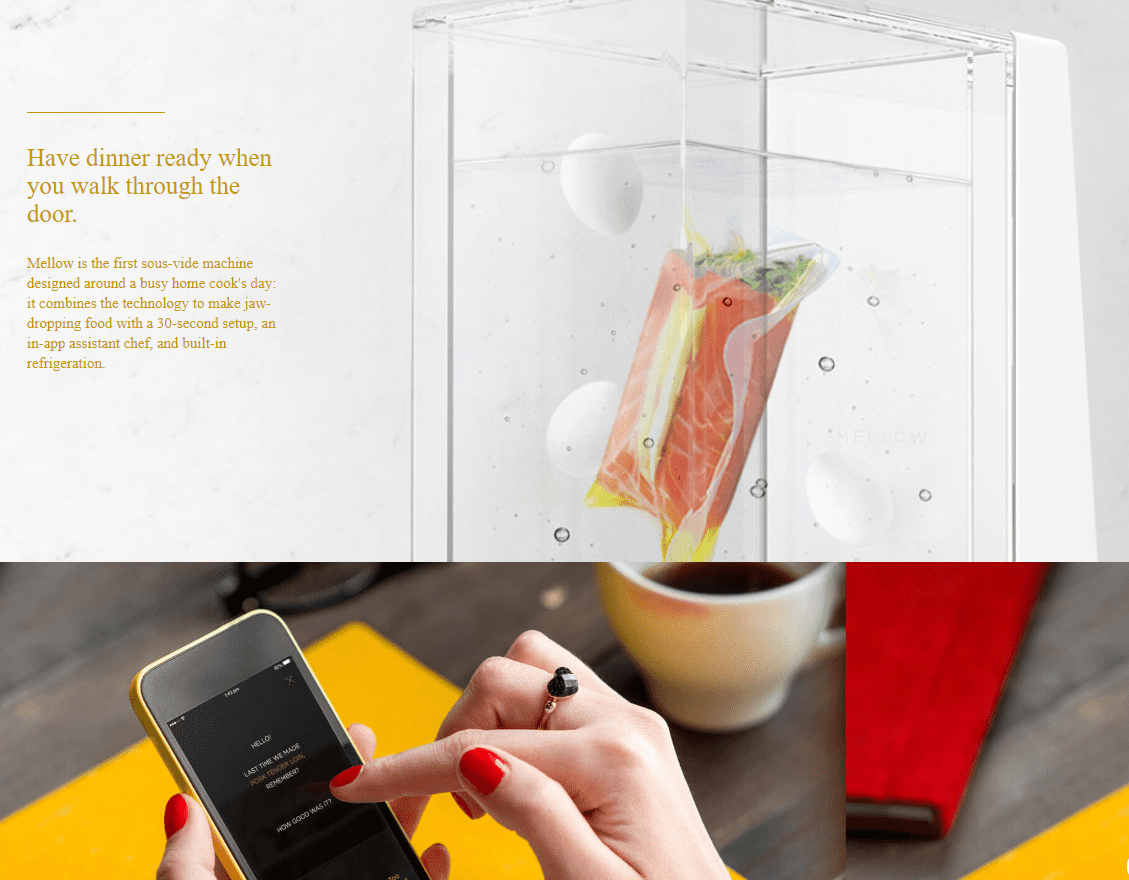 Customer: Working or busy house-moms. (And bachelors too busy to cook for themselves).
‍
‍Pain: Cooking takes a lot of time and preparation.
‍
‍Solution: A Smart Sous-Vide Machine! Have dinner ready when you walk through the door – control your meal from anywhere using your smartphone to cook your meal.
‍
‍Offer: Starts at $199, or online payment plan for $19/month.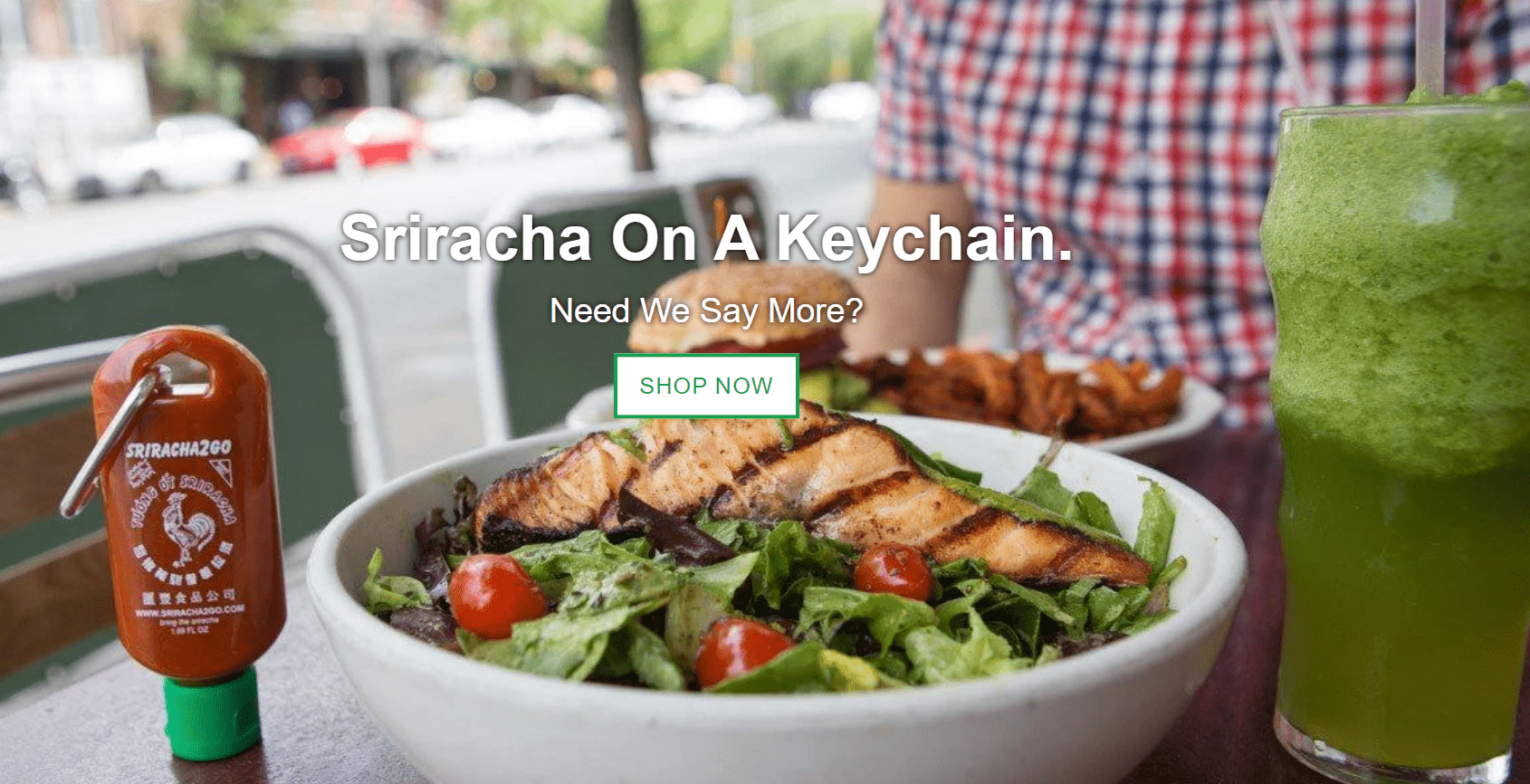 Customer: Anyone who likes spicy food.
‍
‍Pain: Your significant other HATES spicy food. Your family and friends can't understand why you insist on pouring hot sauce all over your cucumbers. Restaurant food's always too safe, never spicy enough, and you wish you just kept a bottle of hot sauce in your pocket for such times.
‍
‍Solution: Sriracha on a keychain.
‍
‍Offer: Get two 'keychain bottles' for $16.99 (plus a 9 oz bottle of sauce!) – they made over 10,000 sales after one buzzfeed article alone.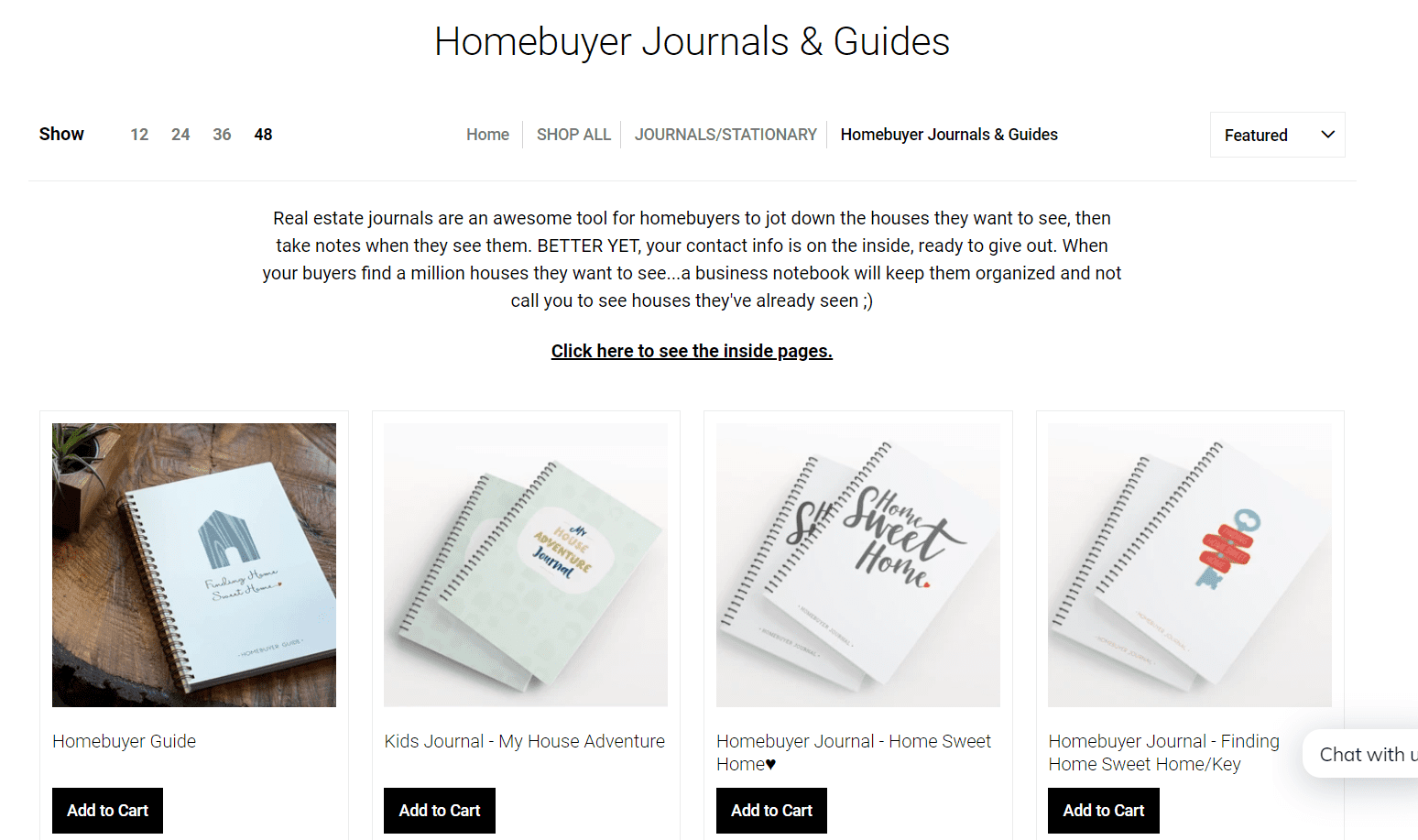 Customer: Real Estate Agents.
‍
‍Pain: As your buyer keeps finding a million homes they want to see, they get confused and unorganized and call you several times to see houses they've already seen.
‍
‍Solution: A homebuyer's journal to help eliminate stress and anxiety from the home buying process (can double as a "business card" given out by real estate agents with their contact info inside the cover).
‍
‍Offer: $16.95 per journal, and All Things Real Estate has since expanded to offer all kinds of products for real estate agents like open house invitations, stationary, apparel etc…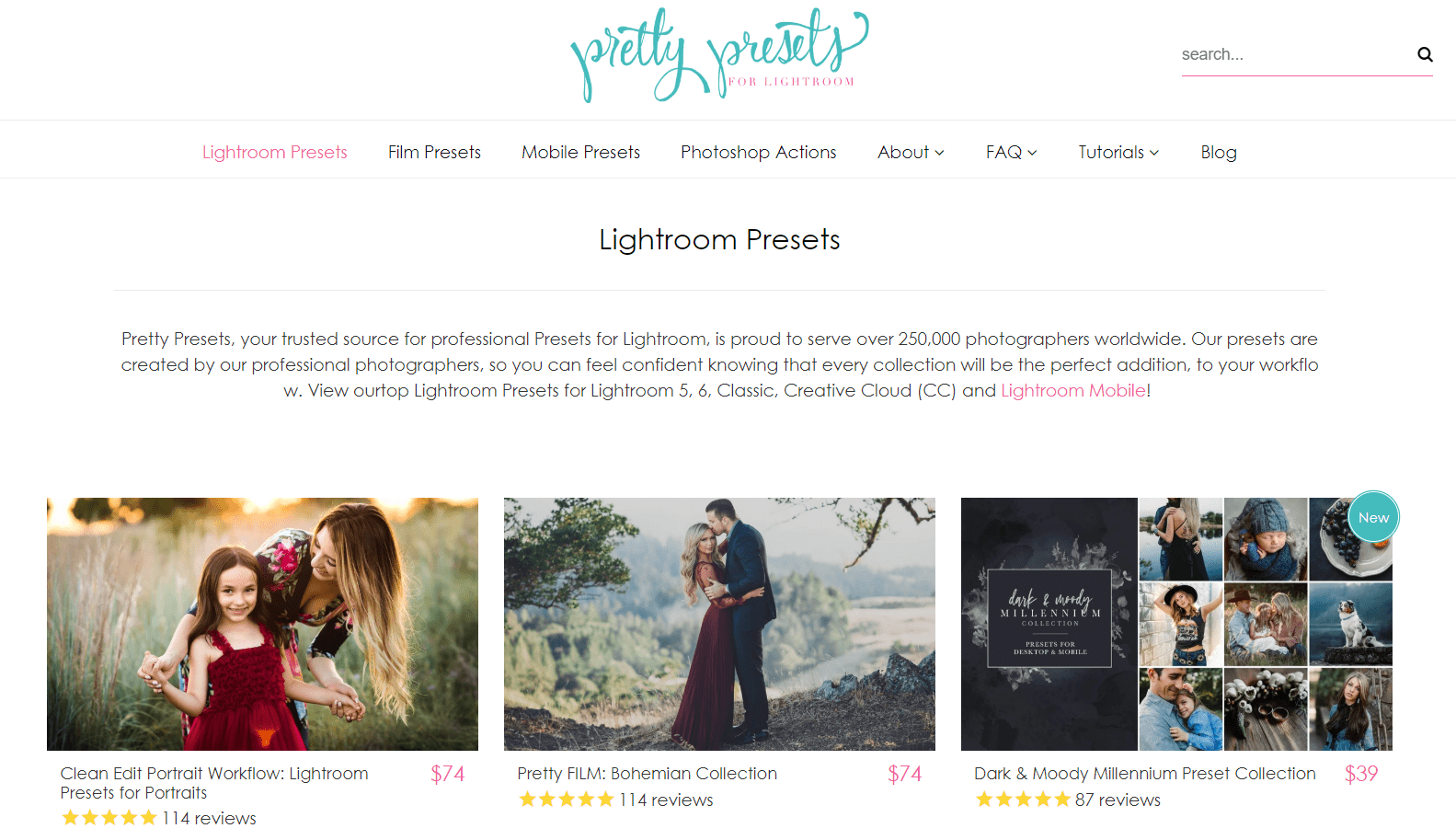 Customer: Wedding and event photographers.
‍
‍Pain: Editing HUNDREDS of photos after a shoot can be the most time consuming and frustrating part of wedding photography, especially if you're starting from scratch with every single photo.
‍
‍Solution: Lightroom presets created by professional photographers for both desktop and mobile editing.
‍
‍Offer: Get a package of 9 one-click presets for $39, or 25 film presets for $74.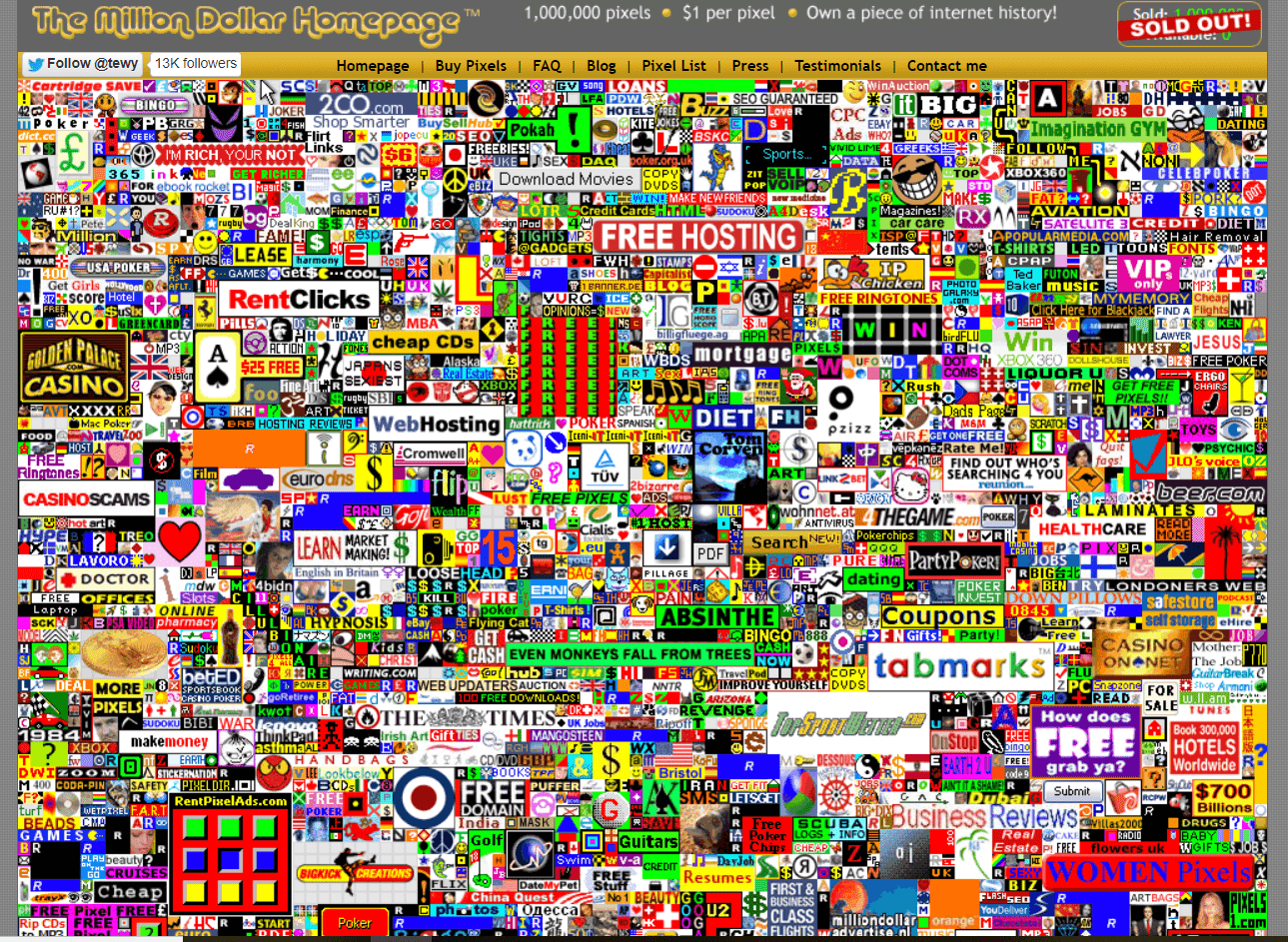 Customer: Online businesses and advertisers
‍
‍Pain: Advertising gets expensive to maintain, adspend costs are recurring, and advertisers are always looking for new mediums to reach their audience and beat the competition.
‍
‍Solution: Own a piece of digital real estate, like a billboard for a one-time payment.
‍
‍Offer: Alex Tew wanted to raise enough money to pay for his college, and decided to sell 10 x 10 blocks of pixels for $1/pixel. Owners could purchase as many blocks of pixels as they want, then paste an image over their "chunk" of the homepage with a hyperlink to their site. After 5 years Alex had sold all 1 million pixels for a total gross revenue of $1,037,100. His setup costs were only $50 for the website and hosting.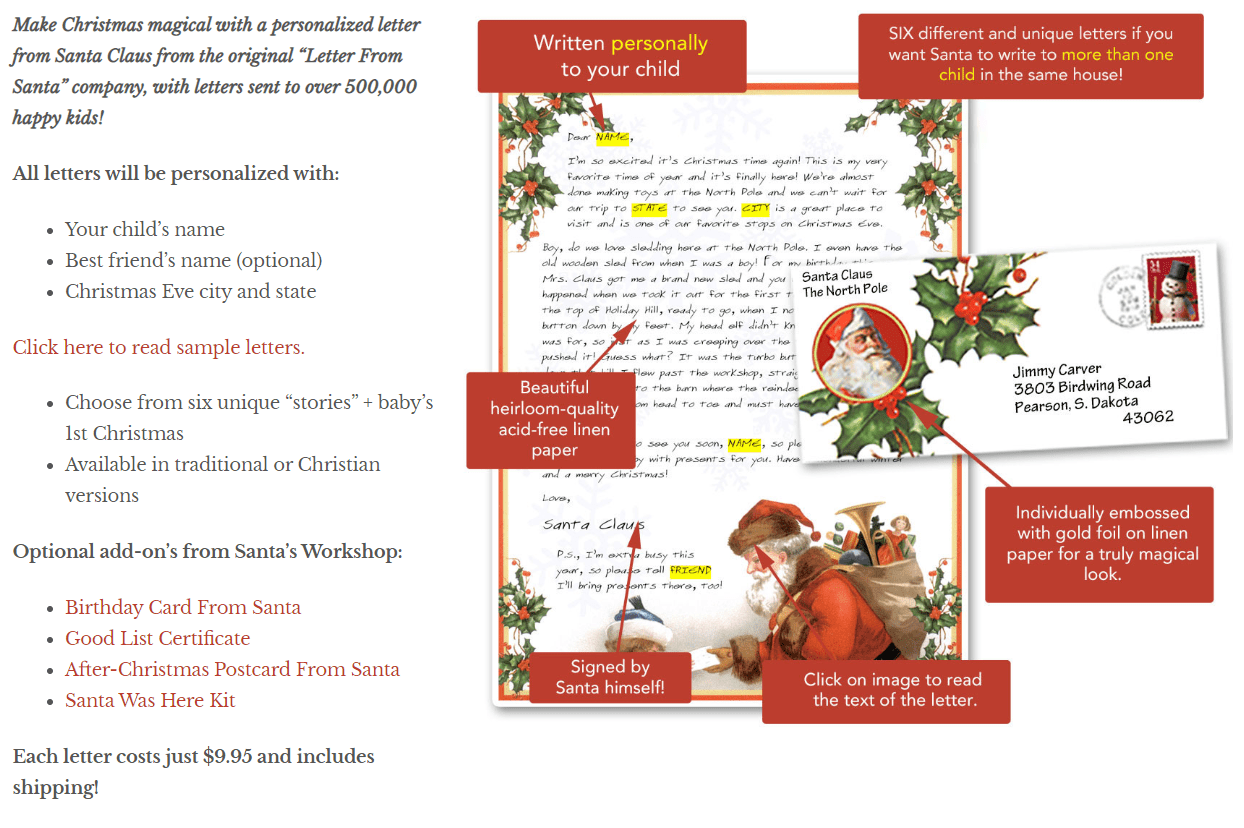 Customer: Parents and Grandparents of young children.
‍
‍Pain: With all the new technogizmos out there, it's tough to find a meaningful gift that will excite your child anymore.
‍
‍Solution: Personalized letter written by Santa himself! (Along with a certificate of congratulations for being on the "Nice" list this year).
‍
‍Offer: Each letter costs $9.95 and includes shipping!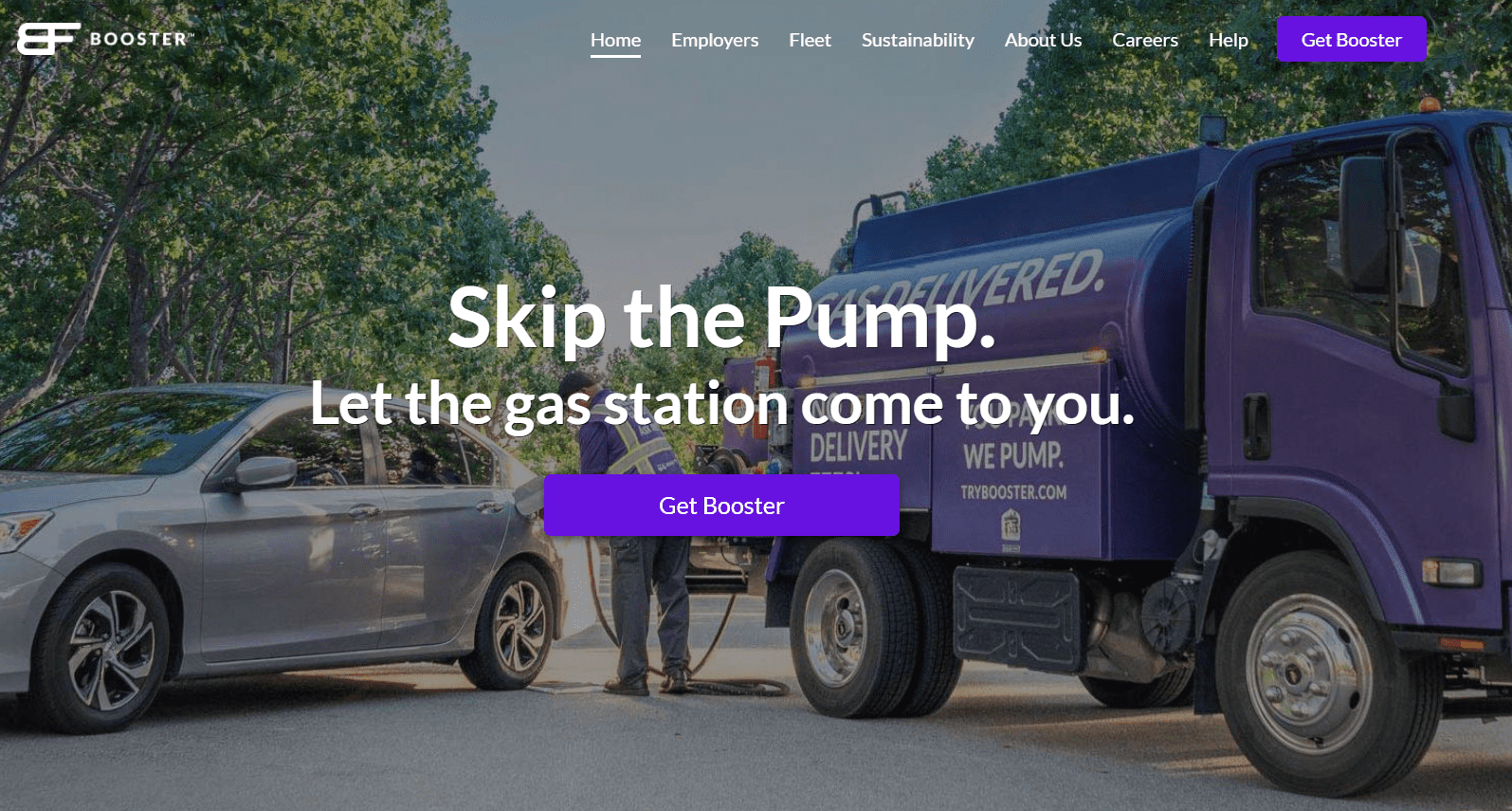 Customer: Folks who can't be bothered with pumping their own gas (I'm looking at you Mom!!! 😉 )
‍
‍Pain: Gas prices fluctuate from station to station, and maybe you didn't have time to fill up during your commute to work.
‍
‍Solution: Booster buys gas wholesale so you save, and refills your gas tank wherever your vehicle's parked.
‍
‍Offer: No delivery fees, no monthly memberships. Just convenient, high quality gas at everyday prices.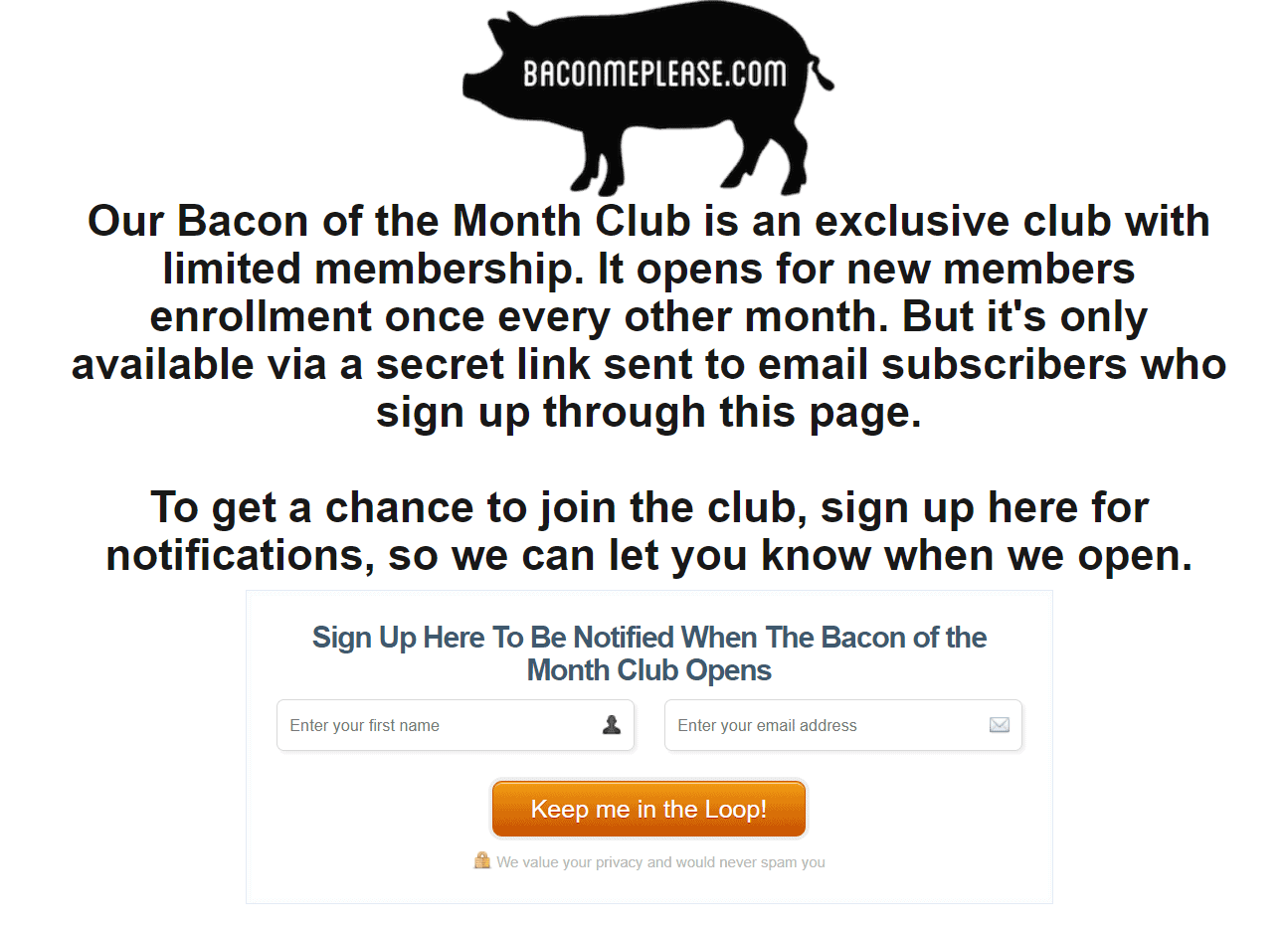 Customer: People who love bacon.
‍
‍Pain: Not everyone has the time to sample hundreds of different kinds of bacon and bacon-related products from across the nation, and sometimes you're just going to have to "settle for less."
‍
‍Solution: Bacon of The Month Club: Unique and amazing bacon from the best-of-the-best bacon producers in the US shipped right to your door on a monthly basis.
‍
‍Offer: Bacon Of The Month Club is EXCLUSIVE. The ONLY way to join the club is to sign up and get a secret link they will send out via email once they have room for new members.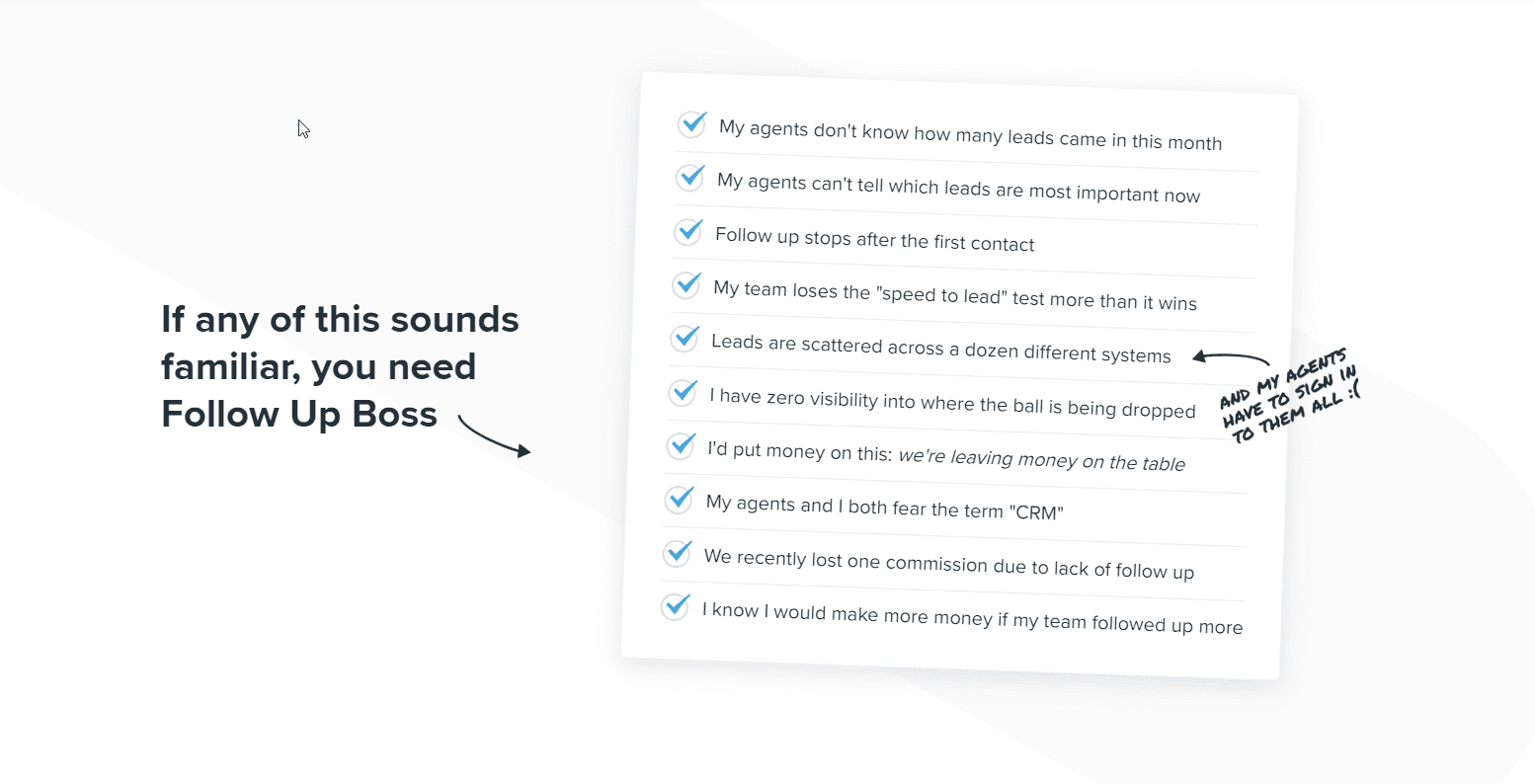 Customer: Real estate brokers and agents.
‍
‍Pain: Follow-up with real estate leads is very time consuming, and it's easy to get behind or lose the lead to a competitor.
‍
‍Solution: No more guesswork: turn leads into clients with always-on follow up that tells agents who to call, when.
‍
‍Offer: $69/mo for one user, $499/mo for 10 users, and $1,000/mo for 30 users.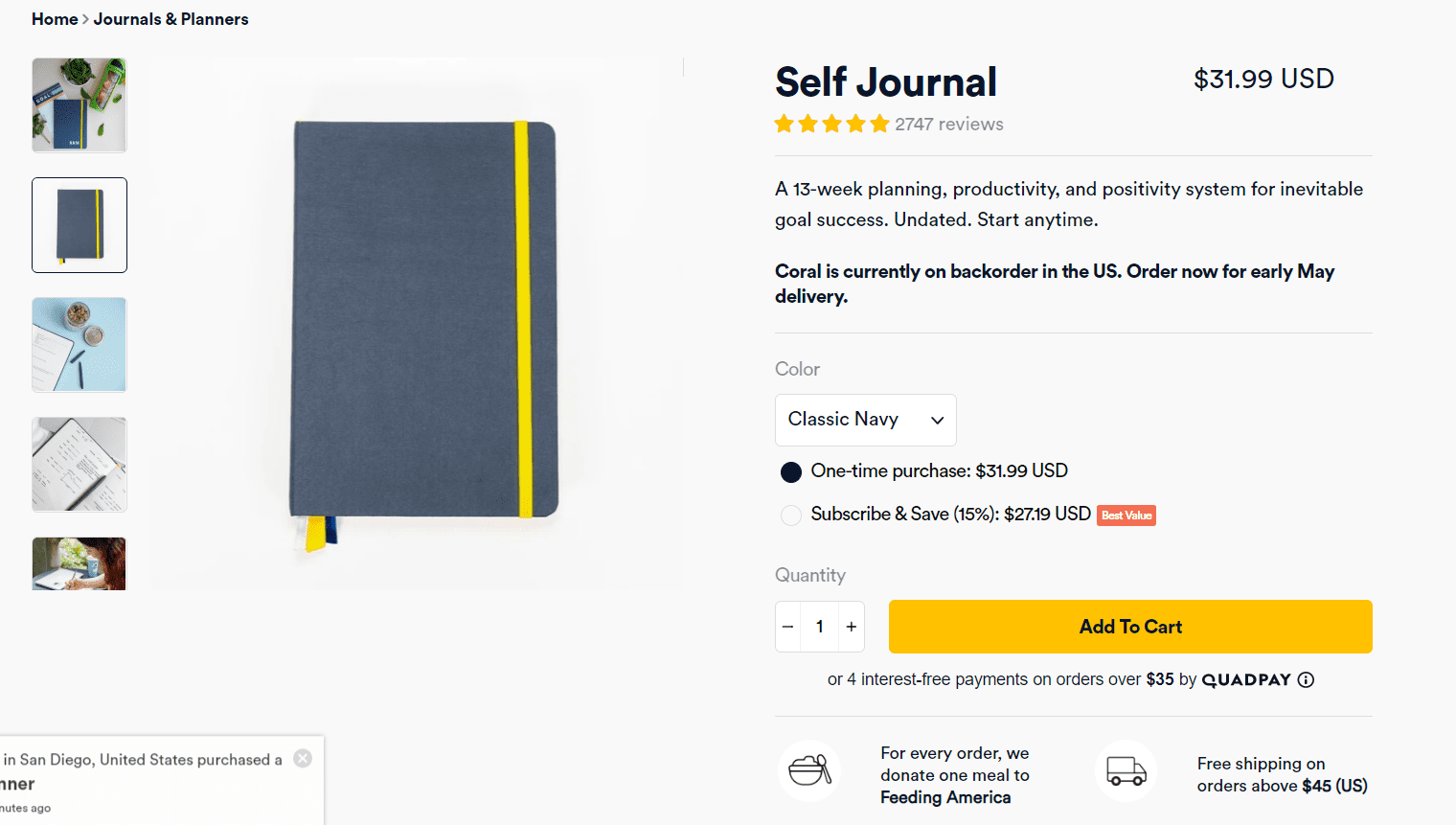 Customer: High achievers, entrepreneurs, influencers, artists, anyone with massive goals.
‍
‍Pain: Procrastination is a killer and it can be a struggle to take action consistently that "moves the needle."
‍
‍Solution: Self Journal: A 13-week planning, productivity, and positivity system for inevitable goal success.
‍
‍Offer: One journal for $31.99, or subscribe and have a new journal delivered for $27.19 every 11 weeks.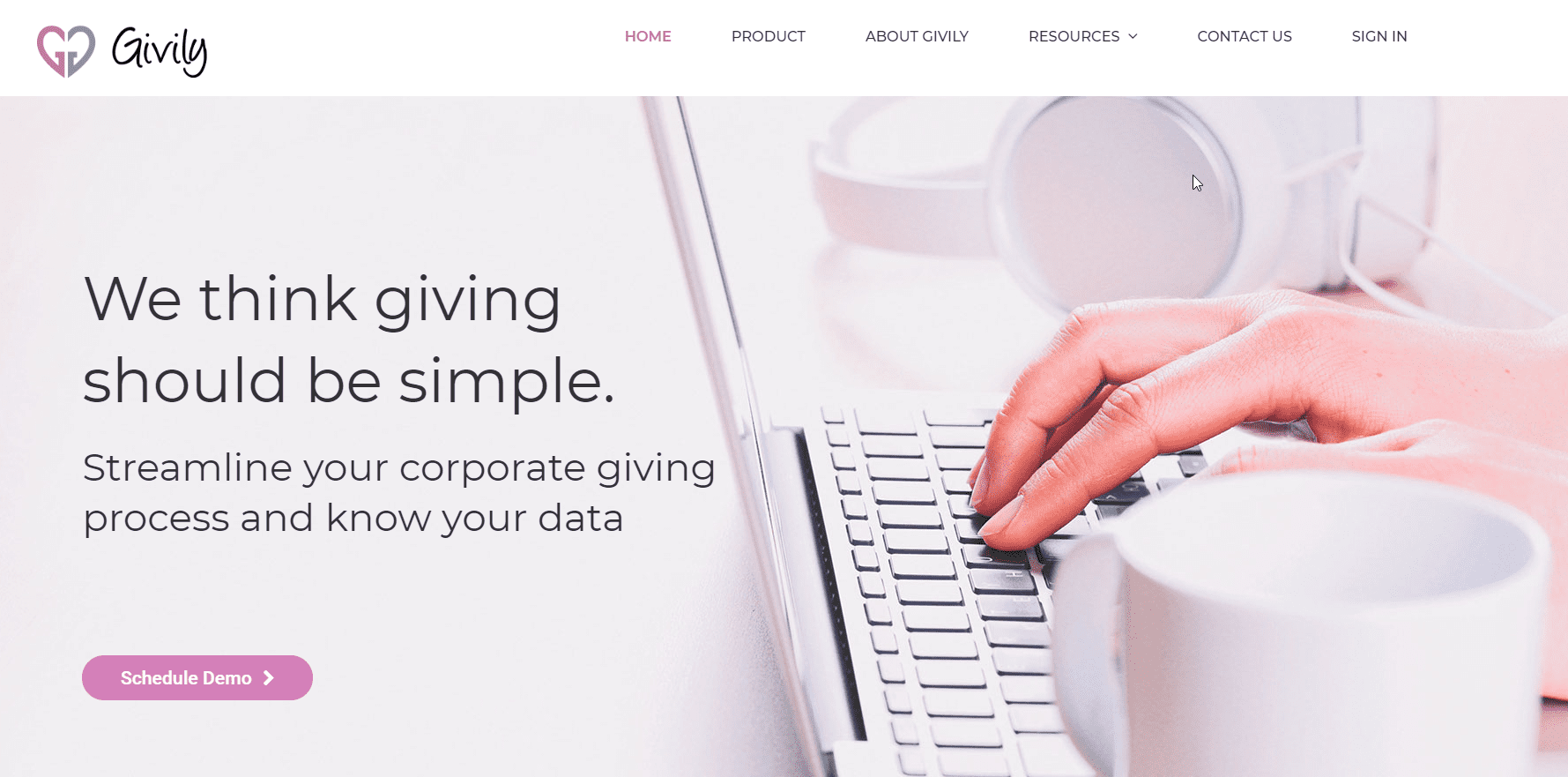 Customer: Companies that offer charitable donations.
‍
‍Pain: Responding to charitable donation requests can result in a lot of back and forth email, oftentimes the requesting organization doesn't align with your company's charitable mission, and it's difficult to "gracefully" decline their donation request.
‍
‍Solution: A branded online form that sits on your company's website to streamline, qualify, and sort giving requests. The software automatically sends a denial email ("Gracefully") for you if the requester doesn't fit with your company's mission.
‍
‍Offer: $36 for up to 100 giving requests per month, $59 for 250, $99 for 500, and $200 for 1,000.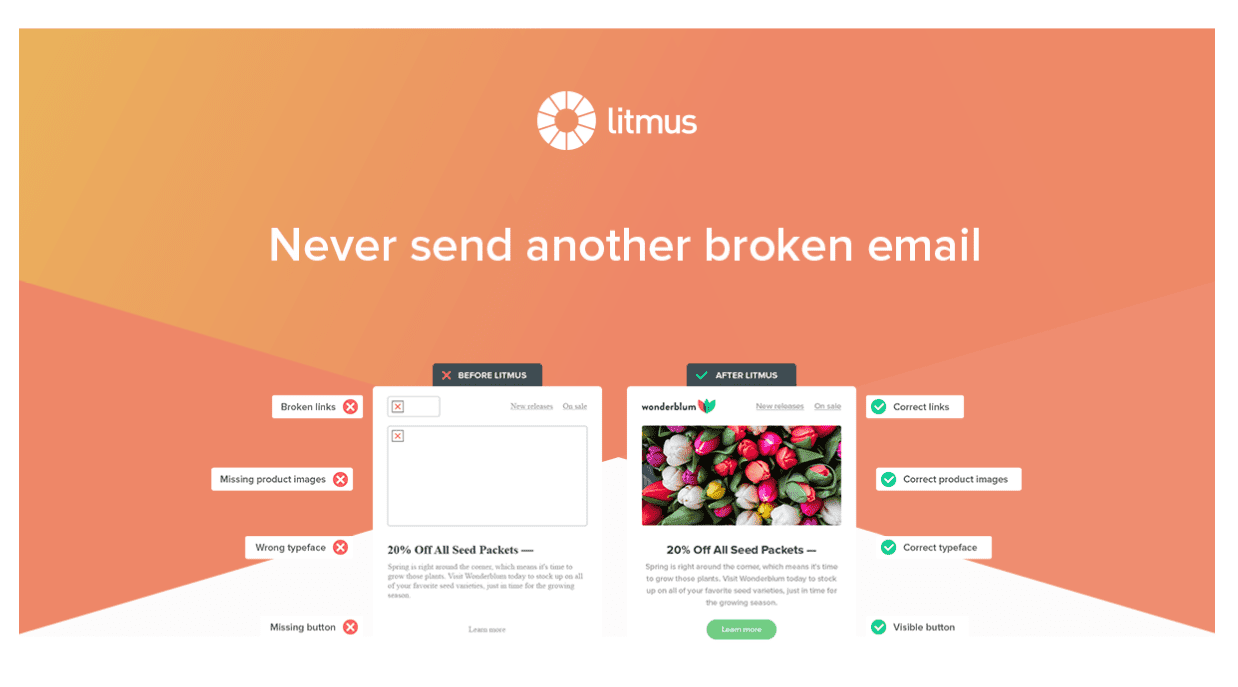 Customer: Any company that sends email marketing, usually html-based email, and ecommerce especially.
‍
‍Pain: Making sure emails look consistent across every inbox and platform
‍
‍Solution: Send your emails to 80 inboxes with 80 screenshots inside of the inbox and scroll through to see if it looks consistent and renders properly in every client inbox.
‍
‍Offer: $79/month if billed annually for 1 user, $99/month if billed annually for up to 5 users.